Kitty on the Throne
Whether your cat's on a late-night social media binge session or they're assuming their rightful place on the throne, these feline antics are bound to make you smile. This gallery is filled with hilarious cat pictures in a variety of funny poses and situations. Be sure to share it with your friends and bring some smiles to their faces.
Silly Cat Pic With a Phone
This lazy kitty looks like he's stuck scrolling on social media. We've all been there, though, right? What do you think he's going to post?
Gettin' Silly for a Night on the Town
Someone's ready for a night out on the town! This kitty looks like they're about to hit the club.
You Snooze, You Lose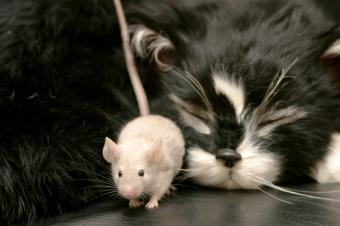 While the cat is away - or asleep - the mice will play! Apparently, this sleeping cat doesn't realize their nemesis is sneaking around right under their nose - literally! Or, maybe they're just best friends ...
Weird Game of Modern-Day Cat and Mouse
No kitty! Not every kind of mouse is your sworn enemy. This cat is about to catch their prey, but they're in for a big surprise when they try to get this mouse!
Getting Wrapped Up for Some Fun
What is it about toilet paper that cats just can't resist? This cat is having fun now, but wait until their person sees what they're up to! Unless this is the set of a toilet paper commercial, there's sure to be trouble.
What Is the Punchline? Get Silly With It
A cat, a rat and a dog are hanging out in public ... Surely there's a punchline somewhere in there? What do you think would make a good caption for this silly pic?
Here's Lookin' at You!
You never know where a curious kitty might end up! This one decided to check out the inside of a water dispenser bottle. Who knows what the world looks like from this unique perspective?!
Nap Buddies
Who says cats are standoffish? This kitty likes to take their naps with their favorite toy. Now that's adorable.
Funny 'Lil Soaked Kitty
Cats might look peaceful and content when sleeping, but the same can't be said for bath time! If this wet little cat could talk, they'd probably say, "This just isn't right."
Weird Cat Screeching Solo
If every dog has his day, maybe every kitty gets 15 minutes - of fame. In this case, the opera is certainly not over until the tabby cat sings!
Silly Kitty's Got Talent
This kitten wants their 15 minutes, too! This crooning, piano-playing baby kitty just might be a star in the making!
Goofball Trying to Fly
Who said cats can't fly? This one is getting airborne! All they have to do is flap their wings!
Funny Cats for the Win!
Pay close attention and your cat may surprise you! If you watch them close enough, you will see odd little actions, weird behaviors, or perhaps even hilarious ones! Every cat has their own silly streak!
Check out more goofy cats with our funny cat memes.