Santa Cat
Funny pictures of Christmas cats are a great way to put you in a festive mood during the holiday season! Share your favorites with friends and family.
There are several types of Christmas outfits available to cat lovers. This comical choice creates the illusion that your cat is a miniature Santa Claus, complete with arms and legs while framing that cute cat face in a Santa hoodie. It takes a special cat to allow its human to put it in a Santa costume.
Cat in a Box
A box will be more entertaining to your cat than the finest cat toys. This cutie pokes her head out to make sure no one tries to steal her holiday fun! Scientists have determined the tight confines of boxes make cats feel safer in a predatory world.
Snow Cat
This snow cat is wearing his Santa hat, but looks a bit surprised by the deep snowfall. He may need that sleigh to find his way home! Cats require shelter from snow and don't survive well without a place to hole up.
Elfish Cat
This adorable cat is styling with its red and green elf hat! Its ensemble is completed with a tiny jingle bell on its collar. A bell on a cat's collar alerts birds, giving them time to fly away from this stealthy predator.
Fluffy Cat With Christmas Tangerines
If you're looking for the oranges and tangerines from your Christmas stocking, you might want to check this little greedy guy's stash. He doesn't seem to be in a sharing mood. Most cats won't eat tangerines. If your cat nibbles on one, be warned that in some cases, tangerines will upset kitty's tummy.
Tie One On!
This adorable cat is ready for a Christmas party. He's dressed in his finest white dress shirt collar with a green and gold striped tie. The tale of the Icelandic Yule Cat warns of a deadly fate to anyone who doesn't finish their chores before Christmas Day. Those who complete their chores are rewarded with new clothes. Those who don't are eaten by this monster-sized cat.
Reindeer Cat
This feline wary about being transformed into a reindeer. Don't think she will be joining Santa's sleigh crew tonight! Most cats don't like to ride in a vehicle. Just like cats, reindeer don't like dogs and avoid areas where dogs live and roam.
Bring It On!
This Ms. Claus costumed cat is ready for anything the elves can bring while packing the sleigh with toys and goodies. There won't be any cookies stealing with this kitty around! Cats shouldn't be feed a sugary treat since it can be detrimental to their overall health.
Christmas Tree Perch
Don't ask how this kitty got up there, but he's clearly the best tree ornament! This cutie is king of the Christmas tree. This kitten is standing in the center of the tree as though he owns it and makes this Christmas tree very special. Cats love Christmas trees since the branches offer so many places to perch.
Hanging Around the Christmas Tree
Looks like this ornament didn't make it to the tree branch. This sweet kitten doesn't seem to mind being a stand-in. Take photos of your cat(s) to make into cool ornaments for your Christmas tree.
Christmas Hooded Cape Wonder
This fluffy cat pulls off a fashionable red hooded cape with white trim and pompoms. She's ready for that sleigh ride with Santa and his elves. Most cats don't like to ride in vehicles.
Pushing Santa's Helper Around
When the sleigh breaks down, it's time to improvise. Someone has to make sure Santa's helper gets there, but this cat doesn't seem very happy about it! While cats can be trained, yet aren't very reliable as a trained animal. Whether a cat behaves as trained depends on its mood.
Peek-A-Book Kittens
This Christmas gift holds three lively surprises that peek above the box rim. Who wouldn't love waking up to this gift of joy? Never gift a kitten to a child without first checking with the parent(s) to ensure it's a wanted addition to the family.
Bah Humbug!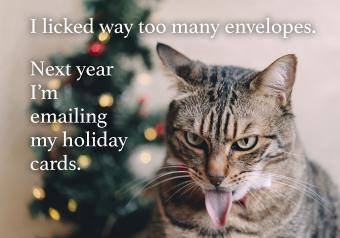 This cute kitty sticks her tongue out at all the hoopla at Christmas, but she's a softy at heart. Just gift her with a Christmas catnip toy and see how she lights up!
Time for Christmas Diet
When last year's Santa suit doesn't fit, you know it's time to cut back on the cookies! This cat will soon shed this ill-fitting suit and be curled up in front of the fireplace with visions of tasty treats and new toys dancing in his head. The best diet for cats is one similar to what cats eat in the wild.
Giving in to Temptation
Yes, temptation is just too much for this cat to resist. It's easy to see he won't be contemplating its attack strategy much longer! Cats usually view objects as either prey or a threat and as a result often attack or pounce on them.
Cool Cat!
When you know you're cool and your human puts a less than cool Christmas cap on your head. Disdain reeks in this cat's expression. There's nothing more mesmerizing than the disapproving look of your furry friend.
Tired Out from Playing Reindeer
This poor kitty is worn out from playing reindeer. He's too tired to do anything other than flop down on the floor and look forlorn. Most cats sleep for an average of 15 hours a day.
Undercover Cat
The jig is up! This undercover cat has just been exposed, but doesn't seem to be very concerned. It's a good thing there aren't any presents underneath the tree. Cats can hide for various reasons, such as play, illness or stress.
Hide and Seek
This cat decided to poke its head out from hiding within the Christmas tree branches. It makes a truly cute addition to the Christmas decorations. House cats still have predator instincts and enjoy playing and hiding.
Cat With Attitude
Attitude is this cat's signature and anyone who attempts to remove his Santa hat better keep that in mind. His blue-eyed glare is more of a dare. Would you try to take his hat?
A Real Spectacle
This kitty is adorable with her cool cat sunglasses, Santa hat and neckerchief. Funny and cute Christmas cat pictures are a great way to rev up your holiday season festive mood. You may find yourself snapping a few Christmas cat photos this year to create your own holiday collection.