When the season rolls around for all things fun and spooky, these funny Halloween dog pictures prove that there are endless possibilities for dog costumes.
Have you ever dreamed of seeing a dog dressed up as a shark or a canine version of Prince? We've got them all. Whether you're looking to gather inspiration for your own pup's Halloween costume or simply need a little spooky pick-me-up, you're in for a Howl-oween treat.
Special Dog-livery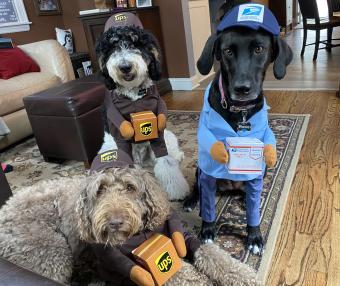 LoveToKnow General Manager Amy's pups are mutts about delivering packages. And after a ruff day on the job, they come home for lots of snuggles.
Ready for the Ball
Dogs really are a ghoul's best friend, or in this case, a Disney princess's sidekick. This cute Boston terrier proves not all Halloween dog costumes have to be scary.
Wonder Dog
We already know dogs are superheroes (they keep us calm, encourage us to move, provide us with so much love... should we keep going?), but this adorable lab in a Wonder Woman costume just adds to the notion.
Duunn Dunn....
There's some-fin exceptionally adorable about this dog's Halloween costume, though we can't put a paw on what it is…
Lucky Lovebug
We know ladybugs are a sign of good luck, but we'd count ourselves even luckier to have a sweet ladybug dog land in our lap!
Artist Formerly Known as Dog
This fancy Halloween pup wants your extra time and your *muah* *muah* *muah* *muah* *muah* treats.
A Very A-peel-ing Costume Choice
Dressing up as a hot dog might be a classic choice for a dachshund, but this isn't your average dog. They went outside the norm and picked another lengthy food: a banana! And they make a perfect banana, at that.
We're All Mad Here
You don't have to wait until Halloween to dress your dog up in a fun costume. Why not have a very merry unhalloween party, like this Mad Hatter pooch?
Mistress of All Evil
We're getting the impression that this Chihuahua, dressed up as the mistress of all evil, Maleficent, is a little mischievous. Or maybe they're just using Halloween as an opportunity to channel that side of their personality. After all, Halloween is a time to dress up as whatever you want!
Spooky, Cunning Fox
The Fox and the Hound is a fantastic story, and this cutie decided to embody both characters this Halloween: they're both the fox AND the hound!
To Bee or Not to Bee?
No one would hesitate to give treats instead of tricks to this sweet little dachshund dressed up as a bee.
Ghostly Halloween Hounds
These doggy apparitions are sure to scare anyone into leaving their treat baskets behind. At least these pups hope this happens!
What's Your Costume?
If we had to give out a prize for the best dog Halloween costume out there, this cutie would take the cake. There are the painted nails, the double body costume, and that enormous pumpkin in the middle that makes us want to ask, "what on Earth are you?" Whatever it is, it's pretty darn howl-arious.
Interview With the Shar-Pei
Vampire pups don't want your blood, they just vant to eat your treats.
Witch Way to the Halloween Party?
Q: What did the dog say at the Halloween costume contest?
A: I look fetching.
That you do, little one.
SQUIRREL!
If you can't catch a squirrel, why not become one? This dog has the right idea by emulating a canine's greatest nemesis for a Halloween costume dogs will find both frightening and chaseable.
Happy Howl-oween!
If your pooch isn't a fan of dressing up, don't be too bummed out. There are plenty of Halloween dog pictures to fulfill your need for cute pets in costumes. Scroll through them around spooky season or whenever you need to be cheered up.