If you've even tried to put your cat in an outfit, you know how challenging it can be. Even though your kitty isn't into dressing up, that doesn't mean you can't "Oooh" and "Aaah" at other people's cats in funny Halloween costumes. From a cowboy to a very cute Billy Idol wannabe, we found the 14 cutest and silliest cats in costumes you've ever seen. No scratching or hisses involved.
Kitty Idol
This adorable rocker thinks it's a nice day for a white cat wedding. How great is that hair?!
Get Me the Cluck Out of This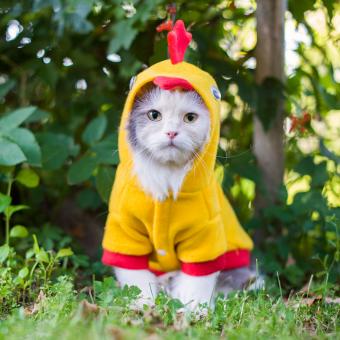 Q: Why did the cat cross the road?
A: To get away from this costume!
We're only joking, but this cutie doesn't look too pleased with their chicken costume. They look darling, though.
Heart of a Lion
This isn't just a cute feline, it's a felion. This is the purrfect Halloween costume for a little kitty with big dreams.
Put Your Paws Where I Can See 'Em
Buy Now
This police officer outfit looks ridiculously cute on a kitty... but maybe not to the dog.
Yo-ho-ho and a Bottle of Catnip
Buy Now
When you dress your cat up as a pirate for Halloween, be prepared for them to take on that colorful seafaring persona. Pirate cats don't purr, they "Arrrrrrr!"
This Little Kitty Went to Market
Buy Now
As if cats in Halloween costumes weren't adorable enough, we find one in a pig costume?! No one can handle this level of cuteness.
Gold Goes With Everything
More Details
We can't decide what this cutie is dressed up as. A snow bunny ready to hit the slopes? Macklemore in the Thrift Shop music video? Whatever they're going for, this cat is definitely pulling it off.
Hot Diggity Dog
More Details
"Who are you calling a hot dog? I'm a cool cat."
Yeehaw!
More Details
Dressing up as a cowboy or cowgirl is a pretty classic Halloween move, but we've never seen one quite this cute before.
Tired as Duck
After all that trick-or-treating, this sweet ginger is completely duckered out.
Purrnicorn
If your cat won't tolerate an entire Halloween costume, why not try a hat instead? This silly cat doesn't seem to mind the unicorn horn on their head. And it looks great!
That's Sir Hiss a Lot to You
Some might say cats are too sophisticated or snooty to participate in such silly affairs as Halloween costumes, but not when they involve an outfit as elegant as this one. This royal kitty is definitely channeling his inner king.
Happy Meowlloween
Even though Halloween usually involves all things spooky and scary, it's never a bad time to get some laughs in. And what better way to lift your spirits with some funny cat photos? Make sure to share them with a friend to keep the laughs going.
Want more adorable pets in Halloween costumes? Check out these photos of costumed dogs.