Over 2 million cats are adopted each year, which means if you have a rescue cat, you're in great company. Bringing a cat into your home is a big decision, but one that has endless rewards. Whether you're considering adopting a cat, or you already have one or several rescue cats at home, a cat rescue quote can voice the joy your furry friend brings you. Find one that's sentimental, inspirational, or funny based on your mood or your rescue cat's personality.
Short Cat Rescue Quotes
Even though you could certainly write a novel about how incredible rescue cats are, sometimes you only need a few powerful words to express what's in your heart. Use a short cat rescue quote as an Instagram caption or in a card to a friend who has just adopted a cat. Anyone with a rescue cat will appreciate the sentiment.
Saving a cat's life can change yours.
Life is better with a rescue cat.
"Rescue" is my favorite breed of cat.
Rescue isn't just a word; it's a promise.
The best things in life are rescued.
Secondhand cats make first-class pets.
Adopt, don't shop.
Rescuing cats isn't just what I do; it's who I am.
It's a beautiful day to rescue a cat.
Sure, you can buy love, but I rescued it.
Funny Quotes About Rescue Cats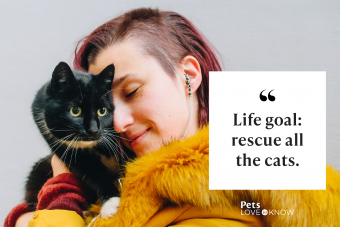 All cats have their quirks, including rescue cats. Share a funny rescue cat quote to voice the humor and joy your feline friend brings you.
I work hard so my rescue cat can have a better life.
I'm not a regular mom, I'm a rescue cat mom.
Saving cats is kind of my thing.
For a rescue cat, you sure are picky!
Life goal: rescue all the cats.
Welcome to the home of a very spoiled rescue cat.
I adopt cats; what's your superpower?
Sorry, I have plans with my rescue cat.
"Foster" is my favorite f-word.
Touching Rescue Cat Quotes
Looking for a sentimental quote about rescue cats? These get to the heart of the matter.
You may not look like a show cat, but the joy you bring me wins first place every time.
Rescuing a cat is giving a loving animal a second chance at life.
I know it may look like I saved my cat's life, but in reality, he/she/they saved mine.
I'm not sure what your past was like, but I know your future will be filled with pate, catnip, and endless petting.
Instead of looking at my cat as a rescue cat, I view myself as a rescue human. My cat saved me.
My rescue cat wandered into my life exactly when I needed him/her/them.
I didn't just take a chance on a rescue cat; I took a chance on what being loved unconditionally could look like.
Rescuing this sweet cat was one of the best decisions I've ever made. I'm so happy to have you by my side.
Cat Rescue Quotes for Adopted Felines
It can be difficult to put your feelings into words, which is why creative rescue cat sayings or quotes are so useful. You can find one that embodies the emotions in your heart and use it on customized gifts for your favorite cat-lover, in greeting cards, or as Instagram captions. Get creative and spread the love for your rescue cat.