We can all agree that cats are the best, so why settle for a boring caption to go with your cat's pic? Choose a clever cat Instagram caption to serve up some major feline vibes. Even if the photo alone is a scroll-stopper, a cat-centered message will elevate your post or Reel that much more. These 90+ cat captions really are the cat's pajamas.
Funny Cat Captions for Instagram
Between their silly sleeping positions and devious stares, it's easy to capture a hilarious picture of your cat. Even if the photo itself isn't necessarily funny, you can always use a clever caption to show off your cat's goofy personality. These funny cat captions have you covered.
10 lbs. of cattitude.
Yes, I really do need all these cats.
What do you call a pile of cats? A meowntain.
Life update: still love cats.
You say "crazy cat person" like it's a bad thing …
Cats: my prescription for happiness.
There's always time for a catnap.
Someone is being a sourpuss.
Sorry, I can't make it. I have a cat on my lap.
"I have too many cats," said no one ever.
Meow chicka meow meow.
Spotted: a wild floofen in their natural habitat.
I'm a cat mom; it's like a regular mom but cooler.
I have my own live-in biscuit maker.
How can something so small take up so much room??
My kids have paws and whiskers.
I can never win a staring contest against this one …
A cat always thinks they're on the wrong side of the door.
Warning: will start talking about my cats at any moment.
This stare is freaking meowt.
Once upon a time, there was a person who really loved cats. It was me. I'm that person.
I love all cats and some people.
Cats don't have owners. They have staff. And I better get back to work …
Cats are my favorite type of people.
Sorry I'm late, my cat was sitting on me.
If my cat doesn't like you, I probably won't either.
We're a bit catterbrained today.
Cats are like potato chips; you can't have just one.
Beware of irresistible fluffiness.
It's raining cats and cats.
I love black cats. They match my mood.
I work hard so my cat can have a better life.
All I need is coffee and my cat.
Heartfelt Cat Instagram Captions
There's no denying Instagram is full of #couplegoals content, but if your cat is bae, why not pair their photo with a message that shows just how much they mean to you? Choose one of these sentimental cat captions to add some love to your grid.
A home without a cat is just a house.
Happiness has fur and whiskers.
Life is good, but cats make it better.
If you don't like cats, it's because you're never met this one.
You had me at "meow."
All you need is love ... and a cat.
I'm still not sure who rescued who.
I didn't believe in love at first sight until I laid eyes on these fluffy cheeks.
Live by cat rules: stretch often, enjoy long naps, pounce on possibilities, and always land on your feet.
What would I do without this handsome/pretty kitty in my life?
Her/his/their purr melts my heart.
There's no place like home and no cat like this one.
This home is filled with love and cat hair.
Love is a four-legged word.
Happiness is a purring cat.
A cat is not just a cat; they're family.
Living in a fairytale with this pretty kitty by my side.
Short, Cute Captions for Cat Photos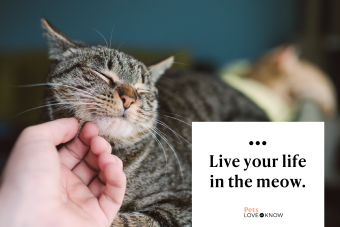 Sometimes less is more. Pair your photo with a short caption that doesn't take too much attention away from the pic of your cute cat.
Purr more, hiss less
Happy Caturday
Live your life in the meow
Cats rule, dogs drool
Hooked on a feline
Catching some rays
Smitten kitten
Zero fluffs given
The snuggle is real
Hi, I'm smol
Life's a catwalk
Cat hair, don't care
Cattitude is everything
Pawlisitively meowgical
Lookin' good, feline good
Be here meow
Cuteness overload
Don't stress moewt.
Biiiiiiig stretch!
Feline fine
Famous Quotes About Felines
Cats have always been loved by famous authors, artists, and other notable people. If you're having trouble finding a caption to go with a pic of your cat, why not borrow the words of one of these iconic cat lovers instead?
"Cats are connoisseurs of comfort." -James Herriot
"In ancient times, cats were worshipped as gods; they have not forgotten this." - Terry Pratchett
"The only escape from the miseries of life are music and cats." - Albert Einstein
"There are few things in life more heartwarming than to be welcomed by a cat." - Tay Hohoff
"What greater gift than the love of a cat?" - Charles Dickens
"I used to love dogs until I discovered cats." - Nafisa Joseph
"Time spent with cats is never wasted." - Sigmund Freud
"One cat leads to another." - Ernest Hemingway
"Cats choose us; we don't own them." - Kristin Cast
"I love my cats more than I love most people." - Amy Lee
Cat's Point of View Instagram Captions
Do you ever wonder what your cat would sound like if they could speak to you? Maybe they'd have a high-pitched voice or a Southern drawl. Use a caption from your cat's POV to share their unique (and often devious) voice with the world. These are particularly great choices if your cat has your own account!
"Of course I heard you. Can't you hear me ignoring you?"
"I put the fur in furniture."
"I'm kind of pawsome."
"On the naughty list, and I regret nothing."
"It's my favorite day of the week: Caturday!"
"Wanna hear a joke? Never mind, just kitten."
"Excuse me, food doesn't serve itself."
"I'm offensively good-looking."
"I have a cattitude problem."
"Feed me right meow."
"Nothing happens in this house without my approval."
"I need my beauty sleep."
"I live here. You're just visiting."
"I'm not kitten around."
"They call me the culinary cat burglar. I just really like food."
Best Hashtags for #Cat Posts
Curious about what hashtags to use when posting the purrfect photo of your cat to the 'gram? Expand your reach and get your cat noticed with our top 15 cat hashtags.
#cats
#catsofinstagram
#catsagram
#catsagram
#catsofig
#catlife
#caturday
#catmom
#catdad
#ilovecats
#catlovers
#catsrule
#instacats
#catsdoingthings
#adventurecat
Cat Instagram Captions with Cattitude
With so many clawsome options to choose from, you might decide you like more than one caption. Get creative and combine captions. For example, "The snuggle is real! There's always time for a catnap" would be a great fit with a photo of your cat snoozing. Or go all out and make several posts; your friends and followers won't mind seeing more of your cutie.