If you've ever thought about fostering dogs, I'd urge you to try it. Fostering means bringing a dog from a local shelter or rescue into your home for a period of time — whether a set period, like healing from a surgery, or until the dog gets adopted.
The rewards of fostering dogs — to you, the sheltering community, and any pet you foster are incredible. "Fostering an animal may seem like a small act, but it has a big impact on the life of that dog or cat," notes Mikayla Allen, Communications Coordinator at ACCT Philly. The Animal Care and Control Team (ACCT) receives more animals than they can house and depends on fosters to expand their reach. 
There are many other reasons fostering can be a brilliant choice for you and your family.  
1. Fostering Frees Up Space in the Shelter
Dan Schachner, PuppyBowl Referee and long-time dog foster dad says this is one of the top benefits of fostering for him. "Knowing that by fostering, you are making room in the shelter for another dog, and very likely saving two lives, not one!" Considering Dan's fostered close to 40 dogs in 10 years, that's a lot of dogs helped. 
Bringing a dog into your home frees up space and resources in the shelter. The organization can then rescue more dogs to save more lives. Mikayla agrees: Fostering "helps to free up space in overcrowded shelters, especially during this time where shelters around the country are always at max capacity."
Fast Fact
"Since its beginning 20 years ago, PuppyBowl has promoted pet adoption and fostering by showcasing hundreds of adoptable puppies from rescues and shelters across America." — Dan Schachner
2. Fostering Is Temporary
Fostering is a big commitment, but it's not lifelong. If you're unable to take on a long-term obligation, but still want someone to snuggle with at night, fostering is fantastic. The goal of fostering is to give the dog time outside of the shelter before finding their forever home. (Unless you fall in love and decide to adopt the dog, that is.) 
3. You Can Help, Until You Find Your Match
Some people decide to foster a dog as a way to see if they're a good fit for their family, which is totally OK. Just keep in mind that you'll want to keep your foster dog as long as they need to be in your home. Then, if it's a good fit, you can adopt. If not, you can help the rescue or shelter find a home environment better suited to your furry friend.  
Fast Fact
Often, the dogs in foster care have special needs and might be recovering from surgery or sickness, so it can take a while for their true selves to shine through.
4. Your Pets Benefit from Socialization
If you have dogs or cats of your own, fostering can be an awesome way to expose them to dogs of different types, ages, and personalities. This socialization can make your pet happier and more confident. Plus, they get to play with friends all day long, which is a dog's ultimate dream. Just take introductions slowly and get the shelter's go-ahead before you do.
Quick Tip
Talk to the shelter or rescue before you start fostering, if socializing your pup is your goal. That way they can help funnel dogs that will be a good match and aren't, say, recovering from an illness.
5. You'll Learn About Different Breeds
Dan's all about this one. "Getting to know so many different breeds/mixes of dogs, from all walks of life" is one of his top benefits. You can learn about all the different breed tendencies, quirks, and traits first hand. If you've ever wondered whether a specific size or type of dog would suit your lifestyle, fostering is a great way to find out.
6. It's Good for Your Health
Don't have your own pets? Fostering to the rescue. By bringing adoptable dogs into your home, you can still reap all the rewards of pet ownership, like reduced stress, lower blood pressure, and an elevated sense of purpose. So love on your foster dogs all you want. It's great for both of you!
7. It Gives the Dog Real-World Experience
A lot of the dogs in shelters have never been in a real home before. That's why foster homes are so necessary. "Fostering gives that animal a chance to experience being in a loving home environment as well as socializing with humans and/or other pets," notes Mikayla. DHow good does that feel?
Fast Fact
Shelters are incredible and important facilities, but the shelter environment can be stressful for a dog. They prefer a warm, comfy home. I do too.
8. It Lowers Your Costs
When you foster a dog, the shelter or rescue will usually take care of their veterinary care (including medications) while you're fostering. Some will even provide you with supplies, like food, treats, puppy pads, collar, leash, plus whatever toys they're particularly attached to. Each rescue has their own policy, so check with them directly if you're not sure. 
9. You Can Enjoy the Puppy Stage (or Avoid it)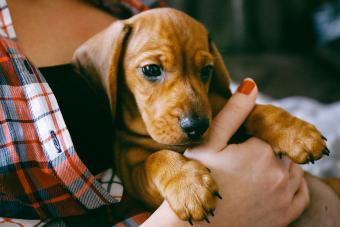 If you miss puppy breath but don't want to commit to a new puppy, foster one! You can get your fix for a short period while helping to rear a healthy pup that will make a great lifelong companion for someone else. If you're like me and have vowed to never raise another puppy again, you can foster a senior dog instead. These cuties are less likely to be adopted than puppies, so there are usually plenty of incredible older dogs in need of foster homes. 
10. Fostering Can Increase a Dog's Chances of Being Adopted
"Being in a foster home provides the shelter and interested adopters more information on that animal, which can help them find a home faster," says Mikayla. These details can make all the difference in finding the right home. Dogs often come out of their shells in environments where they feel more comfortable, so potential adopters can see their true colors when these dogs are in foster care. 
11. You Might Meet Your Best Friend
Once you foster, you'll probably hear a lot of jokes about "foster fails." This means someone who couldn't let go and kept the dog forever — the very best kind of "fail" you can have! Sometimes, you just connect with a dog and can't bear to see them go. You've found their forever home — it's just with you!
How to Get Started
If you're asking, "I'm in! How do I start?" Dan has some great suggestions: 
Start local. Find a rescue or shelter near you, follow them on social media
Look for adoption or fostering events in your area
Fill out the fostering application (it's easy)
Be willing to take in any age dog (they are all awesome) and
Be open-minded
Dan is clear: "you will soon see how gratifying fostering can be!"
What Are You Waiting For?
If you have the time and space to foster a dog, definitely consider it. There will inevitably be some challenges along the way, but there are plenty of resources to help you through. Contact your local shelter or private rescue of your choice to inquire about fostering and let the adventure begin.