Finding Siamese kittens for adoption is not as difficult as you might think. There seem to be more kittens in the world than there are homes for them.
Siamese Cat Rescue Center
The Siamese Cat Rescue Center is a network of rescues that foster Siamese cats and kittens from shelters before they are euthanized, saving over 25,000 felines so far. Volunteers travel to various shelters near their homes and take possession of the cats that they find, fostering them until a suitable household is found. Siamese Cat Rescue Center is a 501(c)(3) nonprofit organization. They are able to exist on donations, which are tax deductible. If you are approved via your adoption application, they will see if any of their current foster cats match up with what you're looking for. There are several chapters of this organization across the United States. For example:
Some chapters will do out-of-state adoptions, which require a $20 health certificate. Contact the rescue closest to you to see if they provide adoptions to your area. In most cases, you will have to cover the cost of transportation or travel to pick the cat up yourself.
Purrs Abound Siamese Rescue of Michigan
Purrs Abound, a 501(c)(3) rescue, fosters Siamese cats and kittens that volunteers find in shelters throughout Michigan and Northwest Ohio. They also assist with the placement of cats who need re-homing. Adoptions are granted to those living in Michigan or Ohio, and many times, a transporter will bring the kitten with them to a home visit in your house after your application has been approved to see if it's a good fit.
Adoption fees may vary but start at $185.
Austin Siamese Rescue
The Texas-based Austin Siamese Rescue, a 501(c)(3) organization, rescues, re-homes and rehabilitates Siamese and other Thai-breed cats and kittens in need. Adoption fees range from $100 - $175. A telephone interview is required. Homes with more than seven animals require a home visit from a volunteer.
Other Places Online to Find Siamese Cats and Kittens for Adoption or Sale
The following sites have postings of cats for adoption from a variety of rescues throughout the country, and they include purebred Siamese and mixes.
PetFinder allows you to search by location and breed, making it easy to locate a Siamese near you. In addition, you can specify the gender of the animal you want, as well as the age.
Purebred Cat Rescue specializes in purebred adoptions, but the organization also offers mixed breeds. While they do offer pictures of their cats so you can see them, they do not let you search by breed. You have to note preferences in the adoption application form.
Adopt-A-Pet also allows you to search by location and breed to find your perfect Siamese match. It boasts that it is the largest North-American pet adoption website.
These sites are a compilation of rescues all around the country, and you can search by your ZIP code and breed to find a Siamese cat for adoption in your area.
Local Options for Siamese Cat Adoption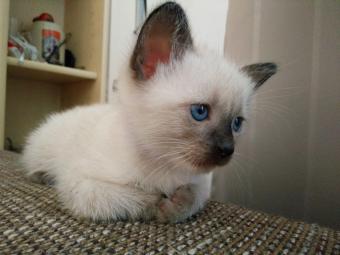 Local city animal shelters and local humane societies are always full of kittens that need homes. Purebred cats, including Siamese kittens, do pop up there. They are usually the cheapest option when it comes to adoption fees, but they will likely know very little about the kitten's background or temperament.
Beware of advertisements, as they may call themselves an animal "rescue," while they are actually trying to sell their cats. Always adopt from 501(c)(3) nonprofit organizations to ensure that you are dealing with a real rescue shelter.
What to Expect From Rescue Organizations
Reputable rescue organizations will provide the following:
Adoption Requirements
Most rescue and adoption facilities have certain requirements that you must meet in order to adopt a cat or kitten. Requirements vary depending on the organization, but common prerequisites include:
Adoption fees to cover the costs associated with vaccines and spay/neuter that the rescue has provided
Veterinary references
Proof that your current pets are vaccinated and tested negative for Feline AIDS & Feline Leukemia
A signed contract that states you will keep the cat indoors at all times
A signed contract stating that you will not declaw the cat
If the rescue does not think that you are a good fit for a Siamese kitten, your application may be denied.
Adopting a Siamese Kitten
Adopting takes patience, understanding, and sometimes, lots of work. She may need extra time to adjust and get settled while your kitty learns to trust you, but the feeling of saving a kitten's life makes it all worthwhile.