Collection of Puppy Wallpapers
Puppy wallpapers make cute backgrounds for your computer screen, phone, or tablet. Of course, you could upload your own images to use as wallpaper, or find a photo of a cutie patootie puppy to use. It could even be your way of manifesting the perfect pup into your life! Here you'll find an adorable selection of puppy images to save as wallpapers, as well as links to collections of cute puppy backgrounds to browse.
Labrador Retriever Pup
This little lab looks all tuckered out, but they'd still make a nice background on your desktop. You can also find images of chocolate lab puppies or black labs to use, if you prefer. Find one that makes you happy every time you look at it, and save it right now.
Yorkshire Terrier Puppy
This adorable Yorkshire Terrier pup looks like they're ready for the show ring. They would also look great on your computer or phone screen, don't you think? It's hard not to feel warm fuzzies when you see a cute yorkie pup.
Helpful Hack
Orientation is important! If you're looking for a puppy background for your desktop or laptop screen, make sure the image is horizontal, but if you want a cute pic for your phone background or lock screen, choose one that's vertical.
Golden Retriever Pup
Who could resist the sweet puppy face of this little Golden Retriever? Golden puppies can range in shade from nearly white to a rich auburn color. You can find tons of images of these cuties to consider as your wallpaper.
German Shepherd Puppy
This innocent German Shepherd puppy would make a nice background during the Autumn months. But you can just as easily find images with flowers or snow for different seasons. Check out these sites to find an image that matches the current weather.
Beagle Puppy
Here's a Beagle pup who'll remind you that all work and no play makes for a dull life. Just don't get too distracted by their cuteness, or you won't get anything done!
Boxer Puppies
Boxers are big on personality. This funny Boxer pup will fit in great on your screen. If one isn't enough, you can find images with two, three, four, or even five adorable Boxers pups that'll make you "aww" through your phone.
Dachshund Pup Duo
This cute little duo of Dachshund pups is bound to draw attention to your desktop. There are endless photos of this cute breed you can download and use.
Helpful Hack
Do you have a photo of your own cute dog you'd like to make into a wallpaper? You can do it for free in Canva. Just search for "wallpaper" and select one of their desktop or phone templates, then simply upload your image, add graphics or text, and voila!
Apricot Poodle Pup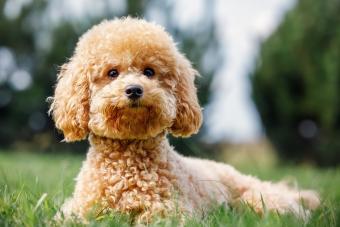 It seems like everyone loves Poodles, so maybe this little fellow would make stylish wallpaper for your laptop. Not a fan of apricot? Look for images of black, white, brown, or sable Poodles instead. And did we mention there's a color variation called the "parti Poodle?" They're bicolor with big patches of white and another color, but it sounds like they're ready to party!
Shih Tzu Puppy
If you can't snuggle a cuddly Shih Tzu puppy, at least you can look at one. This adorable puppy looks like they're ready for some fun and would be a welcome sight to see every time you look at your phone or laptop.
Download Free Puppy Wallpapers or Create Your Own
Saving an image of a warm, cuddly puppy will no doubt brighten your day. You can find hundreds of adorable images on free photo sites, or make your own through Canva or Photoshop. Set it as your background, lock screen, or screensaver so you see it frequently throughout the day. And whenever you need an extra boost of serotonin, just take a glance at your phone. We hope it works as well for you as it does for us!