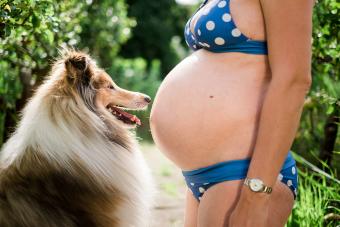 Your fur baby is your first baby, and it's only natural to want to involve your dog in your maternity photos or baby announcement. There are lots of fun and creative ways to do this, whether you work with a professional photographer or stage a photoshoot at home.
Try a Nose-to-Bump Shot
If your dog is a breed with a distinctive profile, such as a poodle or a collie, you can get a great photo of her looking at your baby bump. This is an easy shot to get if you can command your dog to sit and stay. It goes really well with lots of cute phrases too. Try "I can't wait to meet my new playmate!" or "They tell me something is going to change." Use these tips to get the photo:
Have your dog sit and stay and then position yourself so your bump is at eye level. Have someone else squeak a toy a little distance behind your back to get the dog to look.
Choose a place with a plain background or lots of nature. This lets the dog and your bump take center stage for the photo.
If you're shooting outside, avoid bright light. Shade is great, and so are overcast days.
Show Off Your Shape With a Silhouette
Your changing shape is part of the story of your pregnancy, and you can really show it off when you do a silhouette photo with your dog. This takes some planning to get the shot just right, but you can take this photo with a phone if you don't have access to a DSLR or professional photographer. It's a classy photo that goes well with more formal announcement text, such as "Even Rascal is overjoyed with our big news." These tips will help you get the shot:
Choose a big window or sliding glass door and move all the furniture out of the way in front of it. Stand in profile with your dog.
Set your camera or phone to overexpose the photo. This lets the light outside turn pure white while giving some detail to you and your puppy.
Once you take the photo, use digital editing software or a filter to turn it to black and white and increase the contrast.
Let Your Dog's Shirt Do the Talking
You can make a custom shirt for your dog with fabric paint, or you can buy a doggie t-shirt that announces your news. Either way, you'll end up with an adorable photo announcement. Keep these tips in mind to help:
For this shot, you have lots of options for your background, but it's ideal if you keep things simple. A path, sidewalk, or simple, colorful wall will work great.
Shoot at a time when you're dog has had plenty of exercise, as well as some time to get used to his shirt.
Take the photo from a low angle to help keep the focus on your dog and her fun message.
Can I Touch Your Belly?
Everyone loves to try to touch your baby bump, whether you want them to or not. However, when it comes to your dog, you can let her place a paw gently on your belly to feel the baby move. This can be a magical moment as your dog interacts with your pregnant tummy, and it makes an adorable baby announcement photo. Pair it with words like, "Riley felt the baby move to day!" Use these hints to help make the photo a success:
Choose a time when your dog is calm and relaxed. This should be fun and safe for both of you.
Find a spot with nice light and a simple background. Avoid clutter if you can.
Pet your dog to keep her calm and engaged. You can take your time to get a great photo.
Let Your Pooch Tell Your Parents
The perfect photo of your dog can be an adorable announcement for your parents. You can write any message you like on a chalkboard and have your dog pose with it. Your parents will be so charmed by the cute photo and wonderful news. Here's how to do it:
Find a spot with nice, even light and a clean background. A plain wall is great.
Have your dog sit and stay, and then prop the sign next to your dog or hang it around his neck.
Have someone squeak a toy right next to the camera lens as you take the photo.
Get a Photo of Shoes and Paws
Add even more charm to the classic shoe announcement photo by bringing your dog's paws into the picture. This is an easy shot to take - whether you're using a phone or a professional camera. You can add simple text like "Coming in August" or "We have a new pair of shoes to fill." Use these tips to make your photo a success:
Find similar shoes for everyone so the photo has a cohesive look.
Choose a background that contrasts with the color of your dog's feet. If she has dark feet, choose a light sidewalk or sand beach.
Use a tripod and self timer or have someone else take the photo while you pose.
Show How Important Your Dog Is
No matter what kind of baby announcement photo you take, involving your dog is a great way to show everyone you're expecting and underline what an imporant role your dog plays in your life. Even though everything is about to change, your friends will be charmed by the way your pooch is still top dog.