It's not hard to capture an adorable picture of your dog (let's face it, your camera roll is probably full of them right now), but coming up with the perfect caption can be a little ruff. From silly dog puns to new puppy announcements or words of remembrance for an old furry pal, there are great captions for any occasion. Use these dog captions for Instagram to fetch tons of likes, no running or throwing necessary.
Instagram Captions to Announce a New Puppy
Bringing a new puppy into your home is an exciting milestone! Of course, you'll want to introduce your new bundle of fur to friends and family, both near and far. Create a puppy announcement for Instagram with one of these captions.
Our family just grew by four paws!
My new roommate is pretty darn cute.
The one where we bring home a puppy.
I get to start every day with a tail wag. World, meet [your puppy's name]
Say "hello" to the newest member of the pack.
Today [I/we] became a pet pawrent!
Meet the newest (and cutest) member of the family.
Meet my bouncing bundle of fur.
Welcome home [your puppy's name].
This little one found [her/his/their] furrever home with yours truly.
Allow me to introduce our newest addition… [your puppy's name]!
Life is too short to have just one dog, so... we got a second!
Oops, I did it again, but really, what's one more?!
Short Dog Captions for Instagram
Some pictures really are worth a thousand words. Pair your adorable dog photo with a short, sweet, and catchy saying that won't draw too much attention away from your cutie.
Eat, sleep, cuddle with dogs, repeat.
The headtilt game is strong with this one.
Dogs are angels in disguise.
Time with a dog is never wasted.
This face melts my heart.
Happiness is a cute puppy.
I bet heaven smells like puppy breath.
Muddy paws and a happy heart.
Life is better with a dog.
Warning: cuteness overload!
Dog hair don't care.
Live. Love. Bark.
I followed my heart and it led me to you.
Blessed and dog obsessed.
Funny Dog Captions
While some photos are perfect with a heartfelt quote, others deserve something a little lighter. Match a silly dog photo with an equally funny message.
I have too many dogs, said no one ever.
My therapist has four legs and fur.
Dogs: first they steal your heart, then they steal your side of the bed.
Happiness starts with a warm nose and ends with a wagging tail.
Get in, losers. We're going to the dog park.
Home is where dog hair sticks to everything.
Everyone thinks they have the best dog, and no one is wrong.
Dogs are my kind of people.
On vacation we break out the really good treats!
Stop surrounding yourself with negative people and start surrounding yourself with dogs.
Happiness is my dog when I say "do you want to go for a…"
On Wednesdays we wear dog hair. Just kidding, that's every day.
You can't buy happiness, but you sure can rescue it.
Not fat, just a little Husky.
Dog Pun Captions
If you want to have your Instagram followers paw-sitively howling with laughter, a punny dog caption is the way to go. I Shih Tzu not, these are doggone good.
Life would be ruff without you.
Howl you doin'?
I'm mutts about this pup.
I didn't choose the Pug life; the Pug life chose me.
Today we had a pawsome adventure!
Love is a four-legged word.
Pawsitive vibes only.
No puparazzi, please.
Thanks fur the memories.
Taking time to paws and reflect.
Yappy Birthday to this sweet pup.
Friends furever.
I labradore the great outdoors.
On my bark, get set, let's go to the park!
Don't stop retrievin'.
Raise the woof.
The best things in life are furry.
We've got a new leash on life.
Bone appetite!
Embarking on a new journey with my best friend.
Dog Mom Captions for Instagram
Raising a dog is no easy task. Express your love (and occasional frustration) for your fur kids with these Instagram captions written especially for dog moms.
No matter how many pairs of shoes [he's/she's/they've] destroyed, this face will always melt my heart.
If I can't bring my dog, I'm not going.
Whoever said diamonds are a girl's best friend never had a dog.
Life is short, spoil your dog. #dogmom
Granddogs are grandchildren too, Mom.
All my kids have paws.
I'm not a regular mom, I'm a cool dog mom.
Crazy dog lady.

I take insults to my dog more personally than insults to myself.

I'm blessed to be your person.
I work hard so I can support my dog.
Relationship status: dog mom.
When the kids say "bark," we go to the park.
"It's just a dog." First of all, that's my child you're talking about...
Dog hair is part of my décor.
You had me at "woof."
This is the dog's house. I just pay the bills.
No one: ... Me: here's another picture of my dog!
Dog's Point of View Instagram Captions
It's hard not to imagine what your dog would say if they could speak to you. Each pup has a unique personality, so share it with the world through one of these IG captions written from your dog's point of view.
"That's right, I'm VIP. Very Important Puppy."
"Who's a good dog? I am, of course!"
"When in doubt, chase squirrels."
"For the record, my mom put me in this sweater." #nothappy
"Did someone say 'walk'?!"
"Spoiler alert: I look this cute in every picture."
"I take my job as 'cheerer-upper' very seriously."
"My nickname is Stopitrightnow, what's yours?"
"I'm offensively good looking."
"It's been a ruff day. Let's grab some Puppuccinos and talk."
"This mess? Oh no, definitely wasn't me."
"You look like I need a treat."
"I'm why we can't have nice things."
"Eat. Sleep. Treat. Repeat."
"Now offering nap lessons."
"Being this cute sure is ruff."
"It's my party and I'll bark if I want to."
Dog Loss Instagram Captions
There may come a time when you'll want to use a heartfelt caption to let friends and family know your dog has crossed over the Rainbow Bridge, or perhaps it's the anniversary of their death and you'd like the honor their memory. Use one of these touching captions to accompany a photo of a dog who has passed on.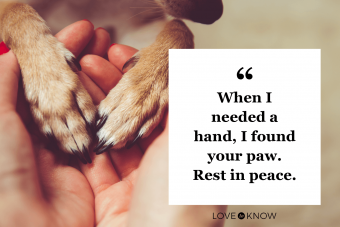 When I needed a hand, I found your paw. Rest in peace.
Today, [your dog's name] joined [his/her/their] pack over the Rainbow Bridge. Your paw prints will forever remain on my heart.
Not a day goes by when I don't miss my best friend.
All dogs go to heaven, and I know [your dog's name] is chasing squirrels and enjoying endless treats up there in the sky.
[Whatever length of time has passed], I lost my best friend, my adventure buddy, my sweet [your dog's name]. Life is not the same without you, but I know we'll meet again.
Today I'm remembering this spunky little [girl/boy] and the incredible memories we shared.
Dog Instagram Captions for Any Occasion
Don't keep that furry face to yourself; go ahead and post it to Instagram with a meaningful or catchy saying. Whatever your dog's age, breed, or personality, there are endless possibilities for captions. Find the one that best suits your pup and hit "publish." You'll never regret taking and posting photos of your special pal.