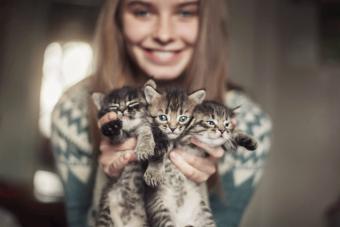 Whoever said a dog is man's best friend obviously never had a kitten. Kittens are curious, playful, and fiercely loyal. Show the world just how much you love your young cat with a funny kitten quote. From phrases to announce your new kitten to silly kitty puns, we've got you covered for every occasion.
Sweet Kitten Quotes for Cat Lovers
The bond you share with your kitten is special; they're family. Use a heartfelt kitten quote to express this love and show others just how much your kitty means to you.
A kitten's purr can heal even the most shattered heart.
Live. Love. Meow.
Kittenophile: someone who loves kittens.
All you need is love and a kitten.
Step one: get a kitten. Step two: take endless photos of them. Repeat step two indefinitely.
Smitten kitten.
Home is where my kitten pounces on my feet.
I imagine a kitten's purr is what heaven sounds like.
Happiness is a purring kitten.
Curiosity's got nothing on this strong, little kitten!
Eat, sleep, pet kittens, repeat.
Kittens are the cutest lap warmers.
Funny Kitten Puns for Quotes and Captions
Keep the meowmentum going with some hissterical kitten pun quotes. Punny phrases are purrfect for Instagram captions, greeting cards, or cat-focused craft projects. We're not kitten around here.
This kitten has cattitude.
I've been kitten by the love bug!
Who knew this little kitten was so hissterical?
I'm just kitten around.
You and me, kitten, we're feline fine.
My kitten is absolutely purrfect.
This kitten's antics will go down in hisstory.
You're freaking meowt!
My kitten's royalty; she's an aritsocat.
This kitten won't let me out of their sight, even for a meowment.
Kitty Kitty Bang Bang
This kitten is ready for Caturday!
Fast Fact
Kittens are trainable. They can learn to do tricks, play games, and impress your friends.
Famous Quotes About Kittens
Iconic wordsmiths think kittens are great, too. These famous kitten quotes describe the deep admiration the authors have for these sweet little creatures.
"A kitten is, in the animal world, what a rosebud is in the garden." - Robert Sowthey
"Kittens are wide-eyes, soft, and sweet. With needles in their jaws and feet." - Pam Brown
"A warm little kitten can melt an ice-cold heart." - Jo Kittinger
"The smallest feline is a masterpiece." - Leonardo da Vinci
"Kittens will make your sad go away." - David Wong

"A tiny kitten can fill a huge void in your life." - Jo Kittinger

"Kittens are angels with whiskers." - Alexis Flora Hope
"An inquisitive kitten is the best reminder of what youth is all about." - Jo Kittinger
"A kitten is the delight of a household." - Champfleury
"Poems are soft kitten furs. Smoothing out the rough edges of my world." - Sanober Khan
"I want to find a nice quiet spot, go to sleep, and dream about kittens." - John Corwin
"It's hard to concentrate on the work at hand when a kitten is playing at your feet." - Jo Kittinger
"The coldest depth of Hell is reserved for people who abandon kittens." - Robert A. Heinlein
New Kitten Quotes to Announce Your Kitty
Adding a kitten to your household is a momentous occasion. Let everyone know about your brand-new fur child with a new kitten announcement quote that's sweet and playful, just like your kitty.
Can you hear the pitter-patter of kitten feet? Meet our new kitty!
You had me at "meow." World, meet my new kitty.
Welcome to the family, sweet kitten.
What has nails as sharp as razor blades and can't stop purring? Our new kitten!
My newest child has whiskers.
We're expecting, and our new little one has four paws and whiskers.
No kitten - we got a new kitten!
We have a new addition to the kitten krew.
Surprise! We're getting a kitten.
Our home has grown by four paws and some very long whiskers!
The one where we got a kitten.
Purrfect Kitten Quotes to Melt Your Heart
You only have a short time to enjoy your little one's kitten phase. Make the most of it by snapping photos and recording milestones, so you remember every moment. Consider making a scrapbook with sweet kitten quotes throughout, then look back on it as your kitten grows into a vibrant cat. You'll never regret these warm memories!