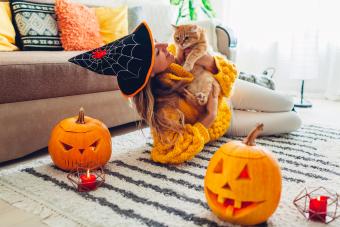 If you love spooky season, it's only natural to want to name your cat after the holiday. And if you just adopted a black kitty, it's absolutely a no-brainer. Where do you begin? Choosing a Halloween cat name is easy when you have 160+ hair-raising (and some completely adorable) choices. Browse by the level of fear each name evokes, then pick the one that suits your spooky little feline. 
Spooky Halloween Cat Names
Spooky Halloween-oriented names for your cat include popular words associated with the holiday. Some names have become iconic symbols of this holiday celebration, especially for black cats, whereas others might be great choices for an especially grumpy cat.
Abracadabra
Ashe
Batty
Beast
Black Orchid
Bones
Boo
Cinder
Crow
Hellhound
Fang
Ghost
Ghostie
Ghoul
Goblin
Goth
Hex
Jet
Magic
Midnight
Monster
Raven
Shadow
Skull
Skunk
Smokey
Spider
Spirit
Spooky
Troll
Twilight
Movie and TV Villains for Halloween Cat Names
If you want a truly spooky Halloween cat name, you can consider some of the worst evil villains in movie and comic book cultures. Choose the name that comes closest to the wicked traits you want to represent in your Halloween cat name. No one will ever mess with a kitty named Voldemort. At least we wouldn't! 
Agent Smith (The Matrix)
Bane (Batman)
Darth Vader (Star Wars)
Governor (The Walking Dead)
Homelander (The Boys)
Killmonger (Black Panther)
Lex (Superman)
Moriarty (Sherlock)
Negan (The Walking Dead)
Palpatine (Star Wars)
Sauron (Lord of the Rings)
Scarecrow (Batman)
Thanos (The Avengers)
Umbridge (Harry Potter)
Voldemort (Harry Potter)
Quick Tip
Is your kitty super sweet? Go for an ironic name by choosing the name of a villain for them. 
Iconic Halloween Characters for Cat Names
You might want an iconic spooky Halloween character for your cat. Each name conjures up images of the evil deeds these characters did in books, movies, or TV shows. Plus, everyone will know exactly who your cat was named after. 
Beetlejuice
Casper
Chucky
Cujo
Cruella
Damien
Dracula
Frankenstein
Hannibal
Hedwig
Hyde
Igor
Jekyll
Mummy
Phantom
Scarface
Skeletor
Vamp
Warlock
Witch
Wolf
Zombie
Spooky Cat Names That Mean Devil
Almost every religious culture has a devil or demon of some sort. These spooky names that translate to "devil" might be options you'd like to consider when choosing your Halloween cat name.
Abaddon (The Destroyer)
Abnegazar (Marvel's Demons Three)
Ahpuch (Mayan devil)
Apollyon (Greek Satan)
Ashema Deva (Greek variant of Asmodeus)
Asmodeus (Greek)
Balaam (Hebrew devil)
Baphomet (Templars' Satan)
Beelzebub (Christian or Hebrew)
Behemoth (Hebrew)
Bilé (Celtic god of Hell)
Demon
Devil
Diablo (Spanish)
Ghast (Marvel's Demons Three)
Leviathan (Hebrew, monster)
Lucifer
Mastema (Hebrew)
Mephistopheles (Germany)
Moloch (Latin)
Nergal (Babylonian)
Nihasa (Native American devil)
Old Nick (Devil)
O-Yama (Japanese)
Pluto (Greek god of underworld)
Pwcca (Welsh)
Rath (Marvel's Demons Three)
Samnu (Central Asia)
Satan
Shaitab (Arabic)
Typhon (Greek)
Yen-lo-Wang (Chinese)
Halloween Sweet Cat Names for Fall Season
Do you love fall as much as you love Halloween? Then you might want to choose from some great Halloween cat names that fit the fall season. Candies and food that are popular for doling out to trick-or-treaters make great cat name choices.
Acorn
Apple
Candy Corn
Chestnut
Chupa
Cider
Cinnamon
Corndog
Copper
Cyclops
Googly, Googly Eyes
Halloween
Jack (Jack-o'-lantern)
Jelly Belly
Maple
October
Orange Slice
Orangie
Pumpkin
Razzles
Rolo
Sour Patch
Spicy
Trickster
Trolli
Twizzlers
Warheads
Bob (bobbing for apples)
Quick Tip
You could pick a cat name that transcends just the Halloween holiday and encompasses the full magic of fall.
Witches' Cats and Evil Cats From Movies and TV
There are tons of witches featured in movies and TV series. It's not surprising that they all have a pet cat as their familiar, and there are also evil cats featured in some of these iconic shows. Why not choose one of these well-known names if you feel the cat's behavior and characteristics match your feline pet? 
Azrael (Smurfs cartoon)
Church (Pet Cemetery)
Crookshanks (Harry Potter)
Midnight (Catwoman)
Mr Bigglesworth (Austin Powers)
Mr Jinx (Meet the Parents)
Mr. Tinkles (Cats & Dogs: Revenge of Kitty Galore)
Mrs. Norris (Harry Potter)
Pyewacket (Bell, Book and Candle)
Salem (Sabrina the Teenage Witch)
Thackery Binx (Hocus Pocus)
Zip Zip (Bewitched)
Milo (Stuart Little)
Halloween Names for Black Cats
Black cats and Halloween go together like peanut butter and jelly. If you have a new black kitty, give them a name inspired by their fur color and the spooky holiday you love so much.  
Bewitched
Black Widow
Charm
Fury
Hades
Ink
Jet
Mystery
Night Rider
Omen
Onyx
Pitch
Poe
Shade
Silhouette
Smoke
Smudge
Spell
Superstition
Terror
Choosing Your Perfect Halloween Cat Name
You have a wide range of choices for a Halloween cat name. You could opt for a really spooky name or decide that a sweet-sounding Halloween name is a better option. Depending on your cat's personality, you're sure to find the perfect name to fit your cute Halloween cat.