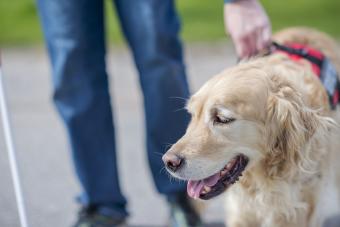 If you've ever dreamed of adopting a service dog, you're not alone. These noble canines have some of the toughest jobs around, and at the end of their careers, they deserve to settle down with a loving family. But that's not all. By taking in a retired service dog, you could be saving their life. The dogs are generally between the ages of 7 and 10 when they retire from active service, but some organizations will consider working dogs older than 10 if they are healthy and active. Most service dogs are very well trained, and there is typically a long wait list of people looking to adopt these remarkable pets.
Why Adopt a Retired Service Dog?
Service dogs are often retired due to health problems or age. While this can be an issue, it shouldn't be a deal-breaker if your main priority is finding a good match. The most important factor when choosing a new pet should always be your ability to provide them with a loving home and quality care.
Service dogs are trained to perform a variety of tasks for their handlers, such as:
Guide navigation for the blind or visually impaired
Alert hearing-impaired individuals of sounds, such as doorbells and smoke alarms
Help manage epilepsy by sensing seizures before they occur
Assist people with diabetes by alerting them when insulin is needed
In additional, service dogs are very well socialized, and by the time they are ready for retirement, they are typically calm and easy to care for. It's no wonder that many people want to adopt a retired service dog. Adopting one of these incredible animals not only helps save their lives but also provides an opportunity for you to gain an incredible companion. There are many benefits to adopting a service dog, and these are not limited to what they can do for you.
The Benefits of Adopting a Retired Service Dog
Retired service dogs are well trained and fully bonded with their handlers. Although it may take them some time to bond with you, since they have previously bonded with someone else, their bond will be strong once it has been established. This means that they'll be obedient, polite, and relaxed in any situation you might encounter.
Service dogs are trained to remain calm in public places, even when there are loud noises or crowds of people. They know how to behave appropriately around other animals and children, too. They have been exposed to nearly every situation, making them well-rounded, heavily socialized dogs.
Service dogs also have plenty of experience being calm at home while their owners are at work or out running errands. So, you typically don't often have to worry about the frustrations that come with separation anxiety. They can even handle working on a leash without pulling.
Don't worry if your newly adopted retired service dog appears to be shy near strangers. These dogs have been taught to be affectionate but not overly clingy, which is perfect for those who aren't comfortable with affectionate pets.
Service dogs are well accustomed to stressful situations due to all the training they go through before being placed in homes as pets. This will come in handy if or when something unexpected happens around your house. They will likely alert you of an alarming situation or comfort you if you're feeling anxious.
How to Find a Dog for Adoption
The good news is, because service dogs are known to be so well trained, any time one retires or their former owner is no longer able to care for them, there are typically a lot of people eager to adopt them. While this makes finding a service dog to adopt much more of a challenge compared to finding non-service pets for adoption, it is good to know that very few -- if any -- former service dogs are suffering without someone to care for them.
Typically, unless you know someone who has a service dog in need of a home, the best way to find a service dog to adopt is to contact organizations that train and provide service animals. Various organizations, including Dogs for Better Lives, Paws 4 People, Guide Dogs of America, Assistance Dogs International, and Canine Companions for Independence, among others, may from occasionally know of service dogs in need of adoption. However, be prepared to wait: Guide Dogs of America currently has a 5-year waiting list for adoption, and is not taking new applicants because demand is so high.
You can also consider adopting a service dog-in-training who failed to move on to the next step of the process. Often, these are young-adult dogs who were well socialized and have extensive basic obedience training, but were not able to meet the requirements for advanced training. As a result, they sometimes need homes. Be aware, however, that not every breed is likely to be represented in service dog adoption lists. Many breeds are very infrequently used as service dogs, so keep that in mind before you set your heart on a particular breed.
How to Adopt a Retired Service Dog
There are many ways that a service dog can be placed in your home, but the first step is generally the same. Contact the organization that trained your potential service dog, or if they were trained by someone else, contact their former owner and trainer. If you're interested in adopting a particular dog, ask about their history and training. This will help you understand how well-behaved they are and if would be a good fit for your family.
This will also aid in understanding what they may alert you to or how they can help around your home. Even though they're retired, that doesn't mean they have forgotten all of their training and the work they have done with their prior owner.
Canine Companions for Independence trains Golden Retrievers to perform tasks for people with disabilities, such as blindness or diabetes. This organization has a program where you can adopt one of their retired dogs who would otherwise not have an opportunity to be adopted again without their help. They also have an online application form that you can use to fill out and submit so they can begin screening you as an adoptive family member. Other organizations that may have retired service dogs for adoption include:
You can also contact a rescue organization. There are thousands of nonprofit organizations dedicated solely to rescuing working dogs from shelters around the country. These groups often provide everything from transportation and vet care assistance right up through adoption services so that each animal gets placed in just the right home.
If you specifically want a retired service dog, you will need to be particular about that option. Simply searching for "working dogs" will open you up not only to retired service dogs but also to retired military or police dogs.
The adoption process can take anywhere from several weeks to several months (or even years) depending on where you live, what type of animal you want to adopt and how many other people are interested in adopting the same dog. The organization may also ask potential adopters if they'd be willing to take another dog if their preferred candidate isn't available or doesn't work out.
The Cost of Adopting
You will typically spend between $200 to $500 to adopt a retired service dog, but there are some organizations that will charge more or less, depending on their mission and resources. However, these fees are usually just part of a larger package that also includes training, certification as a therapy dog, and continuing education.
The cost of adopting a retired service dog also typically covers the following:
Initial vet checkup and vaccinations
Spaying or neutering
Microchipping, which should be done at least 24 hours before adoption so they can be registered with your local animal shelter
Medical tests to ensure that the dog is healthy and free of disease are only required if you live in California
Is a Retired Service Dog Right for You?
If a retired service animal sounds like a dog you would be interested in adopting, begin the search by first contacting the organization that trained them. If they aren't correlated with any organization, contact the shelter or prior owner to gain an understanding of the adoption process. These dogs have been significantly bonded to one individual in a prior setting, so making a cautious decision is important. As with any dog, this dog will become bonded to you over time and re-homing should not be considered an option.