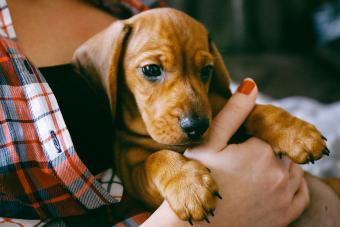 Congratulations on your new addition! Bringing a new puppy into your home is a momentous occasion and something you'll definitely want to share with friends and family. Use a creative new puppy quote along with a photo to announce your furry friend to the world.
Welcome Your New Puppy With These Quotes
Between the gentle kisses and little paws, you'll want to cherish this time with your new pup. These new puppy quotes express all the things you love about your new fur child.
No home is complete without the pitter-patter of puppy feet.
Love is puppy breath and a cute belly.
Puppies bring so much joy, and they don't even know it.
Happiness isn't just a warm puppy, it's a brand-new puppy!
Life is too short to have just one dog, so we got a new puppy.
I didn't understand the true meaning of love until I met this new pup.
Someone stole my heart, and they have four paws and a wagging tail.
I'm opening my home and my heart to a new puppy.
We're not just bringing home a new puppy; we're bringing home a bundle of happiness.
I've been keeping a four-legged secret … it's a new puppy!
My heart melted as soon as I laid eyes on this little one. Welcome to the family!
Puppies are born knowing two things: loyalty and love.
Sweet puppy: I can't wait to teach you everything I know and learn just as much from you.
All you need is love and a puppy.
Please prepare for the flood of new puppy photos coming your way!
Short and Cute New Puppy Quotes for Instagram Captions
Share the news of your furry family member with a new puppy caption fit for Instagram. You'll want the photos of your pup to be the focus, so pair it with a message that gets the point across in a single line. Your friends and followers will feel the joy through their screens.
Our family is growing by four little paws.
World, meet our new puppy!
Welcome to your furever home.
Adding one more to the pack.
Hi, I'm new to the crew.
Our house is getting one leash bigger.
Let the snuggles and treats begin.
The one where we got a new puppy.
The dog's out of the bag … a new puppy is joining my family.
What's one more? Introducing my new pup!
Alexa, play "I think I'm in love."
We're becoming pet pawrents!
My new roommate is pretty darn cute.
Say hello to the cutest member of our family.
I'm expecting, and it's a … puppy!
This new addition is pawfection!
Hi, MTV I'm ___. Welcome to my crib.
Famous Quotes to Welcome Your New Pup
You're not the only one who thinks a new puppy is one of the most incredible things in the world! Many people have highlighted this sentiment with notable quotes. Pick one that touches your heart and expresses how you feel about your new puppy.
"Happiness is a warm puppy," - Charles Schulz
"Whoever said you can't buy happiness forgot little puppies." - Gene Hill
"So this is love. So this is what makes life divine." - Ilene Woods
"Puppies are God's idea of a perfect workout program." - Stephen King
"Not all puppies have a home, but all homes should have a puppy." - Unknown
"Dogs are not our whole life, but they make our lives whole." - Roger Caras
"No matter how little money and how few possessions you own, having a dog makes you rich." - Louis Sabin
"My little dog - a heartbeat at my feet." - Edith Wharton
"Did you know that there are over 300 words for love in canine?" - Gabriel Zevin
"Dogs have a way of finding the people who need them, and filling an emptiness we didn't even know we had." - Thom Jones
Announce Your New Puppy in Style
Have you given some thought to how you'll announce your new puppy? You could post a photo of your new pup to social media, share a family photo, involve any dog or human siblings in the reveal, or even create customized cards to mail out. Whatever you choose, you'll need a sweet puppy quote to go along with it. Find the one that touches your heart, then get creative.