If you're naming your pet around Easter, or are just a big fan of the holiday, it can be fun to give your new friend an Easter pet name. You could find inspiration in all the cute Easter treats by choosing a name like Cadbury or Peep, or maybe even pick afun Easter pun name. These delightful names will put a spring in your step, no hunting necessary.
Cute Easter Names for Pets
There are tons of cute things associated with the Easter holiday: baby chicks, pastel-painted eggs, jelly beans, and delicious chocolate bunnies. Why not look to these for inspiration when picking an Easter-themed name for your pet? There are tons of cute choices - try them all out and see which you like best.
April
Basket
Bonnet
Bouquet
Bud
Bunny
Cadbury
Candy
Carrot
Cheep
Chick
Chick-a-dee
Chirp
Chocolate
Clover
Daffodil
Daisy
Eggy
Fluffy
Hatchling
Hopper
Hunter
Jellybean
Lavender
Lily
Pastel
Peep
Rabbit
Raindrop
Robin
Spring
Sunday
Tulip
Easter Dog Names Inspired by Well-known Bunnies
Bunnies have practically become synonymous with Easter. Whether your pet is a rabbit or not, you may want to consider naming them after a famous rabbit character. You can find these well-known bunnies in movies, TV shows, comics, or literature, and they all have amusing names.
Alec Azam (Presto)
Babs (Tiny Toon Adventures)
Bugs Bunny (Looney Tunes)
Bunny Foo Foo (Little Bunny Foo Foo)
Buster Baxter (Arthur)
Cream (Sonic games)
Energizer Bunny
Flopsy (The Tale of Peter Rabbit)
Frank (Donnie Darko)
Hester (His Dark Materials)
Hoppy (Marvel franchise)
Lola Bunny (Looney Tunes)
Mr. Bun (Calvin and Hobbes)
Nabbit (Super Mario)
Peter Cottontail (Peter Conttontail)
Peter Rabbit (The Tale of Peter Rabbit)
Roger Rabbit (Who Framed Roger Rabbit)
Thackery Earwicket (Alice in Wonderland)
Thumper (Bambi)
Velveteen (The Velveteen Rabbit)
Funny and Punny Easter Pet Names
Do you and your new pet have an eggceptional sense of humor? Try out one of these hilarious Easter pet names if you're looking for a silly moniker for your new best friend. They're particularly great choices for a pet rabbit or chicken!
14 Carrot Gold
Bad Hare Day
Deviled Egg
Eggsplorer
Eggstra
Feelin' Clucky
Good Egg
Harey
Hippity Hoppity
Hot Cross Bunny
IHOP
Jelly Bones
Pugs Bunny
Somebunny
Traditional Easter Dog Names
Those who observe Easter as a religious holiday might be searching for a biblical Easter dog name instead. The names of spiritual symbols and apostles could make a great name for your pet.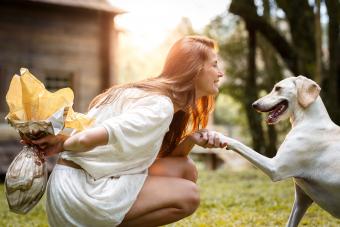 Agnes
Anastasia
Andrew
Angel
Ash
Bethany
Birch
Butterfly
Christian
Dogwood
Eastertide
Heaven
John
Lamb
Palm
Paschal
Peter
Rejoice
Risen
Willow
Easter Names for Pets of All Kinds
Spring is a time of rebirth and renewal, and it's also the season when many baby animals are born. If you find yourself with a new baby chick, bunny, dog, or any other pet, it can be fun to honor the holiday with an Easter-themed name. See which name your pet most resembles or which one they respond to. You'll find the perfect name before you know it!