Being a small pet owner means you get to choose funny rabbit names for your favorite bunny buddies. If standard pet rabbit names don't suit your personality or your pet bunny, consider funny rabbit name puns instead. They're sure to not only give you a chuckle, but your visitors as well.
Fun Male Rabbit Names
For a male rabbit, or buck, the name can be inspired by famous men, male bunny characters, or ironic words that relate to rabbits in a funny way.
Ashton Hutcher
Bunnicula
Bunsen Bunner
King Carrot
Lebun James
Leaf Erikbun
Marlon Bundo
Mike Pounce
Playboy
Prince Harey
Rabbit Pattinbun
Stew
Silly Female Rabbit Names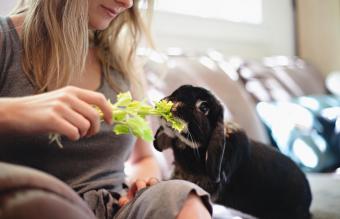 Some of the best female rabbit names are plays off the names of famous women.
Amelia Earhare
Anita Rabbit
Bunnycé
Chelsea Bun
Elizabunth Warren
Eva Longhareia
Greta Bunberg
Hareiet Buncher Stowe
Hareiet Thumpman
Jane Doe
Kylie Bunner
Malala Yousofuzzi
Marilyn Bunroe
Funny Rabbit Name Puns
From the foods rabbits eat to the burrows and rabbit hutches they live in, you can use rabbit life stereotypes to create pun names.
Bun-be-leaf-able
Bunderful
Bunderwhere
Bunstoppable
Creature of Rabbit
Hare-Hare
Hareshey's Chocolate
Hot Cross Bun
IHOP
Pilsbunny Dough Boy
Some Bunny
The Chosen Bun
Witty Names for Small Rabbits
Funny names for small rabbits include plays on words that mean "small," or the names of other small creatures.
Bun Bun
Bunette
Buniscule
Bunlet
Bunnydoll
Hutchkin
Lapinrechaun
Menehare
Minibun
Rabbant
Robbit
Shorthop
Wee Rabbit
Humorous Names for Giant Rabbits
If you've got a giant rabbit breed like a German giant rabbit or a Flemish giant rabbit, look for names that play off synonyms for big.
Bunhemouth
Bunorian
Da Bao (means "big bun" in Chinese)
Giganthare
Harecules
Hareoic
Jumpitor
Paul Bunnyan
Rabbitus Haregrid
Hilarious Lionhead Rabbit Names
The look and breed name of Lionhead rabbits gives you plenty of inspiration for punny bunny names related to lions, funky hairstyles, or lots of facial hair.
Bunnybeard
Charlemane
Cubby Bunny
Dan de Lion
Hair Force Bun
Hairiet
Hairold
Libun
Mane Bun
Old Man Winter
Roarbit
Comical Floppy Eared Rabbit Names
Floppy-eared rabbits, like the English Lop rabbit, get funny names from their long, limp ears.
Allears
Bunbo
Colopssal
Cyc-lop
Ear Fluff
Earl (pronounced like "ear" + "l")
Earresistable
Kreachhare
Longear Silver
Scarlet O'Hear
Punny Bunny Names Based on Characteristics
Words that describe things related to rabbits can be plugged into common phrases or nicknames to create hilarious rabbit pun names.
Bun-gee Jumper
Carrate Hop
Carrot Lord
Edinburrow
Fluff 'n Stuff
Hoppy McHopperton
Hopscotch
Jumpson
Lego
Lucky Legs
Tailor
Thunder Thighs
Your Hopness
Funny Rabbit Names for Pairs
If you've got a pair of rabbits, it can be really fun to name them after celebrity couples or famous pairs. Simply replace parts of the names or words with rabbit-related words.
A-Hop and J-Lop (A-Rod and J-Lo)
Bugs Bunny and Elmer Furr (Bugs Bunny and Elmer Fudd)
Bun and Harey (Ben and Jerry)
Bunman and Rabbit (Batman and Robin)
Bunwinkle and Rabby (Bullwinkle and Rocky)
Fluffski and Hutch (Starski and Hutch)
Hare Solo and Chewbunna (Han Solo and Chewbacca)
Exrabbit A and Exrabbit B (Exhibit A and Exhibit B)
Have Fun With Your Bun
Giving your pet rabbit a funny or punny name can make caring for them a lot more fun. If you need more inspiration, check out more pet rabbit names and look for ways to make them bunny approved.