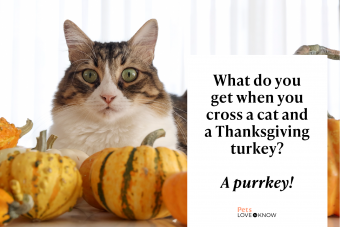 Whether you're doing a family Thanksgiving or Friendsgiving celebration, laughs are always a must. And if you're a cat-lover, why not incorporate kitties into the fun? From cute "Happy Thanksgiving" cat memes to hissterical feline jokes and puns, these one-liners are perfect for wishing your loved ones a Happy Thanksgiving with cats. Happy Catsgiving!
Cute Happy Thanksgiving Cat Jokes
You find yourself seated next to your second cousin and have already gone through your usual family dinner icebreakers. What's next? Pull a cat joke out of your back pocket, then invite everyone to share a joke of their own. Cat-dad jokes for the win!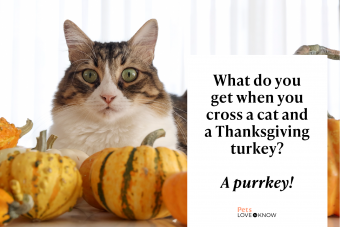 Q: What do you get when you cross a cat and a Thanksgiving turkey?
A: A purrkey!
Q: What game do cats love to play on Thanksgiving?
A: Duck, duck, turkey!
Q: Why did the cat stay in the kitchen during Thanksgiving dinner prep?
A: They wanted to keep an eye on the bird.
Q: Why did the cat bring a turkey to Thanksgiving?
A: Because they heard it was the purrrfect dish to gobble up.
Q: Why did the cat turn down seconds for Thanksgiving dinner?
A: They were already stuffed.
Q: What is a cat's favorite part of Thanksgiving?
A: The purrade.
Q: Why did the cat bring blueberry sauce instead of cranberry?
A: They were feeling sad. 
Q: What is a cat's favorite movie to watch on Thanksgiving?
A: Beauty and the Feast.
"Happy Thanksgiving" From the Cat
Cats are absolutely part of the family. If you're sending a Thanksgiving greeting card to a friend or want to post a pic of your cute kitty to social media, you can definitely use a feline "Happy Thanksgiving" message. These are all written from the perspective of your cat and are as silly as they are sweet.
I just want to paws and give thanks that you're my parent.
May your Thanksgiving feast be as bountiful as my treat stash.
Happy Purrkey Day! Love, [your cat's name].
Happy Catsgiving!
Wishing you a purrfectly cozy Thanksgiving filled with cuddles and chin scratches.
This Thanksgiving I'm thankful for your lap, your love, and all the nibbles of turkey I'm going to get.
Thanksgiving is all about feeling grateful, and you're at the very top of my gratitude list.
Sending you treats and turkey dreams this Thanksgiving.
Yeah, yeah, gratitude, whatever, but is the turkey ready yet?
Thanksgiving Cat Puns & One-Liners
One-liners and puns are a great way to tickle anyone's funny bone. Bring some laughter to your Thanksgiving celebration with these punny feline phrases.
This Thanksgiving I'm filled with heartfelt purraise.
I'm feline feasty.
Feast mode: activated!
Netflix and chill? Nope, tonight is knead and gobble.
Turkey trot? No way, how about a turkey treat?
I'm thankful for CATS.
This gravy is pawsitively delicious.
This Thanksgiving feast is whisker-licking good!
What a purrfect Thanksgiving spread.
Paws and give thanks.
Cats Hold the Tur-Key to Our Hearts
We give thanks to cats all year round, but it's still fun to highlight them on Thanksgiving. Along with sharing a silly Happy Thanksgiving cat joke, think about giving your kitty a turkey feast of their own. Get a turkey cat entrée and top it with a little dollop of plain pumpkin. What a purrfect treat for a very good kitty.