Horse racing is known as the "Sport of Kings." This thrilling athletic event occurs across the world between Thoroughbreds, Quarter Horses, Standardbreds, and Arabians. Before you place a wager on a race, it's important to familiarize yourself with the four different styles, as well as the pros and cons of horse racing.
Styles of Racing
Although horse racing is one of the oldest known sports, it has evolved immensely since its inception. Unique styles and techniques have emerged over the last several centuries. Today, the four styles of horse racing are flat, jump, harness, and endurance. Each involves different guidelines and is popular in their own right.
Flat Racing
Flat racing is the most popular type of horse racing worldwide. Horses run a specified distance on a leveled track. In the United States, the tracks are most commonly dirt, while in the United Kingdom the tracks are turf.
The race begins with horses loaded into the starting gate. The crew loads horses quickly because the starting gate is the most dangerous place for horses and jockeys. A bell sounds, the gates open, and the horses run down the track. The first horse and jockey team to cross the finish line is the winner. In some cases, two or more horses finish the race so close to each other, the race officials must use a photo finish to determine the results.
Flat racing measures distances in furlongs, or 1/8-mile increments. A sprint is seven furlongs or fewer. A route is 1 mile (8 furlongs) or longer, and a marathon is longer than 1.25 miles.
Jump Racing
Jump racing, also known as steeplechasing, is more popular in the United Kingdom than in the United States. The sport reportedly originated in Ireland, where riders would use church steeples as landmarks to race between towns. They would encounter obstacles like walls, fences, and rivers, which forced the horses to jump in order to continue the race.
In modern jump racing, horses run a specified distance, but must jump several obstacles before they reach the finish line. This makes steeplechasing more dangerous than flat racing. Horses must have both speed and power in order to clear the hurdles. Steeplechases may begin with a starting gate or with a flag.
Harness Racing
In harness racing, each horse pulls a lightweight, two-wheeled cart called a sulky, and drivers ride in the carts. In the United States, only Standardbreds compete in this event, but other breeds compete in Europe. The horses begin behind a moving starting gate pulled by a truck. Most races are one mile.
The horses move at a pace or a trot, never breaking gait. Standardbreds are "pacers," meaning they move two legs on the same side of their bodies simultaneously, such as the right front and the right hind. "Trotters" move diagonal legs simultaneously.
Endurance Racing
Endurance racing is a popular style that involves racing for long distances -- typically 50 or 150 miles. Instead of a track, competitors follow a designated route that can cover various types of terrain. Uphill climbs are not unusual during these races.
Arabian horses are often chosen for this sport due to their physical stamina, but any breed can participate in endurance racing. Because these races span up to 24 hours and can be hard on a horse's body, there are several points throughout the race when a veterinarian examines the horses to ensure it's safe for them to continue.
Race Classifications
Horse racing has a hierarchy of race quality. Although most horses start in Maiden races, low-end horses spend their careers in Claiming classes, while elite competitors appear in high-dollar Stakes races.
Maiden
Maiden races are for horses who have not won a race yet. These vary in distance, and horses of the same age and sex compete against each other. When a horse wins its first race, it "breaks its maiden."
Claiming
Claiming races are for horses for sale to a licensed trainer or owner for a predetermined price at the end of the race. The person claiming the horse pays in advance and takes ownership whether the horse wins, loses, or dies in competition. Most races in the United States are in this category. The previous owner gets the "purse" or winnings if the horse wins. These horses are typically lower-quality, less competitive racehorses than those who run in Allowance or Stakes races.
Allowance
Allowance races are for horses who broke their maidens but are not ready for Stakes competition. Horses in this category have won Claiming races. These races have conditions attached, such as an "other than" or "two other than." Horses in "other than" races have only won Maiden, Claiming, or Starter Allowance races. Those in the "two other than" category have won only one Allowance race.
Stakes
Stakes races are for elite racehorses and offer the highest purses. Owners must pay nomination and entry fees for their horses to run. Most nomination deadlines are 10 days before the race date, but may be up to a year in advance.
Non-Graded Stakes is the lowest classification in this category. These offer modest purses, and some trainers use this as a step between Allowance and Graded Stakes competitions.
Graded Stakes are Grade I, Grade II, or Grade III, with Grade I being the most elite. The Triple Crown and the Breeder's Cup are all Grade I, for example. These races award the highest purses, attracting top racehorses.
Breeds
Most horse racing worldwide involves Thoroughbreds, but Quarter Horses and Arabians also run competitive races with substantial purses. The rules vary from breed to breed.
Thoroughbred Horse Racing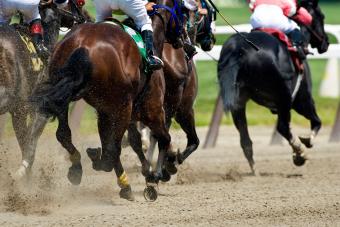 Thoroughbred racing is the most well-known type of racing. This breed has speed and stamina, making them ideal racehorses. The Jockey Club registers Thoroughbreds in the United States.
Thoroughbreds train for the racetrack in the fall of their yearling year. They start by learning to accept a saddle and bridle, then are later introduced to the weight of a rider. They get used to the starting gate and jog before they gallop. Horses ready to compete run in Maiden races when they are 2 or 3 years old.
Quarter Horse Racing
Quarter horse racing measures distance in yards rather than furlongs. Races are between 220 yards and 770 yards, making them much shorter than Thoroughbred horse races. The timer starts when the starting gate opens, while Thoroughbreds and Arabians start the clock a few strides down the track. A 2006 study published in the Equine Veterinary Journal showed that Quarter Horses run faster than Thoroughbreds or Arabians.
The American Quarter Horse Association (AQHA) measures a racehorse's speed index to compare horses' abilities in each race. The AQHA calculates this by averaging the three fastest times for the last three years for each distance at the track. This is the baseline, or Speed Index 100. Then, to determine each individual horse's speed index, officials compare the horse's finishing time with the speed index for that event, and then add or subtract points based on the individual's time. Those with a speed index over 80 earn the Register of Merit award.
Arabian Horse Racing
Arabian horse racing is similar to Thoroughbred horse racing and occurs on the same tracks. Races are 4.5 to 14 furlongs, and most are six furlongs. Purebred Arabians only race against other purebred Arabians registered by the Arabian Horse Association (AHA), and they begin competing as 3-year-olds. As of 2017, only Texas, Delaware, California, Colorado, and Michigan hold Arabian racing events.
Arabians are slower than Thoroughbreds by approximately one second per furlong.
Standardbred Horse Racing
In the United States, Standardbreds compete in harness racing. This breed has a quieter demeanor, shorter legs, and a longer back than Thoroughbreds. Horses reach speeds up to 30 miles per hour while moving at a trot or pace on dirt tracks, and many winners complete the mile-long race in under two minutes. Unlike Thoroughbred horse racing, male and female horses compete against each other in the same races. They begin racing at 2 years old, and the United States Trotting Association rules dictate that horses must retire from the sport when they reach age 15.
Pros and Cons
Horse racing is an exciting sport that welcomes everyone from serious gamblers to casual spectators. However, some critics question the racehorses' welfare and whether the competition is ethical. Horse racing has both pros and cons within the industry.
Pros
Horse racing is a multi-billion dollar industry that employs thousands of people.
Unsuccessful racehorses may find success in other riding disciplines, such as jumping or dressage.
In 2021, nearly $1 billion in purse money was paid out, making horse racing lucrative for the winners.
Approximately 2.5 percent fewer Thoroughbreds are bred each year, reducing the unwanted horse problem.
Horse racing is exciting for spectators and welcomes fans from all demographics.
Cons
Horses race at a young age, which leads to the high rate of breakdowns.
Although the racehorse fatality rate has declined from 2.00 per every 1,000 starts in 2009 to 1.41 per 1,000 starts in 2020, hundreds still die while competing each year.
Quarter horse racehorses are especially prone to fast twitch muscle injuries.
Synthetic track surfaces decrease the fatality rate, but increase the occurrence of long-term, non-fatal injuries, especially in hind limbs.
Many countries have banned the use of drugs in racehorses, but the United States has yet to pass legislation regulating this. However, the Horseracing Integrity and Safety Act of 2020 has passed the U.S. House.
Preparation Is the Foundation
Racehorse trainers and owners spend countless hours preparing their horses for the track, from introducing saddles to yearlings to watching their horses break their maidens. With proper conditioning, some talent, and a little luck, racehorses can have long, successful careers on the track.