If you're struggling to think of a name for your new lab puppy, struggle no more. There are dozens of terrific yellow lab names to suit these cute blonde fuzz balls. From coat color to famous blondes, there are numerous places to look for inspiration. In fact, with so many great options, you might have a problem choosing just one.
201 Name Ideas for Yellow Lab Pups
Yellow Labrador Retrievers come in shades from cream to buff to rich gold. Many people like to use their pet's coat color for naming inspiration, and there are a variety of ways to do that. Perhaps one of the names in the following lists will be perfect for your new puppy.
Color Names
There are many shades to choose, from beige through yellow. Which one suits your pet?
Amber
Babouche
Beige
Buff or (Buffy)
Cadmium
Canary
Cream
Ecru
Fawn
Flax
Gold (or Goldie)
Khaki
Naples
Ochre
Saffron
Sand (or Sandy)
Straw
Titanium
Vanilla
Flower and Plant Names
There are many beautiful yellow flowers and plants with names that would be great for a lab pup. Do any of these name suggestions with horticultural meanings strike your fancy?
Acacia
Black-eyed Susan (Susie for short)
Buttercup
Carnation
Chrysanthemum
Coreopsis (Cory for short)
Crocus
Daffodil (Daffy for short)
Daisy
Dandelion (Dandy for short)
Daylily
Forsythia
Goldenrod (Goldie for short)
Jonquil
Iris
Lily
Lotus
Marigold
Orchid
Pansy
Poppy
Prickly Pear (Has golden blooms)
Primrose
Rose
Sunflower
Tulip
Yarrow
Zinnia
Food-inspired Names
If you're looking for cute and even slightly humorous names for a yellow lab pup, look to various foods for inspiration. You can probably think of even more appropriate names with food meanings that are not on this list.
Apricot
Banana
Biscuit
Butter
Buttermilk
Butterscotch
Chiquita
Citrus
Cookie
Cornbread
Custard
Dijon
Dole (like the banana)
Donut
Eggnog
Ginger
Honey
Latte
Lemon
Lemonade
Lyle (after Lyle's Golden Syrup)
Macaroni
Maize or Maizey
Mango
Margarine (Margie for short)
Mustard
Nacho
Pineapple
Popcorn
Pudding
Quiche
Rawhide
Tapioca
Waffle
Wheaties
Drink Names
Cocktail names can add a touch of class as well as a bit of humor. Champagne names can be especially appropriate for a pup with a bubbly personality. Can you imagine using one of these names to call your pet?
Asti
Baron Albert
Bellini
Bollinger
Brandy
Champagne
Corona
Daiquiri
Dom Pérignon
French 77
Gimlet
Goldschläger
Henriot
Jacquart
Julep
Perrier Jouët
Pina Colada
Lemondrop
Taittinger
Tequila Sunrise
Famous Blondes
There are more famous blondes than can be listed. Consider some of the stars from Hollywood's golden age, as well as some of the celebrities of today while you're trying to think of a good name for your pup. Here are a few names for inspiration.
Blondie
Bo (Derek)
Bowie (David)
Cameron (Diaz)
Cate (Blanchett)
Charlize (Theron)
Dietrich (Marlena)
Dolly (Parton)
Garbo (Greta)
Goldilocks or just Goldie
Gwyneth (Paltrow)
Harlow (Jean)
Heath (Ledger)
Jude (Law)
Leonardo (DiCaprio)
Marilyn or Monroe
Michelle (Pfeiffer)
Owen (Wilson)
Pamela (Anderson)
Paris (Hilton)
Reese (Witherspoon)
Pitt (Brad)
Redford (Robert)
Scarlett (Johansson)
Sundance (Think of Redford in Butch and Sundance)
Taylor (Swift)
Yellow Gemstones
Clear or yellow crystals can inspire ethereal and unique names for dogs. These gemstones are either naturally yellow or can be found in a yellow color variation. See if any of these names suits your lab pup.
Aventurine
Citrine
Crystal
Diamond
Herkimer
Howlite
Jasper
Labradorite (not a yellow stone, but a great name for a Labrador)
Moonstone
Opal
Pearl
Quartz
Sapphire
Selenite
Topaz
Tourmaline
Zircon
Famous Yellow Labs
If your new lab puppy acts like a superstar, you could consider naming them after a famous yellow lab. Yellow Labradors have been featured in movies and on TV for years, so there are several options.
Isis (Downton Abbey)
Luath (The Incredible Journey)
Marley (Marley & Me)
Old Yeller (Old Yeller)
Pharaoh (Downton Abbey)
Quill (Quill: The Life of a Guide Dog)
Vincent (Lost)
Yellow (Far From Home: The Adventures of Yellow Dog)
Heroic Names
Labrador Retrievers are one of the top breeds chosen to work as service dogs. These dogs assist, protect, and comfort their owners throughout their daily lives or in times of need. Whether or not your new yellow lab is a service dog, you can still give them a name fit for a hero!
Ace
Ajax
Alba
Angel
Arrow
Avenger
Banner
Blessing
Bruce
Bullet
Captain
Clark
Diana
Eagle
Glory
Hero
Leo
Major
Marvel
Miracle
Phoenix
RBG
Stark
Storm
Tasker
Thor
T'Challa
Treasure
Xena
Other Yellow-inspired Names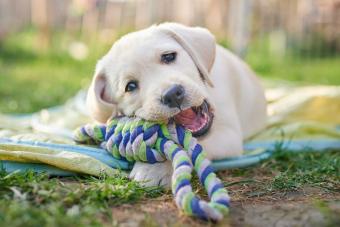 Here are a few more names for good measure. They don't fit into any particular category, but they do represent color-themed names in one way or another.
Aurora (the Roman goddess of the dawn)
Bumblebee (after the black and yellow insect)
Flame (like fire)
Glow (like fire or the sun)
Gold Dust (Dusty for short)
Minion (as in the silly yellow characters)
Nugget (as in a gold nugget)
Sol (Spanish for sun)
Soleil (French for sun)
Sunny (as in the sun)
Sunshine (from the sun)
Towhead (a nickname for a person with very pale blond hair)
Tuscan (inspired by the Tuscan sun)
Yukon (part of Canada famous for the Klondike gold rush)
So Many Choices
If you had no idea what to name your puppy before, you certainly have plenty of choices to consider now. Whether your yellow lab is a girl or boy, a hunting dog or a family pet, choose a name you love that rolls off your tongue easily and also fits your pup in some way. Try out your favorites a few times until you settle on the right name for your pet.