Choosing your dog's name is the dynamic debut of your journey together. And why not start with a letter you love? Dive into dog names that start with D — each one's got distinctive charm. Give 'em a vocal test run and see which one makes tails wag!
Female Names Starting with D
If you want a name that matches your female dog's charm and personality, 'D' names give you plenty of choices.  
Daffodil
Daisy
Daisy Duke
Daisy Mae
Dakota
Daphne
Darby
Darcy
Darla
Dazzle
Dazzly
Dee Dee
Delia
Delight
Delilah
Delores
Delphine
Demi
Destiny
Diamond
Diamond Dust
Diva
Dolce
Dolly
Dolly Mae
Domino
Doris
Dot
Dottie
Drizzle
Duchess
Quick Tip
Names with one or two syllables might be the easiest for you and your dog to use as you develop a common training language. Longer names often get shortened.
Male Names That Start with D
Naming your male dog is a wonderful opportunity to celebrate his unique personality and style. Whether you're looking for a strong and dignified name or something playful and adventurous, 'D' names offer a wide range of options to suit your furry companion.
Dallas
Dalton 
Dante
Darwin
Dash
Davey
Dawson
Daxter
Deacon
Declan
Dempsey 
Denali
Denny
Desmond
Dexter
Diesel
Django
Dobby
Dolby
Domino
Donovan
Doyle
Draco
Drew
Drongo
Dudley
Duffy
Dugan
Duke
Duncan
Dusty
Dwayne
Dylan
Cute Names Starting with D
Cute names can capture your dog's charm and make you smile whenever you say them. Whether you like sweet, heartwarming names or those that just make you melt, you have plenty to choose from.
Dainty
Dakhia
Dapper
Dapple
Delphina
Deputy
Desperado
Detour
Deuce
Dimples
Dinah
Dior
Dixie
Dixie Belle
Dixie Lou
Dizmo
Doodlebug
Doodlekins
Dunkin
Quick Tip
Avoid giving your dog a name that's also a command, like "Down!" 
Unisex Dog Names Starting with D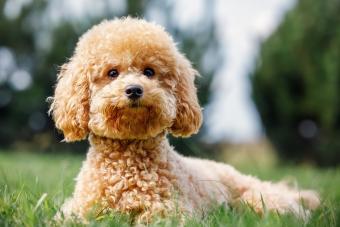 If you want a name that works for both male and female dogs and starts with 'D,' you're in luck. Unisex names are versatile and can suit any dog, no matter their gender.
Dach
Damper
Darlin
Dasher
Dashwood
Dashiel
Derry
Dervish
Devaney
Diety
Digby
Dipper
Diver
Dodger
Doge
Dogwood
Downy
Drax
Dreamer
Driver
Drover
Dynamite
Dynamo
Pop Culture D Names
Pop culture has a big impact on our lives, influencing our interests and what makes us laugh. If you enjoy pop culture, you'll enjoy names for your dog that are inspired by movies, music, TV, and famous characters. Find the perfect one that reflects your interests and brings some entertainment to your dog's name.
Daffy: Looney Tunes
Daenerys: Game of Thrones
Daft Punk: Musical duo
Damon: Vampire Diaries
Da Vinci: Leonardo da Vinci
Dale: Chip 'n' Dale
Danger: Danger Mouse
Daphne: Scooby-Doo
Daredevil: Superhero
Darth: Star Wars
David Bowie: Musician
Davy: Davy Jones
Deadpool: Marvel
Delorean: Back to the Future
Demi: Demi Moore the actress
Demogorgon: Stranger Things
Dennis: Dennis the Menace
Denzel: Denzel Washington
Desi: Desi Arnaz
Dexter: Dexter
Diablo: Sleeping Beauty
Diane: Twin Peaks
Diddy: P. Diddy
Diego: Ice Age
Disney: Walt Disney
Dobby: Harry Potter
Donatello: Teenage Mutant Ninja Turtles
Donkey: Shrek
Don Vito: The Godfather
Dopey: Snow White and the Seven Dwarfs
Doofus: DuckTales
Doogie: Doogie Howser, M.D.
Doom: Fantastic Four
Dora: Dora the Explorer
Dorothy: Wizard of Oz
Dory: Finding Nemo
Doug: Doug
Dr. Jekyll: Dr. Jekyll and Mr. Hyde
Dr. Watson: Sherlock Holmes
Dracula: Classic monster
Draco: Harry Potter
Drake: Singer/songwriter
Drogon: Game of Thrones
Droopy: Cartoon character
Dug: Up
Duke: G.I. Joe
Dumbledore: Harry Potter
Dursley: Harry Potter
Dustin: Dustin Hoffman
Nature-Inspired D Names 
Nature's beauty and serenity often inspire us deeply, and if you share that love for the outdoors with your dog, why not choose a nature-inspired 'D' name? 
Dahlia
Dandelion
Dandy
Dawn
Delta
Desert
Dewdrop
Dewey
Diorite
Doe
Dolly
Dolphin
Dove
Drift
Drizzle
Droplet
Dune
Dusk
Dusty
Dusty Rose
Location-Inspired Dog Names Starting With D
If you love traveling, naming your dog after a location can be a wonderful way to connect with your favorite spots. Each name brings the essence of a location, be it a city, countryside, or exotic destination, making it a special choice for your furry friend.
Daegu
Daehan
Dakar
Dalian
Dallas
Damas
Danube
Davao
Daytona
Delh
Delphi
Denmark
Denver
Detroit
Devon
Dhaka
Dijon
Djibouti
Doha
Dover
Dresden
Dubai
Dublin
Duluth
Durban
Düsseldorf
Helpful Hack
Think of all the places you've visited — which one had the most impact? Is there a street or city that starts with D?
Funny Names Starting with D
Spice up your life with a funny 'D' name for your dog. Let's dive headfirst into the world of dog names that are designed to tickle your funny bone.
Dancer
Deja Vu
Dicey
Diddley
Dilly Dally
Dingo
Dinky
Disco
Dizzy
Dodo
Dogamatic
DogeVader
Doggie Smalls
Doggles
Doggy Pawcasso
Dognald Trump
Dognapper
Dogtective
Dogzilla
Doodle Dandy
Doozy
Dorky
Double-o-seven
Doughboy
Drama
Dr. Droolittle
Drucilla
Droolius Caesar
Dumbledog
Duracell
Durango
Dynomutt
D Dog Names Based on Mythology
If you love old stories and myths, choosing a 'D' name from mythology for your dog can give them a mysterious and majestic vibe. These names aren't just words; they come with stories and history that can make your pup's name more special.
Dactyls
Daeira
Daemona
Dagon
Daikokuten
Damasen
Damballah
Dameter
Damia
Damocles
Damysus
Danais
Danu
Daramulum
Dazhbog
Despoina
Dian
Dido
Diomedes
Dodona
Dolus
Donar
Dother
Dryad
Dua
Dub
Durga
Durga
Dyonisius
Dysnomia
Pokémon Names Starting with D
With Pokémon fever sweeping the world in recent years, I have to confess — I was totally hooked on Pokémon Go for a good while! Luckily, if you're in the market for a 'D'-starting name, the Pokédex has tons of options.
Dedenne
Deerling
Deino
Delcatty
Delibird
Delphox
Deoxys
Dewgong
Dewott
Dialga
Diancie
Diggersby
Diglett
Ditto
Dodrio
Doduo
Donphan
Doublade
Dragapult
Dragonair
Dragonite
Drakloak
Drampa
Drapion
Dratini
Drizzile
Drowzee
Druddigon
Ducklett
Dugtrio
Dunsparce
Duosion
Durant
Dusclops
Dusknoir
Duskull
Dustox
Food-Inspired D Dog Names
If you're a food enthusiast and a dog lover, combine your two passions by giving your furry friend a food-inspired name. Whether you're craving something sweet, savory, or simply whimsical, these 'D' names offer a tasty variety of options.
Dahl
Daikon
Dandan
Danish
Date
Deli
Dijon
Dill
Dosa
Dumpling
Durian
Quick Tip
If you want to be extra creative, scroll through the cookbook hiding in your kitchen for name inspiration. 
How to Pick Just One
Scanning through never-ending lists can make your head spin. But here's a fun trick: tackle it in chunks. Take one group of names at a time and pick out your top two or three favorites from each. Once you've conquered all the groups and have a shorter list, you can even play the name game again if you like. Finally, when you're down to just a handful, you can decide which one fits your pet the best.