Picking out an adorable 'S' name for your pup is like sorting through hidden treasure — there's so many cute ones, and it's hard to pick just one. On this quest, you just need to know your dog's quirks and your own preferences. But you don't have to be the lone ranger in this naming adventure. We've found some downright pawsome 'S' names.
Movie Star Dog Names Starting with S
The world of television is chock full of canine TV stars. They definitely have a calling in Hollywood — and, perhaps, a calling to your couch. 
Sam: I Am Legend
Sandy: Annie
Scooby: Scooby-Doo, Where Are You?
Shadow: Homeward Bound: The Incredible Journey
Shaggy: The Dog Who Saved Christmas
Shiloh: Shiloh
Skip: My Dog Skip
Slink: Toy Story
Snoopy: Peanuts
Snowy: The Adventures of Tintin

Snuffles: From Quick Draw McGraw

Sparky: Frankenweenie
Spike: Tom and Jerry
Stella: Modern Family
Boy Dog Names With S
If you've welcomed a new male pup into your life and are on the quest for the perfect name, you've come to the right place! I've gathered an assortment of boy dog names that start with 'S' — from strong and stoic to sweet and playful. You're bound to find the ideal moniker that suits your new furry pal. 
Sampson
Sarge
Sawyer
Scoop
Scooter
Scout
Sherlock
Simba
Sinatra
Sirius
Smudge
Socks
Sparky
Spike
Spud
Sprocket
Stanley
Stitch
Sterling
Sully
S Girl's Names for Dogs
If you're the proud parent of a female pup, you're in for a treat. From elegant and graceful to spunky and spirited, there's a world of possibilities for girl dog names that start with 'S.'
Sable
Sabrina
Sadie
Saffron
Sage
Salsa
Salma
Sammie
Sandy
Sasha
Savannah
Scarlett
Selena
Selma
Sequoia
Serena
Serenity
Shelby
Shiloh
Siena
Skye
Smoky
Soleil
Solstice
Sonata
Sophie
Stella
Sugar
Suki
Sunny
Susie
Sybil
Sydney
Symphony
Cute Dog Names Beginning with S
I've gathered a diverse assortment of adorable 'S' names that are bound to make you smile. Whether you have a sweet shih tzu or a lovable labrador, these cute 'S' names will not only suit your pup's delightful personality, but also add an extra dose of cuteness to your everyday interactions.
Saga
Saint

Samba

Scruffy
Skipper
Skyla

Serenade

Seraphina

Summer

Sunny

Sweety
Funny Dog Names with S
Laughter is a universal love language, and what better way to add some humor and lightheartedness to your life than by giving your furry friend a funny name that starts with 'S'? I've gathered a bunch of side-splittingly funny dog names that will not only tickle your funny bone, but could also match your canine companion's quirks. 
Scrabble

Scruffy McFluff

Sir Barks-a-Lot

Sir Wigglesworth

Slobberkins

Sniffy McSnifferson

Snoozer

Snuggle Monster

Speedy Gonzales

Stinkerbelle

Stinky
Unique S Names 
If you're in search of a name that sets your furry friend apart and showcases their unique personality, a unique name that starts with the letter 'S' could be just the ticket.
Sailor
Saffron
Samurai

Santini

Sebastian

Sedona

Seymour

Skye
Socrates

Starke

Stellan
Sterling

Sullivan

Sven

Sylvestre
Naming Your Dog After 'S' Foods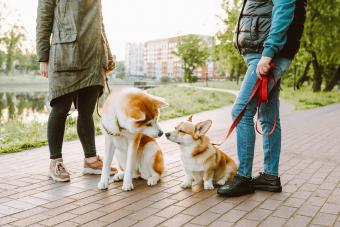 If you're an all-out food lover, why not consider giving your furry best friend a name inspired by your most beloved snack? I mean, think about it — every time you call their name, you'll get a delicious reminder of that tasty treat you can't get enough of.
Salsa

Sashimi

Saucy

Shortcake

Skittles

S'mores
Snickerdoodle
Sorrel

Spam

Sprinkles
String Bean

Strudel

Sundae

Swiss
Nature-Inspired S Names for Dogs
Nature has always been a huge source of inspiration for me. What better way to show a love of all things nature than by giving your canine companion a name inspired by it? 
Sage

Sandy

Seabreeze

Sparrow

Starry

Stormy

Sunkiss

Sunrise

Sunshine
S Names for Dogs Based on Places
Exploring the world is a thrilling adventure, and it's only natural to want to share that wanderlust with your four-legged friend. That's where location-based dog names come into play, and in this collection, we're set to journey through an atlas of dog names that all kick off with the letter 'S.'
Sacramento
Safari
Sahara
Saitama
Salem 
Samoa 
Santiago
Sarajevo
Siberia
Soweto
Spokane
Surabaya
Sydney
Picking an S Name
'S' names for dogs are versatile and charming, reflecting your dog's personality, your favorite things, nature, or special places. These names create lasting memories and stories. Your dog's 'S' name isn't just a label; it's a reflection of your love and the adventures you'll share.