Why Use Wand Teaser Cat Toys?
Wand teasers are cat toys that allow your kitty to practice skills she would have in the wild, while you enjoy playing together and bonding. These toys encourage your cat to leap and be active, and they are lots of fun for both of you.
This playtime is an important part of a kittens' growth and development, and allows older cats to remain lean and in good condition well into maturity. Not only that but the energy expended will help her to be calmer and less aggressive.
If you see a toy your cat would like in the following images just click on it to be taken to a website with more information.
Cat Fleece and Feather Wand
Buy Now
For optimum benefits, you should attempt to engage your pet in an energetic play session at least twenty minutes a day. More often is better than longer, so two or three ten-minute sessions are better than one long one.
Teaser toys are easy to use, available in many locations, and fun. This fleece and feather wand captures your cat's imagination with the soft fabrics and moving feathers.
Purrectly Pink
Buy Now
If your pet is a real girly-girl, this adorable pink cat wand teaser toy is just right. Lots of pink feathers attached to a pink wand will have your cat feeling pretty in pink.
Catfish Wand
Buy Now
Most cats love fish, and yours is sure to find this catfish play wand hard to resit.
Cat Tickler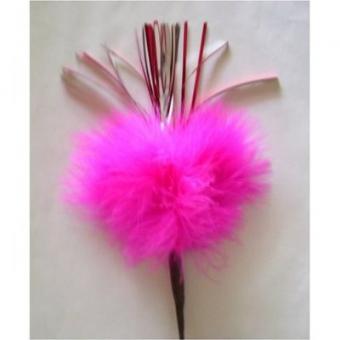 Buy Now
Marabou feathers and fringe will make this toy a favorite. There are many ways to play with this wand, and it is sure to capture your cat's attention.
Butterfly Play Wand
Buy Now
There aren't many cats that don't love to chase butterflies when they get the chance. This cute butterfly wand allows your cat to pursue the realistic looking butterfly to her heart's content.
Bird Cat Toy
Buy Now
This bird cat toy is fun for your cat while keeping the local bird population safe.
Now that you've gotten ideas for some terrific cat toys, check out some Cat Activity Tree Furniture that will provide even more fun for your pet.