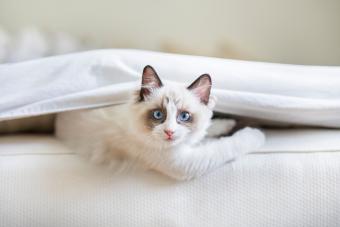 Picking a name for your new Ragdoll cat is a big commitment, and you may feel overwhelmed by choices. Finding the perfect Ragdoll cat names may take some time, but once you land on the perfect name, it will definitely be worth it.
What Is a Good Name for a Ragdoll Cat?
Good names for a Ragdoll cat:
Clementina - soft and gentle
Clemmy - tender and soft
Adina - gentle
Anisa - well natured
Dalia - gentle
Malinda - gentle
Mildred - one who has a gentle strength
Gareth - gentle
Evander - a good, kind man
Kevin - gentle
Ellis - kind and good
Abbey - gentle and smart
Beau - good man
Bennett - gentle
Galen - calm
Goodwin - one who has a good heart
Cassidy - smart
Ragdoll Cat Names Male
Ragdoll cat names for a male cat:
Harvey - one who is brave in battle
Alfred - wise or intelligent
Kenzo - healthy
Archibald - brave
Drew - strong
Anders - manly
Ace - unity
Aldo - wise
Abe - noble
Achilles - warrior
Barney - one who encourages
Anthony - one who is worthy of praise
Dewey - beloved
Duke - noble
Dylan - wave
Felix - lucky
Gray - one with gray hair
Ragdoll Cat Names Female
Ragdoll cat names for a female:
Adia - noble
Amy - beloved
Belinda - beautiful
Bella - beautiful
Brooke - small stream
Charlotte - petite or small
Elina - smart
Elena - bright
Felicity - happiness
Hannah - one who has grace
Helene - light
Jasmine - petite white and fragrant flower
Kylie - beautiful
Lily - refers to the flower, means pure
Mila - pleasant
Naomi - sweet
Rose - refers to the flower
Names for Cream Color Ragdoll Cat
Ragdoll cat names inspired by their cream colored coats:
Sandy
Dune
Sierra
Vanilla
Butter
Toast
Caramel
Cashew
Coconut
Tofu
Cream Puff
Butterscotch
Marshmallow
Biscuit
Pancakes
Cheesecake
Bagel
What Are Some Badass Names for a Ragdoll Cat?
Ragdoll cat names that embody strength and bravery:
Amelia - defender
Anastasia - resurrection
Arya - lioness
Arielle - God's lion
Audrey - strength
Briana - strong
Caroline - strong
Emery - brave
Erica - ruler
Norah - honor
Quinn - intelligent
Reese - fiery
Ethan - strength
Everett - brave
Archie - brave
Andrew - strong
Angus - strength
What Are Some Unique Ragdoll Cat Names?
Unique and interesting Ragdoll cat names:
Brick - bridge
Bodhi - one who is awakened
Drake - dragon
Griffon - fierce
Zephyr - the west wind
Cerelia - having to do with spring
Amandine - one who is loved
Kerensa - love
Elettra - bright
Pomeline - pple
Lottie - nickname for Charlotte
Adrian - one who is from the sea
Aspen - type of tree
Dakota - friendly
Finley - hero
Greer - one who is watchful
Kai - one who is from the sea
What Is the Cutest Cat Name for a Ragdoll Cat?
Cute cat names for your Ragdoll cat:
Buttons
Whiskers
Snuggles
Fluffers
Zippy
Cloud
Puffy
Sweetie
Angel
Bubs
Dimples
Jellybean
Nibbles
Peaches
Pickles
Squishy
Wiggles
Waffles
Bubbles
Squeak
Beans
Blue Eyed Ragdoll Kitten Names
Names that highlight your Ragdoll kitty's striking appearance:
Sapphire
Aquamarine
Topaz
Sky
Bluebell
Blueberry
Navy
Ocean
Pansy
Hydrangea
Hibiscus
Periwinkle
Iris
Cobalt
Azure
Adorable Ragdoll Cat Names
When picking a great name for your Ragdoll cat, try to narrow down your choices so you have an opportunity to see which name works best for your cat's unique personality.