Irish cat names offer you some unique and mystical name choices for your cat. If you enjoy delving into ancient cultures, then a token of Ireland with an Irish cat name is exactly what you need.
Female Irish Cat Names
Female Irish names often sound mysterious. If your feline girl acts mysterious and wise beyond her age, then one of these names may be a great match.
Cadie: Rhythmic flow of sounds
Caoimhe: Dear, noble
Ciara: Dark-haired
Darby: Farm, settlement
Deirdre: Sorrowful
Erin: Ireland, land of abundance
Maeve: Intoxicating
Meara: Jovial
Molly: Star of sea
Muriel: Shining sea, sparkling
Nessa: Fierce
Niamh: Bright radiant
Orla: Golden princess
Orlagh: Golden princess
Roisin: Little rose
Rosalyn: Little rose, pretty rose
Saoirse: Freedom
Shanna: Wise river
Shannon: Old or wise river
Shay: Admirable
Sheena: God is gracious
Sinead: God's gracious gift
Sybil: Prophetess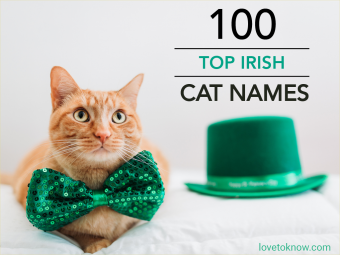 Male Irish Cat Names
You will find some great possibilities in a list of male Irish cat names. You can read the meanings of each name to decide if it is the ideal name for your furry buddy.
Ailbe: White
Beckett: Shelter, cottage
Carney: Warlike, descendant of Catharnach
Colm: Dove
Conan: Wolf, hound
Conor: Lover of wolves
Darcy: Dark
Dillon, Dylan: Like a lion, loyal
Donal: World leader
Donovan: Brown-haired man, chieftain
Fergal: Brave, manly
Finley: Battle hero
Finn: White, fair
Fionn: Fair-haired
Flannery: Red, ruddy
Gallagher: Stranger
Gorm, Gaum: Alert
Kirby: Dark son, descendant of Ciarmhac
Mal: Star of the seas, smooth brow
Moosach: Swift flowing water
Murphy: Sea warrior
Niall: Champion
O'Reilly: Race, sociable
Paddy: Noble
Patrick: Noble
Quigley: Descendant of Coigleach
Quinn: Counsel
Roan: Little red-head
Ronan: Seal
Rory: Rusty, red-haired king
Rhys: Enthusiasm
Shane: God's gracious gift
Tierney: Lord, master
Celtic Cat Names
Celtic cat names can be divided into lists of male and female. Some of the names may describe a Celtic deity or historical figure, such as a queen.
Female Celtic Cat Names
You may find Celtic female names offer you great choices. There are the names of a few goddesses and even a fair queen to consider.
Aoife: Beautiful, radiant
Boan: Goddess of the river Boyne
Breana: Strong, virtuous, honorable
Brianna: Strong, honorable
Bridget, Briget: Strength, vigor, exalted
Brigid: Power, strength, virtue
Ciara: Dark-haired
Danu: Goddess of Earth, Earth mother
Fiona: Fair or white
Glenda: Holy
Iona: Island
Joyce: Lord
Kayleigh: Fair, slender
Kira: Dark-haired
Morrígan: Queen of fate and doom
Siobhan: God is gracious
Tara: King's hill, star
Titania: Fairy queen
Male Celtic Cat Names
You may prefer a strictly Celtic name for your male cat. A few Celtic cat names may help you decide on the best fit for your feline friend.
Aidan: The fiery one, born of fire
Cillian: Little church
Cormac: Impure son
Doyle: Dark stranger
Dublin: Black pool
Eamon: Wealthy protector
Finnegan: Fair-haired
Jameson: Son of James, Irish whiskey
Kieran: Black
Liam: Guardian, protector
Lorcan: Little fierce one
Macushla: Pulse of my heart, sweetheart, darling
Pusheen: Kitten
Unisex Irish Cat Names
You may prefer to choose a unisex name that isn't gender bias. These names might be of an object, a place, or food.
Bailey: Berry clearing, city fortified
Belfast: Northern Ireland capital
Blarney: Fabled stone to kiss
Cork: Southwest city in Ireland
Guinness: Dark Irish stout label
Kilkenny: City in southeast Ireland
Liffey: River Liffey flows through Dublin
Limerick: Major city Republic of Ireland
Práta: Potato
Obel: Obel Tower highrise in Belfast
Moher: Cliffs of Moher
Galway: County in Ireland
Bunratty: Castle in Ireland
Exploring 100 Irish Cat Names
You can explore the various lists of Irish cat names to see which one you like best. You may want to try a few names to see if your cat reacts to any of them.