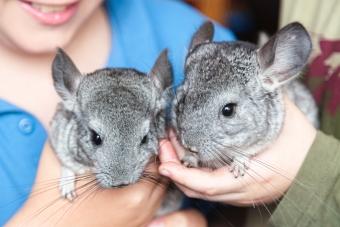 Bringing home a new pet is always a fun time, especially if it is a chinchilla. However, your chinchilla needs a name as unique as they are. Dive into fun and charming chinchilla names for your fluffy pet.
Unique Male Chinchilla Names
There are a lot of Cuddles and Fluffies out there. But finding a fun, masculine name that fits your boy chinchilla can be a little harder. Explore these unique male names for your new baby boy.
Basher
Boi
Bruiser
Chalupa
Champ
Dusty
Fluffy Puff
Gadget
Gilbert
Houdini
Hot Tamale
Indie
Jazzy J.
Kit O' Fluff
Lord Chin Chin
Maverick
Murdock
Napoleon
Packrat
Puffy McPuffin
Rambunctious
Rocky
Skitter
Squeaker
Twix
Charming Female Chinchilla Names
Daisies, Diamonds, and Darling are great names for your girl Chinchilla. But it's important to make sure you give your little lady a name that truly fits her sparkling personality. Enjoy this list of girl names for your sweet little pet.
Avalene
Beauty
Blusher
Charmin
Dazzle
Ellie
Frolick
Gidget
Hailey
Illa
Jasmine
Jewel
Luna
Meeka
Nida
Opal
Paprika
Pixie
Queenie
Rose
Sparkles
Shella
Sprite
Trixie
Twink or Twinky
Violet
Willow
Cute Neutral Chinchilla Names
Having a neutral pet name is all the rage. However, just because you are going gender-neutral doesn't mean your pet's new name has to be indistinct. Try these cute names on your fluffy new chinchilla.
Andes
Bling
Blippity
Cheddar
Chewie
Chipper
Chubs
Chunk
Dreamer
Dandilion
Echo
Fluffy
Fuzzy
Hershey
Jazzy
Juice
Mist
Mocha
Mousie
Muse
Mystery
Mystic
Needles
Nerdy
Nuts
Oddball
Odyssey
Pepper
Pika
Pip
Pippy
Puff
Rain
Rhyme
Sappy
Silver
Skipper
Squeaky
Squiggly
Sugar
Sweetie Pie
Sweets
Sweety
Tot
Twiggy
Twilight
Twinkle
Whiskers
Zaftig
Zippy
Funny Chinchilla Names
What's life without a laugh or 5 million? Keep your pet rodent's moniker fun with these chinchilla names designed to give you a chuckle.
Baget
Ball 'O Fluff
Burrow
Chewie McChewerton
Chilla
Chinny Chin
Chunky Cheeks
Cutie Patootie
Dunkin
Echo Tech
Fluff Beddington the Third
Fur Ball
Helmet
Lucy Fur
Master Chill
Moonpie
Mr. Cuddles
Mr. Fluffy Tail
Nacho Chinchilla
Radar
Raya Sunshine
Sir Fluffy Pants
Snuggly Bunny
Tater Tot
Twitch
Pop Culture Inspired Chinchilla Names
Do you love Star Wars? Are you a Harry Potter buff? While there are a lot of Harry Potters and Darth Vaders out there, give your little fuzzy friend an interesting twist by trying out one of these pop culture inspired doozies.
Bilbob
Captain Scrunchy
Chews-a-lota
Cinderfuffy
Dobbins
Dobby
Dy-No-Mite
Dynamite Dixie
E-Wokka
Fluff Vader
Gallum
Gizzie
Hagreed
Harry Squatter
Iron Marvel
James Blonde
Kylo
Lore
Miyagi
Mochi
Muggle
Rasco Petco Puff
Rata Lucie
Sfen
Stitches
Thumperella
Volda Fluff
Widget
Winnie the Puff Ball
Yo-da Chinchilla
Cute and Quirky Chinchilla Names
Chinchillas are unique and quirky little rodents. From their big ears right down to their round little bottoms, they are adorable fluff balls who deserve a name uniquely their own. Now comes the tough time of trying to decide just what name you're going to choose.