Spiders make cool and unusual pets, and when you have a pet as unique as a spider, you'll want to gift it with a name that suits its coolness. No matter what creepy crawly critter you call yours, one of these spider names is going to be the perfect match for your pet.
Spider Names Based on Characteristics
Spiders have some very unique characteristics compared to other animals. Play on their many specific features to try and come up with the perfect name.
Webber
Webster
Ocho
Fuzzy
Furball
Spike
Silky
Fang
Venom
Itsy
Bitsy
Bitty Betty
Goliath
Beast
Ginormo
Tiny
Smalls
Squirt
Sticky
Spins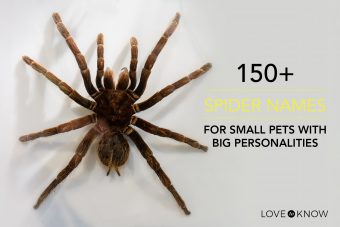 Names for Jumping Spiders
Several breeds of spiders, outside of the tarantula, have been known to make good pets. Jumping spiders are known for their ability to hop around, for their colorful markings, and for their ability to see more than black and white, which they use to their full advantage when attracting a mate. In the spider world, they are quite beautiful. All of these specific qualities can help you come up with a perfect name for your Jumping Spider.
Busy
Hoppy
Leggy
Prancer
Skippy
Leapy
Springer
Frisky
Rainbow
Peacock
Kaleidoscope
Pretty Boy
Rico Suave
Lothario
Handsome
Cassanova
Don Juan
Lady Killer
Playboy
Stunner
Bella
Dazzler
Doll
Hunk
Bonny
Spunky
Star
Magneto
Foxy
Hot Stuff
Names for a Wolf Spider
Another popular pet spider breed is the wolf spider. A wolf spider can grow up to 3 inches in size and prefer to spend their days crawling around the floor of the terrarium. They are shy creatures and normally sport shades of grey or brown colorings and markings.
Wolfie
Doggo
Crawler
Howler (they don't actually howl, but wolves do)
Cocoa
Brownie
Mocha
Cookie
Sienna
Tater
Chesnut
Sandy
Russet
Buffy
Umber
Khaki
Beaver
Walnut
Muddy
Smokey
Silver
Honey
Moose
Cinnamon
Peanut
Maple
Kahlua
Java
Dusky
Steele
Sooty
Ash
Pearl
Rhino
Pewter
Stone
Minky
Ghostie
Shadow
Slate
Pepper
Luna
Stella
Lady Grey
Stoney
Bash (shy and bashful animal)
Mouse
Timmy (play on timid personality)
Sheepy
Chary
Coy
Names for a Grass Spider
Another common type of spider to keep as a pet is the grass spider. The grass spider is a quick little guy who makes up for his lack of a sticky web with his ability to chase his prey pretty quickly.
Zippy
Speedy
Brisky
Sprite
Turbo
Sporty
Swifty
Rapido
Jet
Nimble
Breakneck
Whirlwind
Supersonic
Snappy
Ultra
Bullet
Blitz
Arrow
Daggar
Bolt
Chase
Fury
Lightening
Flash
Lassie Grassy
Famous Spider Names
There have been countless spider characters in movies, television, books, and films. See if any of these iconic names suits your spider.
Miss Spider - character from David Kirk's children books
La Princesse - giant mechanical spider designed by the French performance act company La Machine
Kumonga - spider in the movie Son of Godzilla
Miss Arrow - Marvel characters
Boris the Spider - inspired by a song written by The Who's bass guitarist, John Entwistle
Lucas the spider - an animated character
Anansi - Akan Folktale character
Toby - inspired by actor Tobey Maguire from Spiderman movie
Tommy - inspired by actor Tom Holland who acted in Spiderman movie
Spidey - Spiderman's nickname
Charlotte - main character in Charlotte's Web
Aragog - spider in Harry Potter and the Chamber of Secrets
Madame Octa- spider in Cirque du Freak: The Saga of Darren Shan
Shelob- Lord of the Rings
Seymore- H.R. Pufnstuf
Frank - The Loud House
Contessa - Black widow spider in video game, Sly 2: Band of Thieves
Black Widow- Marvel character
Scar Jo - actress who played Black Widow in Marvel series
Scarlett - see above
Rosie - spider in A Bug's Life
Joy - character in Charlotte's Web 2
Aranea - character in Charlotte's Web 2
Nellie - character in Charlotte's Web 2
Jeff - spider in Bill and Mandy
Kamaji - spider in Spirited Away
Harry - Jake and the Neverland Pirates
Names That Mean Spider
You can also call your spider by a name that means spider in a different language.
Araignée - French
Aranha - Portuguese
Araña - Spanish
Aranya - Catalan
Armiarma - Basque
Brimba - Maltese
Edderkop - Danish
Pauk - Bosnian, Croatian, Russian, Serbian
Pavouk - Czech
Pry Cop - Welsh
Ragno - Italian

Shpin - Yiddish

Spin - Dutch
Spindel - Swedish
Voras - Lithuanian
Number One Naming Rule
When it comes to naming your spider, the number one rule is to have fun. Unlike naming other pets, there are no rules in spider naming. Use your pet's personality traits, markings, and personal interests to help you arrive at a perfect name for your pet spider.