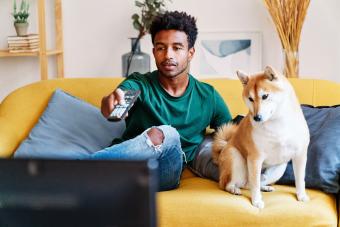 Hello, fellow dog lovers and TV binge-watchers! If there's one thing that can make a television show instantly better, it's the addition of a furry, four-legged best friend. These iconic dogs — both cartoon characters and those played by real canine actors — have left an indelible impact on our culture. Check out these standout dogs who have graced our screens for decades.
1. Lassie
This one is no surprise. Lassie, the rough collie, is probably the first name that pops up when you think of TV dogs. She has been in the hearts of dog lovers for decades, and has been in both TV shows and movies as the dog that always saves the day. Lassie is the eighth longest-running TV show of all time, airing from 1954 to 1973.
Fast Fact
All the dogs that played the female dog, Lassie, were actually male dogs. The reason for this was simple; male long-coated collies don't blow their coats as often.
2. Rin Tin Tin
Rin Tin Tin was a German Shepherd who did more than just fetch the newspaper! This heroic dog had action-packed adventures that showcased the intelligence and trainability of the breed. The most interesting thing is, Rin Tin Tin isn't based on a fictional character. This dog lived through World War I and went on to become a film legend.
Fast Fact
In real life, Rin Tin Tin was among the puppies saved in 1918 from a bombed German war dog kennel in northeastern France. Who would have known he'd become a star?!
3. Scooby Doo
With a love of Scooby snacks and ghost-hunting, this great Dane, along with his best buddy Shaggy, have been solving mysteries and making us laugh for generations. Despite his fear of nearly every situation, he is dedicated to his friends and tags along for every adventure.
4. Brian
Brian, from Family Guy, is a hilarious addition to the show. The martini-drinking, smooth-talking white labrador is more than just a pet. He's Peter's best friend and often the voice of reason in the Griffin household. When the character was killed off in season 12, the outcry from fans was so strong that the show's creators brought him back a couple episodes later.
Need to Know
This show isn't child-friendly, so if you haven't seen it, be sure to watch it without your kids.
5. Wishbone
More Details
Ever imagined what famous literary characters would look like as dogs? Wishbone, the imaginative Jack Russell terrier, brought classic tales to life in the most adorable way. Wishbone is a daydreaming dog who relieved famous literary events and stole our hearts in the process. The best part is, this TV show is definitely kid-friendly.
6. Blue
Who says learning can't be fun? With her energetic spirit and love for games, Blue made problem-solving an exciting adventure for kids everywhere, solving riddles with her best friend's handy-dandy notebook. An entire generation of kids grew up with Blue, and the character is remembered fondly today.
Fast Fact
The Blue's Clues reboot, Blue's Clues & You!, is still running on Nickelodeon.
7. Comet
The Tanner family's golden retriever from Full House, a TV show that ran from 1988 to 1995, was more than a pet. He was a part of the family, teaching those who adored the show about love, responsibility, and the joys of having a pet.
8. Pluto
Pluto became famous in the world of Disney as Mickey Mouse's dog. As a mostly well-trained bloodhound, he does get in trouble from time to time. But no matter what he's doing, he's always Mickey's sidekick.
9. Snoopy
Charlie Brown's iconic beagle from the Peanuts comic strip is a legend. With his vibrant daydreams, ranging from being a World War I flying ace to a famous novelist, Snoopy reminds us of the creativity within each of us. But it's not just his wild escapades that make us love him. His wit, charm, and boundless optimism are testaments to the beauty of finding wonder in everyday moments.
10. Clifford
Clifford was way more than just a larger-than-life canine. Living in Birdwell Island, he taught us all about friendship, kindness, and the occasional mischief big dogs (or, really, gigantic dogs) can get into. But what truly resonated was how Clifford, despite his size, faced many of the same problems we all did growing up, like fitting in, making friends, and learning life's little lessons.
Fast Fact
The love for Clifford proved so strong that a film reboot was released in 2021, and it was just as adorable as the series!
11. Odie
While Garfield was always scheming and indulging in his lasagna dreams, Odie brought the innocent, playful energy that's so typical of dogs. Garfield might've given him a hard time, but Odie's joyful personality and boundless enthusiasm were infectious. He'd wag his long tail, stick out his tongue, and serve as the optimistic foil for Garfield's sarcasm.
12. Pete
Pete from Our Gang, later known as The Little Rascals, was the American Staffordshire terrier with an iconic ring around his eye. He was always with his group of boys, following along on every adventure. Whether he was getting into mischief or saving the day, we have a special place in our hearts for this famous TV pooch.
Need to Know
Even though Petey didn't talk, we knew what he was feeling in every scene, highlighting the bond between humans and dogs.
Dogs Add The Spark To TV
From their loyalty and bravery to their comedic timing and sheer cuteness, these TV dogs have become cultural icons in their own right. They symbolize the best of our relationship with dogs, making our favorite shows that much more special. So, the next time you're settling in for a TV marathon, give a nod to these furry stars that have made our favorite shows truly unforgettable.