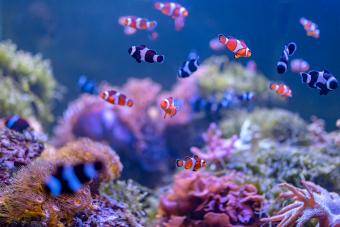 Fish captions for Instagram are the best way to express your passion for fish. These captions will make you look like a pro at taking fish pictures, and your friends will be impressed with your photography skills. Don't forget to add your favorite hashtags to share the photo with your fish family!
Cute Fish Instagram Captions
There are so many ways to use cute fish Instagram captions and quotes that it can be hard to choose just one. But don't worry, we've got a tankful of ideas:
I'm not a goldfish, I'm an alligator.
The only thing better than one fish is two!
Heaven is stocked with angelfish.

"If there is magic on this planet, it is contained in water." - Loren Eiseley

Life is too short to keep fish in a bowl.

Life is like a fish tank. You got to keep cleaning the water.

Fish will never be afraid of living in the ocean, no matter how deep it is.

Life is simple, just add water.

I always wanted to be a mermaid, but instead I became a shark trainer.

Swim free from trouble.

Feeling like a queen, stepping on pebbles.
You Love Your Fish
You love your pet fish. You take good care of them. You feed them, clean their tank, and make sure the water is warm and clean. Now, you want to take a cute photo and find the best caption. Check out our loving fish captions and find the perfect one!
There's nothing like having a fish in your life!
The world needs more fish lovers.
There's no such thing as too many fish friends.
If it weren't for this little guy, I would have lost hope in humanity a long time ago!
Bonded by the lure of the sea.

You see a tank. I see a secret world.

Sometimes a pet fish is all you need to brighten your day.

The best way to an aquarist's heart is through their fish tank.

I have no fish, fish have me.

The love of a fish is deeper than the sea.
Funny Fish Instagram Captions
If you want to be more creative and make a unique caption for your post, try one of these funny fish Instagram captions:
I'm not a goldfish, I'm an alligator.
I fish you were here.
Nothing could be betta!
I'm not a fish, I'm a mermaid.
This is shrimp-ly awesome!
I'm fishing for compliments.
Trust me, I'm a sturgeon.
No good fish goes anywhere without a porpoise.

A fish tank is just interactive television for cats.

Another day at the off-ish.

If I was any bigger, they'd call me a tuna.
Short Fish Instagram Captions
Short captions create a sense of urgency, which can lead to more engagement with your posts. Check out the following short Instagram captions for your pet fish:
Best Fish Hashtags for IG
The best pet fish hashtags are the ones that give you access to more people interested in your topic. So, if you're a pet fish owner, here are some of the most popular hashtags to consider using:
#fishkeeping
#aquariums
#aquarium
#fishtank
#aquaticlife
#aquaticlifeoftheworld
#tropicalfish
#tropicalfishtank
#aquaticlifeofinstagram
#petfishofinstagram
Choosing the Best Caption
It's no secret that captions and hashtags can help you increase engagement on Instagram. Just like on Twitter, they're a great way to get your posts in front of a wider audience and show people what your photo is all about. In fact, the majority of users search for hashtags when they want to see what's happening around a certain topic. Grab your favorite caption and hashtag to show off your pet fish to as many people as possible!