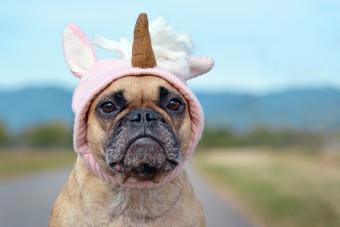 Is there anything cuter than a dog? Yep - a dog wearing a hat. They're just somehow more endearing when you add some human headgear. Like this unicorn here, who is clearly happy to greet you.
Say Yes to Adventure
This cutie is making memories one road trip at a time. Next stop: the dog park.
The Good, the Bad, and the Wrinkly
There's a new Sheruff in town, so you better not go barking up the wrong tree, doggone it.
Extra! Extra! Read All About it!
I "Sat" and "Shook" my paw like a good dog, but only got one treat. Two tricks definitely deserve two treats.
Kiss the Cook
This is the look the chef gives you when you ask for your steak to be well-done
Bundle Up
Even puppies' ears get cold, and they do like to be fashionable. This Cocker Spaniel has her ears tucked into a chic snood, all the rage for doggo fashion this season, and is ready for a romp in the snow!
Sleeping Beauty
Did you know most dogs snooze an average of 12 hours each day? It's no wonder they look so precious after getting that much beauty sleep. Where can we sign up for this kind of schedule?
It's Your Birthday Too?!
The great thing about having a pair of dogs from the same litter is throwing them a joint party to celebrate the big day. Here's wishing both these pups a very Yappy Barkday and many more! Though it's a shame they have to share a single slice of cake.
Smarty Pants
As if you didn't already know the Australian Shepherd is one of the most intelligent dog breeds out there, this photo confirms it. This pooch looks like they wrote the book on dog breeds.
Pretty in Pink
Can you feel your heart melting into a puddle? If this cutie patootie doesn't brighten your day, nothing will.
All Aboard
"This is your captain speaking. The waters are looking a little ruff today, but it's nothing this salty dog can't handle."
Puppitude
We all know that look: the doggy side-eye. It can either mean, "Why did you put this hat on me?" or "Oh yeah, I think I look pretty cool." Or both.
Beary Cute
We think this little Dachshund wearing a bear hat is unbearably charming. And so cozy.
Tooty Fruity
Is it a pumpkin? An orange? A persimmon? We think it might be a tangerine. Whatever the fruit, this dog sure does look sweet in this comical hat.
It's My Pawty, and I'll Nap if I Want To
After an exhilarating party, it's understandable for the birthday pooch to be tuckered out and doze off, party hat and all. Sweet dreams, little one.
Got Gentleman Swag?
Only a distinguished gentleman could pull off a burlap fedora, and we must say this charmer is Pulling. It. Off.
The Tiniest Hat There Ever Was
We're resisting the urge to reach through the screen and gently squeeze this sweetie wearing the most adorable straw hat.
Ready for a Winter Wonderland
This pup is heading somewhere for a fun adventure. Sledding? Snowshoeing? Maybe they're just keeping their ears warm during a crisp car ride? Whatever the case, they look darling.
Life Is Better Together
This pair of dogs is certainly dressed for the occasion. We're just not sure what the occasion is.
Caught Red Pawed
"Well, howdy there. Didn't see you come in. Nope, I'm not getting into any mischief, just minding my own business…"
I'm All Ears
Some days it's helpful to walk a mile in someone else's shoes, or, in this dog's case, someone else's ears.
Time for a Nap
After a long day, it's important to paws and reflect. This pup knows a cozy hammock is the perfect place to unwind.
Pass the Rubber Duckie
Many dogs dread bath time, but not this shampoodle. After a ruff day, a relaxing bubble bath is a perfect way to engage in some self-care. Ok, we'll give you some alone time now…
The Pirate's Life for Me
Q: What does a pirate dog's bark sound like? A: "Arrrrff"
C'est La Vie
This Frenchie's outfit is giving Parisian princess vibes. It's giving "selfies at the Eiffel Tower" and "stroll by the Seine." C'est magnifique.
Need more cute animal pics in your life? Of course you do. Check out these dogs and cats living their best lives together.