If you are willing and able to give a needy dog a permanent home, you may want to consider adopting a Poodle. Poodles are highly valued as family pets, and their intelligent and cooperative natures make them fun, loving companions. Fortunately, there are rescue organizations across the United States to help you find the Poodle or mix that's perfect for you.
1. Poodle Club of America Rescue Foundation
The Poodle Club of America Rescue Foundation is a nationwide network of volunteers who rescue and foster Poodles of all types and sizes. The organization works diligently to ensure every rescued Poodle receives necessary medical care, behavioral training, and a forever loving home. The requirements to adopt vary on a case-by-case basis, and the club is also active on Facebook.
2. Mid-Atlantic Poodle Rescue
Mid-Atlantic Poodle Rescue is an all-volunteer group that places Poodles in homes in the Mid-Atlantic states including Maryland, Virginia, Pennsylvania, Eastern Ohio, New York, and New Jersey. Its adoption process includes an application and an interview.
The organization does not operate a facility or physical location. Poodles and Poodle mixes that have been surrendered by owners or brought in from shelters are placed in foster homes and cared for there until they find their forever home.
Need to Know
Many nationally focused rescues rely on foster homes or a foster-to-adopt model to place dogs. Several have regional coordinators who can work with you to help find a suitable dog to adopt.
3. Poodle Rescue Connecticut
Poodle Rescue Connecticut places dogs in the New England area, including Maine, Vermont, New Hampshire, Massachusetts, and Rhode Island. In addition to Poodles, they also find homes for several other breeds. Before adoptable dogs go to their forever homes, this organization rehabilitates any behavioral problems the pup may have. This helps make sure every dog has the best chance to never be surrendered again.
4. Florida Poodle Rescue
Established in 1994, Florida Poodle Rescue has placed more than 10,000 Poodles in loving homes. The organization rescues abandoned Poodles, provides medical care, and ensures dogs are placed in loving homes that match their needs. Everyone in the family must be a part of the adoption process for your application to be approved.
Need to Know
If you choose a Standard Poodle, or a Poodle mix the size of a standard, Florida Poodle Rescue requires your yard to have a 6-foot fence prior to adoption.
5. Picket Fence Poodle Rescue
Picket Fence Poodle Rescue is headquartered in Minnesota and rescues Poodles and Poodle mixes of all ages. Their fee varies and is based on the Poodle's age, size, and needs. Poodles can be adopted if you live within a 500 mile radius of Elk River, Minnesota.
6. Michigan Standard Poodle Rescue
Michigan Standard Poodle Rescue is not restricted to finding forever homes in its home state, but also in neighboring states. Dogs aren't adopted on a first-come, first-serve basis, but rather on a case-by-case basis connecting the right dog with the home. This organization isn't restricted to purebred Standard Poodles. They also have Poodle mixes available; however, most dogs are about the same size as the Standard.
Quick Tip
Looking through the adopted dogs can show you the approximate size and variety of breeds available with this organization.
7. Poodles and Pals of Southern California
Poodles and Pals of Southern California is dedicated to the rescue, rehabilitation, and rehoming of Poodles and Poodle mixes. They provide medical care, behavioral assessment, and foster care to Poodles until they find a perfect home. A home visit is required for final approval of your application and will be done before your adoption is complete with this organization.
8. NorCal Poodle Rescue
Operating since 1985, NorCal Poodle Rescue has saved thousands of Poodles in Northern California. NCPR also provides education on Poodle care and behavior, offering you a supportive hand before, during, and after adoption. Looking through its available dogs, you will see Poodles of all sizes, along with mixes. You can submit an interest form for a volunteer to reach out to you regarding which dog would fit best with your family.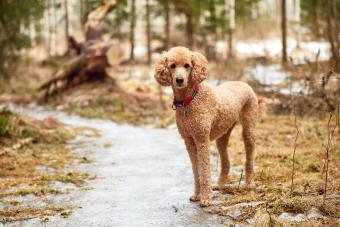 Things to Think About When Considering Standard Poodle Adoption
If you are contemplating Standard Poodle adoption, you owe it to yourself and your potential new companion to understand this breed's needs. Standards are generally happy, outgoing, and intelligent pets, but they also require a bit more maintenance than the average dog.
These Dogs Need Exercise: Standard Poodles are fairly large dogs with a great deal of energy to spare. They need daily exercise and mental stimulation to be happy.
Poodles Must Be Groomed: Poodle hair grows continually throughout these dogs' lives. In addition to home grooming, plan to take them to a professional regularly.
Watch For Unscrupulous Organizations
Spotting fake dog rescue organizations will help you avoid wasting time and energy. There are a ton of great rescue groups active on social media, including Facebook, but not all are reliable. Watch for these traits to determine if a group is focused on rescue and has a good reputation.
Transparency: Make sure the organization is transparent. Legitimate rescues openly share information about operations, including the adoption process, medical treatments provided, and the animal's living conditions.
Check nonprofit status: Check if the organization is registered as a non-profit and has a clear, reputable record.
Watch out for too many purebred dogs: Be wary of rescues that always have a high number of popular or purebred dogs available. It could be a puppy mill disguised as a rescue.
Outrageous fees: Out of the ordinary adoption fees without an explanation, like past medical expenses, could be a red flag.
Check reviews and comments: Always research reviews, look for recommendations, and watch for warnings.
Making a Decision to Adopt a Poodle
Poodles end up needing to be adopted for many reasons. Maybe someone had to move, the dog's owner passed away, or the dog has a health issue. Don't hesitate to ask why the dog is up for adoption and what steps they have taken to to correct or treat any issues the dog might have. A reputable shelter won't hesitate to share this info. Taking the time to sort these issues out means you have a better chance of finding the right dog for you.