Choosing the perfect name for your weiner dog is a fun and exciting task. Given their unique shape and intriguing personality, there are some fun names out there for your new Dachshund. Whether you're searching for something serious or creative, we have you covered.
Female Dachshund Names
These little dogs are known for their long bodies, short legs, and their spirited personalities. If you're looking for a name for your female Dachshund, we have a great list of suggestions below.
Abby
Bella
Chloe
Coco
Daisy
Dolly
Ellie
Gigi
Ginger
Gracie
Hazel
Honey
Izzy
Lady
Lily
Lola
Lulu
Luna
Millie
Mimi
Mocha
Molly
Nala
Olive
Penny
Pippa
Rosie
Roxy
Ruby
Sadie
Sophie
Stella
Tilly
Willow
Winnie
Zoey
Male Dachshund Names
Your male Dachshund is full of charm and wit, and our list of names will help you find the perfect one. Your special guy is guaranteed to love one of these. Try a few out and see which one he responds to most.
Archie
Baxter
Benny
Bruno
Buddy
Charlie
Chester
Chewie
Cooper
Dexter
Finn
Frankie
Gus
Henry
Jackson
Jasper
Louie
Marley
Max
Milo
Murphy
Oliver
Ollie
Oscar
Otis
Rocco
Rudy
Rusty
Sammy
Teddy
Toby
Winston
Ziggy
Unique Dachshund Names
There are so many great names for Dachshunds, you'll want to choose one that fits your dog's personality and physical characteristics. These names are different. Our unique options should kickstart your hunt for the perfect name.
Andouille Adventurer
Biscotti
Biscuit Bopper
Bratwurst Buddy
Chipolata Chaser
Chorizo Chum
Cinnamon
Cinnamon Swirl
Dachsy Doodle
Dash
Frankfurter Fido
Fudge
Gingersnap
Hotdog Hank
Kielbasa K9
Marmalade
Meatball Muzzle
Mustard Munchkin
Noodle
Noodle Nugget
Nutmeg
Pastrami Pawsie
Pepperoni Paws
Pickle Pooch
Pickles
Pippin
Pretzel
Pretzel Pup
Pudding
Raisin
Rolo
Salami Sam
Sausage Scout
Shortcake
Skittles
Slinky
Slinky Sausage
Smokey Sniffer
Snickers
Snickers Schnitzel
Taffy
Teriyaki Tailwagger
Tootsie
Truffle
Twix
Wiener Whiskers
Wiggles
Cute Dachshund Names
There's no doubt about it. Dachshunds are adorable, and you may be searching for a name that suits their endearing appearance. If you're looking for a cute name for your doxie, we have you covered.
Biscuit
Buddy
Buttons
Caramel
Chewie
Cinnamon
Daisy
Dobby
Frankie
Fudge
Gigi
Gingersnap
Jellybean
Louie
Marshmallow
Mocha
Mochi
Muffin
Noodle
Oscar
Peanut
Pickles
Pippin
Pretzel
Pudding
Rolo
Scooter
Skittles
Slinky
Snickers
Sprinkles
Taffy
Tater Tot
Toffee
Tootsie
Twix
Waffles
Whiskers
Ziggy
Funny Dachshund Names
On top of being adorable, doxies have quite the personality. They can be quite comical. If you're looking for a funny name for your silly pup, check out our funny Dachshund names.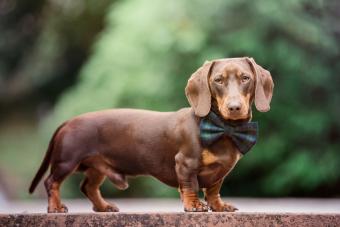 Banger Barkley
Barkley Longbody
Bark Twain
Beanstalk Buddy
Biscuit Bandit
Bratwurst Buddy
Chorizo Chum
Dachshund Dynamo
Dachzilla
Dashing Dobby
Deli Dog Duke
Dilly Dog
Frankfurter Fido
Hotdog Harley
Hotdog Harry
Hotdog Houdini
Houdini Hound
Kielbasa K-9
Linky Louie
Long Dog Larry
Lowrider Louie
Meatball Mutt
Mustard Munchkin
Noodle Nugget
Peanut Paws
Pepperoni Pooch
Pickle Pup
Pretzel Paws
Pretzel Pup
Salami Sam
Sausage Roll Rover
Schnitzel Snuggles
Scooter McSausage
Sir Sausage
Sir Sausage-a-Lot
Slinky Sausage
Slinky Steve
Snickerdoodle Sausage
Snickers Schnitzel
Stretch Armstrong
Stretchy Steve
Tootsie Roll Rover
Wienerlicious
Wiener Whiz
Wigglesworth
Wurst Whiskers
Choosing Your Dachshund's Perfect Name
Choosing the right name for your Dachshund is an important task. You want to choose a name that fits your dog and reflects their heritage. Pick a name you both vibe with, and it will fit right in with your lifestyle and your pup's unique personality.