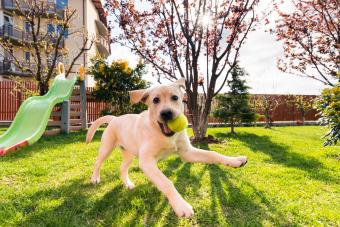 Names are important. They can share queues about our cultures, our likes and dislikes, our histories and more. And, if you're reading this, you're probably facing the delightful dilemma of choosing the perfect name for your canine companion. You probably also have a preference for dog names that start with C, yes?
Names that kick off with the letter 'C' have an irresistible charm. They just slide off the tongue with a delightful twist, and there's an undeniable charisma in these 'C' names, whether it's the snazzy 'k' or the sweet 'sh' sound – they're simply doggone adorable!
12 Dog Names That Start With C for Girl Dogs
Names for female pups beginning with the letter 'C' have a unique charm. These delightful and endearing names can be a perfect fit for your furry friend.
Cadence
Camryn
Caroline
Cassidy
Catalina
Celeste
Charlene
Charity
Chelsea
Ciara
Colette

Constance
10 Names That Start With C For Boy Dogs
It might not come to mind right away, but there's a good number of male names that kick off with the letter 'C.' If you're leaning towards this letter for your dog's moniker, you've got a lot of options to choose from.
Caleb
Cameron
Carlos
Carter
Channing
Charles
Conrad
Cooper
Corbin
Cruz
13 Unique Dog Names That Start With C
By diving into different languages, you can uncover beautiful and meaningful names that might not be common in your own culture. You can also look for inspiration by looking through different global traditions or even historical names that have stood the test of time. You can even have fun with this by combining words or sounds to make up your own unique name.
Caius: Latin for rejoice
Caledonia
Calico: English for colorful, spotted fabric
Calista
Callum: Scottish for dove
Calix: Greek for handsome
Calypso: Greek for she who hides
Celestia
Celosia: A type of flowering plant
Cerise: French for cherry
Chakra: Sanskrit for circular
Cinna: Like cinnamon
Cressida: Greek for gold
23 Cute and Cuddy C Names
When you gaze into those puppy eyes and all you want to do is snuggle up for hours, doesn't it just scream, "Name me something super cuddly?" If your pup is the warm and fuzzy type, it totally makes sense to pick a name that captures that image, right?
Cali
Camila
Caressa
Cheeks
Chiclet
Charm
Charmy
Cloud
Coo
Cootie
Cosmo
Cotton
Cozy
Cozy-toes
Cradle
Cream
Cricket
Cuddlebug
Cuddler
Cuddly
Cupid
Curdle
Cutesy
Quick Tip
Think of as many words as you can that start with C — which ones are the cutest? 
31 Names Based on Foods and Drinks
Giving your dog a name inspired by your favorite dish or dessert isn't just adorable, it's like combining two of the best things in life: good food and your best buddy. It's a flavorful twist, ensuring your dog's name is not only unique but also a reflection of something you truly love and enjoy. I've even sprinkled in some drink names to add to the mix.
Cadbury
Caffè
Candy
Cannoli
Cappucino
Caramel
Chamomile
Champagne
Chanel
Chardonnay
Cheddar
Cheerio
Cherry
Chi-chi
Chickpea
Chili
Chip
Chowder
Ciabatta
Cider
Cinnabun
Cinnamon
Cocoa
Coconut
Corona
Couscous
Cranberry
Crisp
Cupcake
Curry
Currant
46 Dog Names Starting with C From Cinema 
Do you have that one movie or series you could watch on repeat? You know, the one where you've memorized half the lines? For me, it's a bit of a toss-up. On one hand, I'm all about the adrenaline-pumping action of the Fast and the Furious series. But then there's the undeniable pull of those heartstring-tugging stories by Nicholas Sparks. Think of your favorite movies — what C names are in there?
Cade: Transformers: Age of Extinction
Cady: Mean Girls
Calliope: Hercules
Calvin: Calvin & Hobbes
Camilo: Encanto
Captain America: Marvel series
Captain Jack: Pirates of the Caribbean
Carl: Up
Carlito: Carlito's Way
Carlotta: The Litter Mermaid
Carnage: Venom 
Carrie: Carrie
Casper: Casper
Cass: Big Hero 6
Caesar: Planet of the Apes
Celia: Monsters Inc
Celie: The Color Purple
Charizard: Pokemon
Charlie: Charlie and the Chocolate Factory
Charlotte La Bouff: The Princess and the Frog
Chewbacca: Star Wars
Chicha: The Emporer's New Groove
Chi-Fu: Mulan
Chihiro: Spirited Away
Christine: The Phantom of the Opera
Cinderella: Cinderella
Cindy Lou: How the Grinch Stole Christmas
Claire: Jurassic World
Clarice: The Silence of the Lambs
Clawhouser: Zootopia
Cleo: The Mummy
Clementine: Eternal Sunshine of the Spotless Mind
Clifford: Clifford the Big Red Dog
Cody: The Rescuers Down Under
Cogsworth: Beauty and the Beast
Coral: Finding Nemo
Coraline: Coraline
Cosette: Les Misérables
Cooper: Interstellar
Crysta: FernGully: The Last Rainforest
Cruella: 101 Dalmatians
Crush: Finding Nemo
Cruz: Cars 3
Cujo: Cujo
Cypher: The Matrix
Cyrus: Con Air
30 Classic Dog Names with C
Some dog names just stick around. If you're looking for a name your grandma may have used, these are what you're looking for. Who knows — you might also provide some inspiration for upcoming generations. 
Cady
Cagney
Cain
Cairo
Cali
Callie
Carly
Carmen
Casanova
Casey
Cash
Cassie
Cato
Chance
Chase
Chester Cheetah
Chico
Chloe
Cindy
Clara
Clark
Cliff
Colby
Colt
Comet
Connor
Copper
Cora
Crash
Cubby
Finding a Charming Name for Your Canine Companion
Are any of these calling out to you? Look through the list of names and pick the ones you like the most. Take your time, read them aloud, and if you still can't pick, sit with them for a few days. This will be your dog's name for the rest of their life, so it's completely understandable if you take a little time to figure it out.