There is something magical and mystical about the Irish language and Irish names. We have some excellent options for you to choose from when you're naming your pet pup. Whether you want to celebrate your heritage or your dog's, these names will strike your fancy. Some are more well known, while others are straight from the mists of folklore. All will help your dog stand out. If you're searching for an Irish puppy name to make your friends' heads turn, we have you covered.
Female Irish Dog Names
These Irish names for female dogs include many that are familiar to American ears, along with some rarer names more commonly used in Ireland.
Aisling: Dream
Aoibheann: Beautiful or radiant
Bébinn: Fair lady
Blathnaid: Blossom
Bridget: Exalted one
Caoimhe: Beautiful or kind
Caragh: Friend or beloved
Ciara: Dark
Damhait: Fawn
Dierdre: Woman
Eabha: Life
Eireann: Ireland
Eithne: Seed or nut kernel
Faidh: Wild
Fiona: White and fair
Imogen: Maiden or innocent
Kayleigh: Slim and fair
Laoise: Radiant girl or light
Líadan: Grey lady
Mairead: Pearl
Moira: Fate or destiny
Naomh: Holy
Nessa: Rough
Naula: Fair shoulder
Orlaith: Golden princess
Rathnait: Grace and prosperity
Roisin: Little rose
Rowan: Type of tree
Saoirse: Liberty
Shannon: Wise river
Sinead: God is gracious
Siobhán: God's grace
Sláine: Health
Úna: Lamb
Quick Tip
Make sure you pick an Irish dog name you will be able to pronounce the same way every time you call your pup.
Male Irish Dog Names
If you're looking for a classic Irish name for your male dog, such as fierce Kerry Blue Terrier or a stately Irish Setter, these names will work well for these dogs or any breed.
Aidan: Little fiery one
Aodh: Fire
Barry: Fair haired
Brandon: Prince
Brian: Noble
Callum: Dove
Caolan: Slender
Cian: Ancient
Ciaran: Little dark one
Cillian: War or bright-headed
Conor: Lover of hounds
Cormac: Son of defilement
Darragh: Fertile or oak tree
Darren: Little oak
Donal: Ruler of the world
Donnacha: Brown-haired warrior
Donovan
Doyle
Énna: Bird-like
Eoin: Young
Fearghal: Man of valor
Fechín: Little raven
Finnegan
Girven: Small rough one
Kelly
Kennedy
Liam: Warrior with a strong will
Lorcan: Fierce or silent
Oscar: Deer lover
Patrick: Nobly born
Quinn
Rory: Rust-colored
Ruiari: Red-haired king
Sean: God is gracious
Shay: Hawk or noble
Tiernan: Little Lord
Creative Irish Dog Names
Some Irish names are truly unusual and unique. These names for boy and girl dogs will definitely spark conversation! Some creative Irish names for male dogs are:
Berach: Sharp
Brádach: Large chested
Dáire: Fertile
Daithi: Swift
Fionnbharr: Fair hair
Lonán: Little blackbird
Odhran: Little pale green one
Ronan: Little seal
Senan: Ancient or little wise person
Tadhg: Poet
Unique and Unusual Irish Dog Names
These names can be hard to write on paper, but they will help your dog stand out. If your dog is an attention-hog, these names could be for them:
Ailbhe: White rock
Caoilfhionn: Fair and slender
Dearbháil: Daughter of Ireland
Fianna: Band of warriors
Mór: Great
Ragnailt: Battle counsel
Sadb: Sweet
Siofra: Elf
Treasa: Strength
Dog Names Based on Irish Beer and Whiskey
The whiskey and beers of Ireland are world-renowned. These names are from some of the most well-known brands and would make cute names for an Irish breed of dog.
Beamish
Boilermaker
Bushmills
Dingle
Guinness
Jameson
Kilbeggan
Kilkenny
Knappogue
Magners
Murphys
O'Hara
Powers
Slane
Smithwick
Teeling
Tullamore
Female Irish Dog Names Based on Celtic Mythology
Ireland has a rich folklore and mythology full of heroes, fairies, and warrior queens. These names would work well for a female Irish Wolfhound or any "legendary" breed of dog.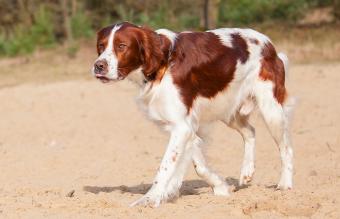 Áine: The Queen of the Munster fairies.
Aoife: A great female warrior who was the mother of the son of the legendary hero Cuchulainn. The name means radiant or beautiful.
Clíodhna: Goddess of love and beauty, and also the Queen of the Banshees.
Eimear: Wife of the great Cuchulainn, the name means swift.
Grainne: Goddess of the harvest meaning corn or grain.
Meabh: The famous warrior Queen of Cannacht.
Muireann: A mermaid in legend who was captured by a fisherman meaning sea white or sea fair.
Niamh: Daughter of the Sea God Manannan; known for having beautiful golden hair, this name means radiance.
Male Irish Dog Names Based on Celtic Mythology
Some famous Irish gods and legendary heroes make for larger-than-life figures. These can make excellent names for your feisty Wheaten Terrier or other Irish breed.
Bra: A figure in folklore who was a heroic adventurer.
Cuchulainn: A famous warrior from Irish legend that was the son of a God and known for his hounds.
Diarmuid: A member of the warriors and beloved of the goddess Grianne; meaning without enemy.
Fiachra: One of four children in an Irish legend that were turned into swans for 900 years.
Fintan: In Irish folklore, a person who was the only survivor of a flood; the name means white fire or white bull.
Lir: God of the sea.
Oison: A legendary hero-poet in mythology meaning little deer.
Female Dog Names Based on Irish Towns
Naming your dog after a city or town in Ireland could truly bring your Irish roots back home. Check out the following female dog names:
Ballinasloe
Bantry
Bellina
Clonakilty
Drogheda
Mallow
Shannon
Tralee
Male Dog Names Based on Irish Towns
Similar to the female dog names based on towns and cities in Ireland, these male dog names can help you cherish your or your dog's Irish heritage:
Adare
Armagh
Belfast
Carlingford
Dublin
Galway
Kilkenny
Sligo
Female Irish Pop Culture Names
If you watch television, you likely know some of these pop culture names:
Barley: After the movie The Wind That Shakes the Barley
Ellis: After the movie Brooklyn
Emerald: After Emerald Isle in P.S. I Love You
Fionnula: Fionnula Flannagan, famous Irish actress
Saoirse: Pronounced "Sur-sha," for Irish actress Saoirse Ronan
Male Irish Pop Culture Names
If you're looking for an Irish pop culture name for a boy dog, check these out:
Brosnan: Pierce Brosnan, Irish actor
Byrne: Gabriel Byrne, Irish actor
Cunningham: Liam Cunningham, Irish actor
Liam: Liam Neeson, Irish actor
Finding Irish Names for Your Dog
Irish names may appear hard to pronounce, but most are quite easy to say once you learn how. These dog names come with a rich history behind them and can really express how you feel about your dog and Irish culture, whether you come from the Emerald Isle, or simply enjoy its culture!