The Russian language has provided some strong and beautiful names, and many of these names make perfect pet names. Consider using a Russian cat name when deciding what to call your feline. There are so many amazing choices to pick from.
Russian Female Names Inspired by Nature
Many of the most stunning words in the Russian language are words taken from nature. Any of these nature-based words would make a perfect Russian-inspired female name for your cat.
Darya - means sea
Faina - means light
Belka - means squirrel
Iris - means rainbow
Evva - means light
Calina - means moon
Roza - means rose
Elena - shining light
Paulina - little stone
Pyotr - meaning rock
Jelena - means deer
Florintina - means flower
Marina - from the sea
Liliya - means lily
Tamra - means palm tree
Tamryn - also means palm tree
Inna - means rough stream
Margarita - means pearl
Maya - means dream
Svetlana - means star
Russian Male Names Inspired by Nature
These Russian male names are strong, beautiful, and great fits for male cats who are adored.
Georgiy - means earth-worker
Anatoliy - means sunrise
Ony - means eagle
Dmitriy - means earth

Leonid - lion-like

Lev - heart of a lion

Luka - light, bringer of light

Pabiyan - bean farmer
Russian Names Based on Physical and Personality Traits
Get to know your cat. Look at his/her personality and physical characteristics and allow those special qualities to drive your name search.
Russian Female Names Based on Physical and Personality Traits
These Russian names are bound to capture the essence of your special feline.
Anya - means grace
Galina - calm and tranquil
Irina - peaceful
Kira - leader
Klara - bright
Larisa - cheerful
Manya - bitter
Polina - small
Raisa - easygoing
Sonya - wise
Sasha - leadership qualities
Taisiya - clever
Yulia - young
Russian Male Names Based on Physical and Personality Traits
One of these names will suit your cat's aura to a tee.
Adrik - dark
Alexei - defender
Arseny - strong
Boris - fighter
Eriks - ruler
Grigory - watchful
Pavel - small
Valentin - healthy and strong

Yevgeny - noble

Faddei - brave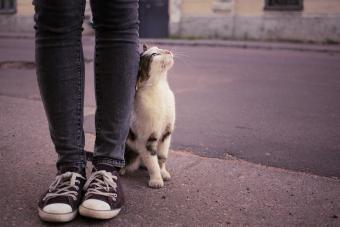 Regal and Strong Russian Names
Your cat stalks around your house acting like royalty, so give him a name that is royal in every possible way.
Regal and Strong Russian Male Names
In your home, he is ruler, so name him as such.
Danyl - hero
Nikita - unconquered
Ratmir - peace protector
Rurik - noted ruler
Rolan - famous throughout the lands
Vasiliy - king
Alexander - defender of mankind
Maxim - means "the great"
Viktor - conqueror
Stepan - crown
Kirill - lord
Regal and Strong Russian Female Names
She acts like a Queen, so why not give her a ruling name to go with her big persona.
Adelaida - noble

Antonina - priceless
Evgenia - born well
Nikita - unconquered
Panya - crown of laurels

Sashenka - defender

Tatiana - princess

Vladlena - to rule

Venus - Goddess

Alexandra - defender of man
Choosing a Pet Name
When naming pets, the possibilities are countless. There are no hard rules to naming your animal, so pick something meanintful to you.