Naming a new cat can be a daunting project. There are so many choices to pick from! If you are stuck on a name, turn to your favorite foods for inspiration. There are tons of great food names for cats out there that are sweet treats for owners.
Sweet Food Names for Cats
These names are as sweet as sugar. They make excellent choices for any beloved cat.
Sugar
Honey
Molasses
Sprinkle
Godiva
Fudge
Cocoa
Hershey
Peppermint
Rollo
Skittle
Dot
Razzle
Starburst
Taffy
Jujube
Jellybean
Marshmallow
Twix
Runt
Peep
Cotton Candy
BonBon
Pixie (Stick)
Twizzler
Butterscotch
Cupcake
Brûlée
Donut
Macaroon
Graham
Twinkie
Mochi
Pudding
Cheesecake
Cobbler
Whip
Names Based on Fruits and Veggies
So many names duel as a pet moniker and healthy food from the earth. Do any of these fruits or veggies fit your pet?
Pumpkin
Olive
Parsnip
Chickpea
Bamboo
Bean
Blueberry
Cherry
Carrot
Kiwi
Apricot
Clementine
Peaches
Tater
Sprout
Goji
Mango
Papaya
Persimmon
Crimini (mushroom)
Okra
Jalapeño
Romaine
Figgy
Chive
Cat Names Based on Savory Meals
Comfort food warms the belly and your cat warms your heart. Pair your favorite feline with a name choice based on popular savory dishes.
Dumpling
Potsticker
Stew
Chutney
Hot Dog
Taco
Pancake
Burrito
Salsa
Tempura
Samosa
Pretzel
Ramen
Falafel
Campbell (soup)
Fritter
Meatball
Nugget
Couscous
Macaroni
Jambalaya
Schnitzel
Hambone
Reuben
Mole
Pumpernickel
Noodle
Dim Sum
Pot Pie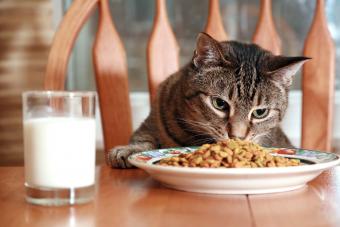 Cheese-Inspired Names
These cat names are cute and cheesy choices for your fur-ever friend.
Cheddar
Gouda
Swiss
Brie
Queso
Munster
Jack
Colby
Asiago
Nacho
Spicy Inspiration for Cat Names
Does your kitty have a spicy personality or sport a color that resembles a common cooking spice? Is he fierce and bold like a fiery pepper? If so, consider some of these names centered around spices, peppers and herbs.
Herb and Spice Names
Spices add beautiful flavor elements and colors to countless dishes. These spices elevate recipes and make good names for a pet cat.
Basil
Cayenne
Chili
Nutmeg
Saffron
Thyme
Wasabi
Rosemary
Lavender
Clove
Cinnamon
Anise
Cardamom
Cilantro
Oregano
Parsley
Dilly
Turmeric
Tarragon
Chickory
Catnip
Chili Pepper Names
So many kinds of peppers make fun names for cats. These are great choices for a bold and kicking feline.
Serrano
Poblano
Tabasco
Komoto
Peter
Bell
Aleppo
Shishito
Pimento
Banana
Nutty Names and Super Seed Idea
These nut-based names and super seed ideas are fun, creative, and excellent options for your pet cat.
Hazel
Peanut
Almond
Cashew
Pistachio
Wally (walnut)
Pecan
Mac (macadamia)
Coconut
Sunflower
Pepita
Chia
Poppy
Sesame
Junk Food Name Finds
Common junk foods and pantry items are not good for the body, but they sure make good names for pets!
Chip
Dorito
Cheeto
French Fry
Crackers
Popcorn
Frito
Ritz
Pringle
Pickle
Dip
Cat Names Based on Beverages
Fun drinks mean fun names for pets! These common beverages make great names for cats.
Martini
Smoothie
Merlot
Chai
Chardonnay
Rosé
Latte
Mocha
Java
Kombucha
Bailey
Jameson
Stoli
Deciding on the One
Naming a cat should be a fun experience for owners where they can really let their creativity fly. Unlike a human's name, pet names can be very out of the box. There are no hard rules in pet naming, but there are a couple of considerations that owners will want to think about when deciding on "the one." Make sure the name is easy to say. You will be calling your cat's name many times a day for several years to come, so the name will need to be fairly simplistic. Choose something with staying power. A pet cat will be around for many years if you are fortunate, so pick a name that you will not tire of. Lastly, make sure the name is not offensive to anyone. What is funny to you might rub others the wrong way.