Maine Coon cats are beautiful felines known for their mild temperament and their stunning, thick coats of fur. These big babies will instantly score a special place in your heart forever, so make sure to take some time in choosing your main coon name.
Maine Coon Names That Play on Temperament and Characteristics
Maine Coons have a reputation for being sweet in disposition and are known for their lush, thick coat of fur. Unusually, they also take to the water, odd for a kitty. Use their laid-back, water-loving personality in the naming process.
Sweetie
Honey
Doll
Cutie
Chill
Darling
Whisper
Hush
Wallflower
Mousey
Bash
Tenderheart
Willow
Clement
Serene
Blithe
Happy
Swimmy
Aqua
Pirate
Captain
Rivers
Fluffy
Silkie
Furball
Frizz
Wolly Bully
Poof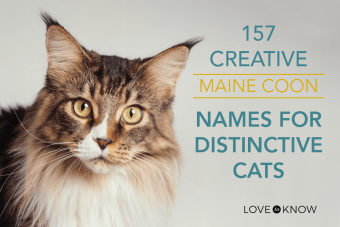 Choose a BIG Name for a BIG Kitty
Maine Coon cats are big kitties, party because of their stocky build and partly because of all that hair on their bodies! Use this unique physical feature to help you name your precious feline.
Meaty
Meatball
Monster
Chunky
Tank
Czar
Magnum
Mr. T
Bubba
Big Foot
Tonka
Big Ben
King Kong
Hulk
Thor
Mammoth
Jumbo
Bumper
Wolly Bully
Hercules
Tubby
Porky
Male Names for a Maine Coon
These male names for Maine Coon cats are prime choices for a perfect name.
Mario
Merlin
Miko
Mattie
Mitchell
Mert
Mikey
Maurice
Maximus
Mo
Mickey
Milo
Mac
Magnus
Murphy
Mustafa
Monty
Murrey
Maddox
Marcel
Female Names for a Main Coon
When choosing a name for a female kitty, try a few of these names on for size.
Millie
Mae
Molly
Maude
Merry
Mila
Missy
Maggie
Minty
Mopsy
Mabel
Mittens
Marlo
Marnie
Maxine
Meg
Mel
Mara
Mercy
Mona
Moshe
Beautiful Names for a Black Maine Coon
Beautiful black Maine Coons need names that can stand alongside their striking appearance.
Inky
Velvet
Midnight
Onyx
Ebony
Blackberry
Licorice
Noir
Indigo
Bandit
Batman
Zorro
Tux
Ninja
Smudge
Stormy
Darth Vader
Panther
Raven
Puma
Stunning Names for a White Maine Coon
There aren't many animals more mesmerizing than a white Maine Coon. Give your pretty pet a name that fits well with all of that white fur.
Pearl
Snow
Sparkle
Icy
Boo
Ghost
Blizzard
Luna
Moonbeam
Star
Glacier
Frost
Angel
Diamond
Sugar
Coconut
Cloud
Cotton
Gardenia

Chardonnay

Milky
Perfect Names for an Orange Maine Coon
If you are fortunate enough to have a Maine Coon cat with an orange fur coat, then one of these names might suit him/her well.
Ginger
Goldie
Cheetoh
Dorito
Clementine
Marmalade
Saffron
Cinnamon
Chili
Clove
Tiger Lily
Sunflower
Buttercup
Garfield
Tigger
Pumpkin
Tiger
Flame
Fuego
Blaze
Great Names for a Grey Maine Coon
A grey Maine Coon is a beautiful and mystical animal. Choose a name that reflects the cat's dusky coat.
Smokey
Slate
Steele
Dusky
Dove
Rhino
Shadow
Eve
Sterling
Ash
Asher
Ashley
Stella
Chrome
Floyd - means grey in Welsh

Gandalf

Earl - as in Earl Grey

Wolf

Silver

Bullet
Naming Your Maine Coon
Maine Coon cats are a beautiful breed of felines. When naming your Maine Coon, play up to its unique personality traits and characteristics. Maine Coons live for approximately 12 years, so make sure you truly like the name that you ultimately choose. Remember to consider any name, making sure if is nonoffensive to others. Lastly, and most importantly, have fun with the naming process.