Italian cat names can give your feline buddy a touch of old world mystique. You can select a name based on your cat's gender or opt to choose solely on the meaning of the name.
Italian Cat Names for Males
If you don't feel your cat has the quality given in the meaning, then you should skip it and move on to the next name. There are plenty of Italian cat names to choose from, so take your time deciding on the one that best fits your cat.
Adolfo: Noble, majestic wolf
Alberto: Bright, nobility
Aldo: Tall one
Alessandro: Defender of mankind
Anatolia: Dawn
Augustus: Majestic, venerable
Bacchus: God of wine
Benito: Blessed
Cosmo: Beauty, order
Dante: Long-lasting, enduring
Dominic: Lord
Draco: Dragon
Esatto: Exact, correct
Fabius: Bean grower
Franco: Frenchman
Giovanni: God is gracious
Guido: Guide
Horatio: Keeper of time
Leonardo: Strong as a lion
Luciano: Light
Luigi: Celebrated warrior
Lupo: Wolf
Mario: Warrior
Mattone: Brick
Nero: Strong
Paizo: To play
Pelo: Hair
Renato: Reborn
Rocco: Rest
Salvatore: Savior
Stefano: Garland crown
Tenero: Cuddly
Tito: Honored
Volpe: Fox
Zito: Young bachelor
Italian Cat Names for Females
You may enjoy exploring Italian cat names for females to find a fit for your feminine feline. Some of the names offer a strong moniker, while others have a dreamy mystical appeal.
Adrina: Happiness
Alba: White
Alicia: Noble
Amara: Everlasting
Ammiro: I admire
Andrea: Strong
Angelina: Messenger of God
Aria: Song
Aurelia: Golden
Bambi: Baby girl, baby female deer
Bella: Beautiful
Bianca: White
Callisto: Most beautiful
Camilla: Acolyte
Carlotta: Free woman
Caterina: Pure
Daniella: God is my judge
Dianah, Diana: Goddess of the hunt
Donatella: Gift of God
Donna: Lady
Evangelina: Gospel, good news
Florentina: Flower, flourish
Isabella: Devoted to God
Lucia: Light
Maria: Of the sea
Olivia: Olive
Ottavia: Eight
Pia: Reverent, devout, pious
Prima: First
Rosalia: Rose
Silvia, Sylvia: Spirit of the wood
Stella: Star
Valentina: Strong, healthy
Victoria: Victory
Zola: Earth
Italian Cat Names Inspired by Female Music Composers
Female Italian composers aren't well known. However, there were many Italian women on the music scene for several centuries. You may choose to honor one as the namesake for your cat. Any of these last names will make a cool name for your female feline.
Assandra
Badalla
Baroni
Basile
Bembo
Caccini
Casulana
Cecchi-Fedi
De Rossi
Leonarda
Pieta
Quinciani
Strozzi
Venezia
Italian Cat Names Inspired by Male Music Composers
If you're looking for a male cat name, then you can add a little glamour to his name by selecting an Italian male composer's name. You may want to listen to some of the composer's music before reaching a decision.
Alberti
Bellini
Boccherini
Cambini
Catalani
Cherubini
Clemnti
Corelli
Dagonetti
Franchetti
Martucci
Monteverdi
Monti
Paganini
Peri
Puccini
Rossini
Scarlatti
Verdi
Vivaldi
Italian Cat Names in Honor of Male Artists
Italian male artists provide you with many great name choices for your cat. You may choose to use both the first and last names for a unique cat name, or opt for just one of the names.
Antonio Badile
Bernardino Luini
Domenico Caprioli
Giorgione
Giuseppe Abbati
Jacopo Bellini
Leonardo da Vinci
Lorenzo Monaco
Luigi Benfatto
Masaccio
Michelangelo
Oeitro Adami
Orcagna
Pietro Lauri
Pietro Novelli
Italian Cat Names in Honor of Women Artists
Women artists throughout the centuries have been creating art. They didn't wait for permission to create art, they simply were artists and pursued their careers even though in the past, women weren't taken seriously as artists. There are some truly amazing female Italian artists for you to consider using one or both of their names for your furry companion.
Artemisia Gentileschi
Barbara Longhi
Chiara Varotari
Diana Scultori
Elisabetta Sirani
Giovanna Fratellini
Isabella Parasole
Juana Romani
Lavinia Fontana
Lucia Anguissola
Marietta Tintoretto
Plautilla Nelli
Rosalba Carriera
Sofonisba Anguissola
Vibrant Italian Cat Names From Women Scientists
Your cat may be the prime candidate for a female scientist's name. If your cat acts rather brainy and seems to outsmart all the other cats, then you may have a smart cat on your hands. You can pay homage to female Italian scientists by making your cat a namesake for one of these amazing women.
Elena Cattaneo
Eva Mameli
Fabriola Gianotti
Faustina Pignatelli
Laura Bassi
Maria Angela Ardinghelli
Maria Gaetana Agnesi
Rina Monti
Rita Levi-Montalcini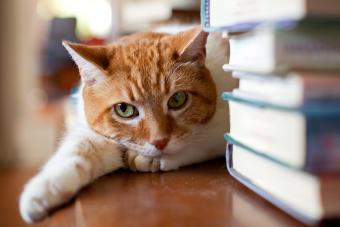 Energetic Italian Cat Names From Male Scientists
Not to be outdone by the female scientists' names, you can choose a male scientist's name for your male cat. You can opt to use just one of the names, especially if the full name is rather long. Some scientists, like some artists, only went by one name.
Amedeo Avogadro
Galileo Ferraris
Lazzaro Spallanzani
Luigi Galvani
Marcello Mapighi
Santorio
Vilfredo Pareto
Vito Volterra
150 Italian Cat Names That Are Vibrant
When you look over lists of Italian names for cats, you may be inspired. Not only were these amazing and accomplished individuals; they had some pretty cool names.