Congratulations! You are the proud owner of a beautiful kitty. Now, onto the naming process. When thinking about the name that you want to give your cat, ponder your favorite letter of the alphabet. Is it M? If you gravitate to names that begin with this letter, then one of these cat names that start with M might be for you.
Female Cat Names That Start With the Letter M
There are plenty of female names that begin with the letter M. These are only a few choices to think about if you own a cat and love M names.
Marilyn
Mimi
Missy
Miley
Maude
Madge
Marge
Maggie
Megan
Marlo
Mila
Mona
Mira
Maddie
Millie
Mia
Melania
Maeve
Marley
Maci
Michelle
Mckinley
Mirabelle
Merideth
Maren
Monroe
Martha
Molly
Mercy
Male Cat Names That Start With the Letter M
Many popular male names start with the letter M. One of these could be the name for your friendly feline.
Mario
Max
Maddox
Monty
Mac
Matteo
Maverick
Marcus
Miles
Milo
Malcolm
Micah
Matty
Marty
Miguel
Major
Magnus
Melvin
Mitch
Marlon
Miller
Milton
Murphy
M Cat Names Inspired by Nature
Animals and nature go together like peanut butter and jelly. When naming your cat, consider a few of these M names that draw inspiration from the natural world.
Monkey
Montana
Magnolia
Moon
Maple
Mars
Mercury
Mist
Mississippi
Midnight
Maui
Mouse
Moose
Muddy
Minky
Magpie
Meadow
M Cat Names Inspired by Food
These cute and fun cat names have a culinary flair to them.
Mocha
Mochi
Meatball
Muffin
Mai Tai
Merlot
Milky
Marshmallow
Minty
Melon
Macadamia
Maize
Mushroom
Mandarin
Mango
Maté
Miso
Molasses
Mulberry
Morel
Magnolia
Martini
Mojito
Macaroni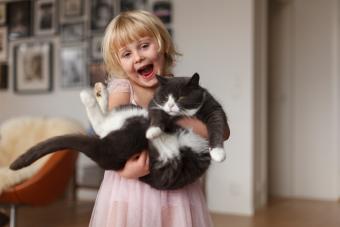 M Names Inspired by Disney
Think of your most favorite Disney characters. These beloved names will ring a bell with Disney lovers everywhere. One of them might be the perfect name for your kitten.
Mickey
Minnie
Mowgli
Morgana
Mad Hatter
March
Mr. Smee
Merida
Maleficent
Maid Marian
Marie
Mushu
Mulan
Maurice
Megara
Mortimer
Mufasa
Other Cute M Names for Pets
These creative and cute M names are too cute not to consider when naming your cat.
Muppet
Monster
Moppy
Munkestrap
Munchkin
Mystique
Moxley
Miracle
Marble
Mellow Yellow
Momo
Magnum
Magoo
Magic
Mischief
Mozart
Most Important Pet Naming Consideration
Naming a cat should be a fun experience for the new pet owner. Unlike naming a show horse, or a show dog, house cat naming encourages creativity and expression. There are no rules here! With that in mind, the single thing that you will want to prioritize in the naming experience is to make sure that you love the name you settle on. Cats live up to 20 years, so make sure that whatever name you choose is something that you will want to live with for several decades.