Cockatiel names can be fun, zany, and even silly. You can choose a name that best fits your feathered friend's personality.
Cockatiel Names for Feather Buddies
When you consider the possible names for your cockatiel, you'll find lists of many types of perfect cockatiel names. You can select from a play on words, candies, your favorite foods, famous people, sweet endearing names, and others.
Let the Feathers Greet the Heathers
Substituting the name Feather for Heather can give you a few chuckles. This play on words can be a lot of fun for a cockatiel name, especially if you train your feathered pal to correct you when you call her by this moniker!
Feather Angel - actress
Feather Bloom - actress
Feather Graham - actress
Feather Hanson - actress
Feather Headley - singer
Feather Lind - actress
Feather Locklear - actress
Feather Lynch - actress
Feather McDonald - comedian
Feather Mills - model
Feather Morris - actress
Feather Nova - singer
Feather O'Rourke - child actress
Feather Thomas - actress
Feather Watson - tennis player
What Should I Name My Female Cockatiel?
What you should name your female cockatiel depends on the type of name you want. You may find the ideal name from a list of a few light-hearted cockatiel names.
Poppy
Pop Topper
Sunny
Sunshine
Golden Gal
Pinkie
Tweety Pie
Chickie Poo
Squawk
Squawker
Gabby
Gabber
Chatty
Chatty Cathy
Chatterbox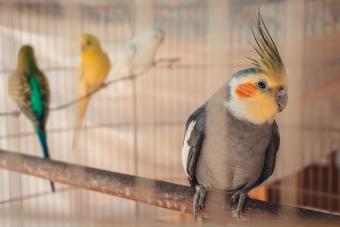 What Should I Name My Male Cockatiel?
You can choose a name for your male cockatiel that personifies his quirky personality. You may decide he deserves more than one name and combine from two different lists.
Bubba
Chewy
Conehead
Hawkeye
Jibber
Mo
Mohawk
Quacker Jack
Rocky
Wookie
Zippy
Favorite Foods for Cockatiel Names
If you have a favorite food, you may decide it's a good name for your cockatiel. It's the perfect way to indulge without guilt.
Brownie
Cheetos
Cheez Wiz
Cheez-It
Chicken Nugget
Chick-fil-A
Chips Ahoy
Cookie
Cupcake
Donut
Dumplings
Eggroll
French Fry
Froot Loops
Honey Bun
Honey Bunny
Hotcakes
Lucky Charms
Macaroon
Marshmallow
Moon Pie
Muffin
Peaches
Pop Tart
Pumpkin
Sugar Plum
Sweet Pea
Tater Tot
Twinkie
Waffles
Sweet Cockatiel Names
What could be sweeter than a candy name for your wonderful feathered buddy? You can choose a name that matches your cockatiel's coloring or winning personality since a pet's persona always wins out.
Butterscotch
Candy
Candy Corn
Candy Kisses
Cotton Candy
Gumdrop
Gummy Bear
Kit Kat
Lemon Drop
Lollipop
M&M's
Reese's
Snickerdoodle
Snickers
Starburst
Sugar Babies
Sweet Tarts
Twix
Twizzler
Zagnut
Cocktail Drinks for Cockatiel Names
If you like cocktails, then your cockatiel might enjoy a little play on words. You may find your favorite drink makes a cute name for your bird bud.
Americano
Aviation
Bamboo
Bloody Mary
Brandy Crusta
Gimlet
Gin Fizz
Hanky Panky
Jungle Bird
Lime Rickey
Manhattan
Margarita
Michelada
Piña Colada
Pisco Sour
Rum Punch
Sidecar
Tom Collins
White Lady
Zombie
Cockatiel Names That Have Nothing to Do With Beaks
Fun antics can make for silly cockatiel names. If your feather pal has a sense of humor, then you'll appreciate a name that goes far beyond a simple beak for a more human touch.
Cheeky
Cheeks
Cute Face
Cutesy
Hot Lips
Kisser
Kisses
Kissy Face
Smacker
Smackie
Smooch
Smoochie
Sugar Lips
Tongue Tied
Whistler
Cockatiel Names That Are Color Coded
What better way to confuse everyone than to name your cockatiel a name that implies a color that might not match your lovey's coloring? You can choose a well-known iconic name that your chirping pal will love.
Amber Rose - actress
Jack Black - actor
Karen Black - actress
Vida Blue - baseball player
Buster Brown - shoe brand, comic strip character
Charlie Brown - Peanuts character
Cleveland Brown - fictional character
Foxy Brown - actress
James Brown - singer
Paddington Brown - fictional character
Ginger Rogers - actress
Goldie Hawn - actress
Tracey Gold - actress
Linda Gray - actress
Dorian Gray - fictional character
Al Green - singer
Lorne Greene - actor
Jennifer Grey - actress
Pink - singer
Pink Panther - cartoon, fictional character
Red Skelton - comedian
Phil Silvers - comedian
Joel Silver - producer
Snow White - fictional Character
Betty White - actress
Lists of Cockatiel Names for Every Bird
You can find a delightful name for your cockatiel when you browse through several lists. It's fun to choose a name that isn't a typical name selected for a pet bird.