You may not have thought of boarding your dog at Disneyland during your vacation, but you really can. There are several options available both through Disney properties and local hotels and boarding facilities.
About Boarding Your Dog at Disneyland
Why, you ask, would anyone bring their pets to Disneyland? For people who consider pets part of their families, bringing your dog along with you on vacation is important for everyone to have a good time. If you're driving in a car or doing an RV trip, boarding your dog nearby can make it possible to both have your dog with you and enjoy some extended playtime knowing your dog is in a safe location.
Disneyland Kennel at the Park
The majority of people who board their dogs at the Disneyland Resort Kennel Club are people who are either traveling for the entire weekend or a summer holiday in their RV. They want to spend a few days at Disneyland, so what are they to do? Conveniently, Disneyland provides a doggie daycare kennel for these occasions. Wendy Nan Rees, our Two Minute Dog Advice columnist, interviewed the Disney kennel manager to find that, "Some of their clients are people who just do not want to leave the family pet at home, so they bring it to the park, not realizing pets aren't allowed unless they are service or working dogs."
If you're considering boarding your dog at the Disneyland Resort Kennel Club, some important information to know beforehand is:
The cost is $20 per day per pet and while you can put more than one dog together in the same run if they get along, the price per dog still holds.
There are no reservations and kennel spots are available on a first-come, first served basis. If you have a larger dog, be sure to get there early as they have a smaller amount of large-sized kennels.
Proof of vaccinations is required and pets must be at least four months old. If you do not have valid proof of vaccinations, your pet will not be admitted. They also do not accept titer tests.
The kennel attendants do not handle or feed pets and you must place your pets in the kennels on your own as well as walk them during the day. If your animal needs food during the day, you are free to leave them a bowl of food or else you will have to return and feed them yourself.
The kennels are for daycare only and there is no overnight boarding.
Other Boarding Options for Your Dog Near Disneyland
If you are planning on traveling to Disneyland with your pet and would prefer a different option from the on-site kennel, some other facilities to check out are:
Camp Bow Wow Anaheim
This popular chain provides dog daycare, boarding, grooming, and training. You can make reservations on their website and amenities include live webcams to watch your dog, play yards, and food and medication administration by the staff.
Dogs must be "interviewed" prior to their stay to assess their suitability, so you will need to make sure your travel plan includes time for this. The process takes about three hours.
Doggie daycare rates are $24 for a half day and $33 for a full day. You can buy a 5-day package for $155 or 10-day for $300. If you have two dogs there is a 10% discount on packages and 20% discount if you have three or more dogs.
Overnight dog boarding rates are $55 per night for one dog, $95 per night for two dogs, $125 per night for three dogs and $30 per dog extra for more than three dogs. For all rates, if you book a 10-night stay or longer there is an additional 10% discount.
Requirements for boarding and dog daycare are:

Dogs must be at least four months old
Dogs must be spayed/neutered if older than six months
Current on rabies, distemper and Bordetella vaccines with proof
Free of fleas, ticks, and other parasites and healthy
Dog and people friendly
Animal Inns of America
Located in nearby Garden Grove, CA, the Animal Inns of America has their own pet transportation service for pick-up and drop-off. They also have an on-call veterinarian 24/7 with a veterinary clinic located next door. Dog daycare and dog boarding services are available.
Rates for overnight boarding is $21 to $27 per day for their regular kennel with three sizes of runs. It's $55 per day for their "royal suite" which has an apartment-like setting and includes two "play-times" per day.
Reservations are required and can be made by phone only.
Dogs must be current on all their vaccinations and proof is required, or the facility is also happy to contact your veterinarian for you.
Dogtopia
You can find dog daycare, boarding, and grooming at Dogtopia in Anaheim Hills. The dog daycare option has large indoor, supervised playrooms and three big outdoor play areas in a state-of-the-art facility. Webcam access for dog parents who want to check in during the day is available.
Dog daycare is available for $37 a day or $35 per day if you purchase a five-day pass (or $34 per day for a 10-day pass). Half-days are $27 per day.
Dog boarding is $57 per night for their standard kennel and $67 for their upgraded suite. Holiday dates are an additional $5 per night.
If you want to pamper your dog while you're playing at Disneyland, the spa services are $25 and up for baths, $40 and up for a full-service grooming, and $15 plus for brush outs. Nail trims, teeth brushing and ear clearing are all $15 each.
Dogs seven months or older must be spayed or neutered for dog daycare.
Proof of vaccinations are required including rabies, DHPP and Bordetella and dogs must be free of any communicable disease for at least 30 days. While not required, they do recommend getting the canine influenza vaccine.
Reservations are required which can be made via their website, mobile app or by calling.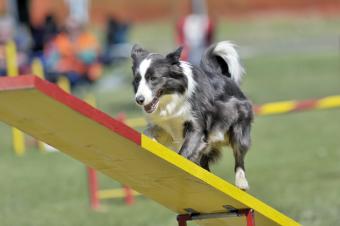 Is Disneyland Dog Friendly?
Unfortunately, none of the Disneyland hotel properties are dog-friendly although of course service dogs are welcome. Service animals are also permitted in the park although they are restricted from some rides for safety reasons. Disneyland defines a service dog as one trained specifically to perform a task for a person with a disability and thus emotional support animals are not included. Non-service dogs that are boarded at the Disneyland Resort Kennel Club can ride on the Disneyland Resort tram that leaves from the Mickey & Friends Parking Structure. Otherwise, dogs are not allowed in the hotels or in the park.
Dog Friendly Hotels Near Disneyland
There are luckily many dog friendly hotels near the park if you're determined to have your dog stay with you in your room. Some options for you and your traveling hound are:
La Quinta Inn & Suites
La Quinta is a dog-friendly chain with several locations near Disneyland including Buena Park, Orange County Santa Ana, Anaheim Disneyland, Irvine Spectrum, Costa Mesa Orange County, Hawaiian Gardens, and Pomona Cal Poly. Rates vary by property and range from $79 to $120 per night with no pet fee. Some properties have size restrictions.
Motel 6
If you're looking for a budget option, Motel 6 is known for lower rates (from $69 to $96), no pet fee and basic accommodations. There are several in the area including X in Anaheim (Anaheim, Anaheim Maingate, Anaheim Stadium Orange) as well as Buena Park, Fullerton East, Baldwin Park, Bellflower, Chino, Costa Mesa and more. All accept large-sized dogs.
The Queen Mary
For a different kind of hotel, stay at the historic Queen Mary, a 1936 ocean liner that has been restored and made into a luxurious full-service hotel. Rooms are dog-friendly and you can have one dog of no more than 25 pounds with a $75 pet fee. Rooms are approximately $99 and up per night.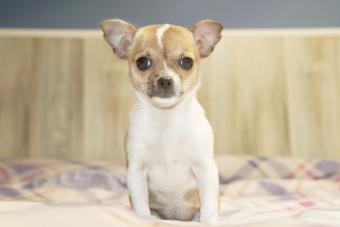 Enjoying the Disney Parks With Your Dog
While you can't take your dog into Disneyland with you, there's no reason to leave him home if you decide to visit the parks in Anaheim or Orlando. Boarding facilities are available as well as dog daycare and there's a good range of economy to luxury dog-friendly hotels a short distance away. If parting with your dog makes vacationing hard, you can enjoy a fun day riding on Splash Mountain and visiting the Pirates of the Caribbean and still snuggle with your pup at night.