If you're traveling to Disneyland in Anaheim, California, and you are planning on boarding your dog at the park or with a Disney property, your options have changed. In the past, you could board your pooch conveniently at the Disneyland Kennel right at the entrance. Unfortunately, the Disneyland Kennel Club has closed permanently. However, you have several local options to board your pup while you enjoy all the magic the park has to offer!
Staying At The Hotel With Your Pooch Near Disneyland
If you're bringing your dog with you, finding a local hotel that caters to guests with pets is an excellent option. Whether you're on a road trip and decide to stop in at Disney on a free day, or you want to visit the park with your pup in tow, your best bet is to plan ahead and book a room with a pet-friendly property so you can enjoy the park while your pet enjoys a day of relaxation.
Need to Know
Not all hotels on this list allow dogs to be left unattended in your room, and few offer boarding options, so check with the hotel first. You could hire a pet sitter to come stay with your dog for the day, too!
Anaheim Majestic Garden Hotel
The Anaheim Majestic Garden Hotel is less than a half mile from the Disneyland Resort. Its castle-theme fits in with the Disney style, and the property boasts 13 acres of gardens, fountains and koi pond, and a fitness club. The best part is, Majestic Garden is dog-friendly! There are a few considerations, however:
The pet fee is $150 per room, per stay.
Cats and dogs are permitted in designated pet-friendly, two-queen bed traditional rooms only.
Only two pets are allowed per room, with a maximum weight of 50 pounds per pet.
Need to Know
If your dog is a service animal, you don't have to worry about these stipulations. The pet fee is waived in that case.
Anaheim Marriott Suites
The Anaheim Marriott Suites is a popular hotel choice in California's bustling Orange County. The property is a little further from Disneyland, at about 4½ miles, but being a little further away from the park can be a benefit if you aren't planning to walk in.
This hotel is really all about location. If you stay here, you're centrally located and the park is only a 10-minute car ride away. You can also enjoy other sights and destinations in Southern California (dog day at the beach, anyone?), so your trip doesn't have to just be about Disneyland. The hotel is pet-friendly, to a point, but if your dog is on the larger side, look for other accommodations:
The pet fee is $75 for your stay.
This hotel allows up to three pets in each suite.
Pets must be 25 pounds or less.
Candlewood Suites Anaheim
The great benefit of staying at Candlewood Suites Anaheim is that the hotel is around 1 mile of the Disneyland Esplanade and park entrance. It's an easy walk, too, with California Adventure in view as you walk down Disney Way. Candlewood Suites is also pet-friendly!
Pets are allowed with a non-refundable pet fee of $75 for a one-night stay, or $150 if you're staying two days or longer.
Up to two pets are permitted, but neither can be more than 80 pounds.
You will be asked to sign a pet agreement once you arrive at the hotel.
Need to Know
If you book online, call the hotel and request that they add your pet to the reservation.
The Clarion Hotel Anaheim
The Clarion Hotel Anaheim is one block away from the Disneyland resort, about 1 mile if you're walking in. Their pet policies are accommodating, though larger dogs are not permitted.
Guests are permitted two pets up to 40 lbs. for an additional fee of $25 per pet, per night.
Both dogs and cats are allowed.
Pets can be left in the room unattended as long as they're crated.
La Quinta Inn & Suites by Wyndham Anaheim
La Quinta is a pet-friendly chain with an Anaheim location near Disneyland. The hotel is around 21/2 miles from the park, and you'll want to take a car to reach the front gates. This is a more of a budget option with easy access to the park.
Pet rates vary by property, but you may have to pay $25 per night, or $75 max for your stay.
Only two pets are allowed per room.
Some La Quinta properties may have a pet weight limit, so call ahead to check.
Motel 6
If you're looking for a truly budget option, Motel 6 is known for lower rates (from $64 to $114), and you don't have to pay extra for your dog to stay with you. There are several in the area including three in the area, including Motel 6 Anaheim, Motel 6 Anaheim Maingate, and Motel 6 Anaheim Stadium Orange. The Maingate property is the closest to the park, and you'll have to walk about a mile to reach Disneyland Esplanade from there.
Only two pets are allowed per room.
Pets cannot be left alone in your room during the day.
Quick Tip
All locations of Motel 6 near Anaheim accept large-sized dogs.
The Queen Mary
For a different kind of hotel, you can stay at the historic Queen Mary, an ocean liner built in 1934 that has been restored and made into a luxurious full-service hotel. It's further away from Disneyland at around 30 miles by car, but the ship is an attraction in its own right, with tours of the ship available on-site. Plus, the Aquarium of the Pacific is within walking distance, as are several other Long Beach attractions, including whale watching tours.
The pet fee is $75 for your total stay.
Only two pets are allowed per room.
Dogs must be 25 pounds or less.
Pets cannot be left alone in your room during the day.
Need to Know
Rooms cost more on the weekends, so if you're looking to save some cash, book your stay during the week.
Boarding Options for Your Dog Near Disneyland
Bringing your dog to stay with you in a hotel is great, but if you can't bring them with you to the park, and you can't leave them alone in the room, you need a place from them to chill while you visit the park. You could hire a pet sitter for in-room supervision, but there are great boarding options available near the park, as well.
Camp Bow Wow Anaheim
This popular chain provides dog daycare, boarding, grooming, and training. You can make reservations on their website. Amenities include live webcams to watch your dog, play yards, and food and medication administration by the staff.
Dogs must be "interviewed" prior to their stay to assess their suitability during a trial day, so you will need to make sure your travel plan includes time for this. The process takes about three hours.
Doggie daycare rates are $29 for a half day and $38 for a full day. You can buy a 5-day package for $180 or a 10-day package for $261. If you have two dogs, there is a 10% discount on packages, and 20% discount if you have three or more dogs.
Overnight dog boarding rates are $63 per night for one dog, $113 per night for two dogs, and $160 per night for three dogs. For all rates, if you book a 10-night stay or longer, there is an additional 10% discount. There is also a luxury suite offering larger space with a camper cam for $164.
Requirements for boarding and dog daycare are:

Dogs must be at least four months old
Dogs must be spayed/neutered if older than six months
Dogs must weigh more than 10 pounds
Dogs must be current on rabies, distemper, and Bordetella vaccines with proof
Free of fleas, ticks, and other parasites and healthy
Dog- and people-friendly
Dogtopia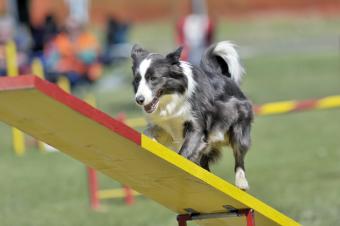 You can find dog daycare, boarding, and grooming at Dogtopia in Anaheim Hills. The dog daycare option has large indoor supervised playrooms and three big outdoor play areas in a state-of-the-art facility. Webcam access is available for dog parents who want to check in during the day.
Dog daycare is available for $44 a day or $35 per day if you purchase a five-day pass. Half-days are $35 per day.
Dog boarding is $74 per night for their standard kennel and $89 for their upgraded suite.
If you want to pamper your dog while you're playing at Disneyland, the spa services are $40 and up, and $25 or more for brush outs. Nail trims, teeth brushing, and ear clearing are all $15 each.
Dogs 7 months old or older must be spayed or neutered for dog daycare.
Proof of vaccinations are required, including rabies, DHPP and bordetella, and dogs must be free of any communicable disease for at least 30 days.
Reservations are required and can be made via their website, mobile app, or by calling.
Is Disneyland Dog Friendly?
Unfortunately, none of the Disneyland hotel properties are dog-friendly, and the park no longer offers its once-popular Disneyland Kennel Club service. However, service animals are permitted in the park, although they are restricted from some rides for safety reasons.
Disneyland defines a service dog as one trained specifically to perform a task for a person with a disability. Emotional support animals are not permitted in the park. Other than service dogs, dogs are not allowed in the hotels or in the park.
Enjoying Disneyland With Your Dog
While you can't take your dog into Disneyland or California Adventure with you, there's no reason to leave them home if you decide to visit Anaheim. Boarding facilities are available as well as dog daycare, and there's a good range of economy to luxury dog-friendly hotels a short distance away.
If parting with your dog makes vacationing hard - or if you just can't leave them unattended - you can enjoy a fun day riding on Splash Mountain and visiting the Pirates of the Caribbean and still snuggle with your pup at night.