I love my cats, but if I can be honest, I'm not crazy about their litter box. I know that might make me seem like a less than stellar cat owner, but keeping up with their litter can be a hassle! Since my cat's litter box is in the basement, I'm prone to forgetting to clean it, leading my cats to routinely remind me with incessant meows to get it done. I also seem to run out of extra litter when I need it most, prompting me to run out to the store for our usual brand only to find the shelves empty. I've thought about signing up for a subscription service through the big online retailers, but I always feel guilty about having the delivery man lug a 28-pound box of litter within another box to my door! When I learned about Kitty Poo Club, though, I had to try it.
What is Kitty Poo Club?
Kitty Poo Club markets itself as "The Purrfect Monthly All-In-One Litter Box Solution." Not only are they making it easier for cat owners to keep their feline companions happy, but they're also helping to make the world a little greener. The cardboard portion of their litter box is biodegradable and the entire box is recyclable. Even better, their boxes are made primarily from recycled cardboard with only a tiny amount of plastic to reinforce the inside lining. Orders that are too large to ship in the litter box itself are shipped using a reused or up-cycled box, too!
Aside from being environmentally friendly, it's also incredibly convenient. All you have to do is create an account, choose your preferred items, and they'll ship to you monthly starting at $25.99, so you're never out of litter. Even better, they offer two different litter box sizes: standard, which measures 19" L x 15" W x 10" H, and their new XL litter box, which is 22" L x 18" W x 10" H inches. Whichever size you need, you can choose from five different litter options, including Diatomite, Clay, Silica, Fine-Grain Silica, and Organic Soy.
Looking for even more reasons to love this green and convenient kitty litter subscription service? Kitty Poo Club carries everything you need to keep your cat happy, including cat food, treats, toys, litter accessories, collars, and harnesses. For these items, you can choose to add them to your regular subscription box or make one-off purchases in between deliveries.
First-Hand Experience Using Kitty Poo Club
When the Kitty Poo Club box arrived, I was shocked at how light the package was, especially since I ordered their Clay Litter. With most store-bought clay litters, I'm used to lugging a heavy box to the front of a store and needing to take breaks in between to keep my arm from going numb! So it was a pleasant surprise when it arrived and was super manageable to carry. After opening the box, I found a sheet on top welcoming me to Kitty Poo Club that was filled with information on setting up the litter box along with frequently asked questions.
The instructions were super simple, and I had the litter box up and ready in minutes. The box can come with a dome attachment if you choose to add it on, but I decided not to use it since my cats seem to prefer open-air style boxes- everyone has their own preferences! Unlike most litters that come in heavy containers, Kitty Poo Club's litter comes in a resealable bag that is easy to lift and carry. Since my cats use clay litter, I chose this type to test with them. After assembling the box with the litter, I placed it in my basement next to my cat's other litter boxes and made a note to check on it the next day.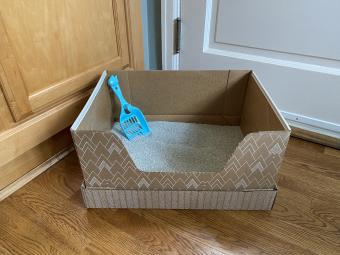 When I checked out the litter boxes the next afternoon, I was happy to find my cats had taken to the Kitty Poo Club option! While my cats aren't necessarily picky about their litter, they will let me know if they don't like something, so it was a great sign that they were happy with a new box. I continued to watch the litter over the next few days, and it seemed my cats started preferring this box over their other ones. Though the directions on the website say to clean the litter once a day, especially if you use the clay litter, as usual, I ended up forgetting, so I was a little nervous.
When I cleaned the box out on the third day, I was pleasantly surprised with how well it masked any odors, especially when I hadn't cleaned it in a few days! I used the blue cat litter scooper that came with the package to clean up, and it worked really well - I could easily scoop up what I needed to while the rest of the clean litter easily sifted through back to the litter box. The inside lining of the litter box also adds an extra layer of protection that makes it easy to scrape any litter off that gets stuck.
Overall, it was super easy to clean, and I noticed very minor tracking outside the litter box, even without setting the box on a mat. Now that's a win! Even after cleaning all of the litter boxes, when I checked on the box the following day, Kitty Poo Club's seemed to be my cats' new favorite.
Final Verdict
So, would I use Kitty Poo Club in the future? Absolutely! Not only is it eco-friendly and convenient, all at a very reasonable price, but my cats love it, too! I can easily set up monthly auto-shipments so I'll never be out of cat litter. The exterior design of the box also features a trendy and modern design that adds a chic touch to any space it's in. I also don't need to worry about scrubbing a stinky, plastic litter box clean since a new, recyclable box is shipped each time! On top of that, I can add my cats' favorite treats to the order every month, so we'll never run out. Now my cats can rest easy, and so can I. I'd say that's a success for both humans and felines! Best of all, you can use our special offer code and get 20% off your first autoship order with CAT20.