The Easter Bunny brings treat baskets full of goodies for kids, but what about the pups in your life? Dogs love getting treats as much as kids do! You can make these easy homemade treat recipes with ingredients you probably already have in your pantry.
Carrot and Cheese Dog Biscuits
Carrots are a good source of Vitamin A, which dogs need to maintain healthy skin, eyes, and teeth. Carrots are great for dogs, and are also an excellent source of fiber. Fiber gives your pet a feeling of fullness and helps prevent constipation. To make this treat, follow these steps:
Ingredients
1¾ cup wheat flour
¼ cup grated cheddar cheese
¼ cup parsley
1 tsp. wheat germ
¼ cup grated carrots
¾ cup chicken broth
2 tsp. olive oil
Directions
Preheat oven to 350 degrees Fahrenheit
Grate the cheese and carrots
Chop the parsley as fine as possible
Add flour and wheat germ to large bowl
Add grated cheese
In a separate bowl, mix chicken broth and olive oil
Add the wet ingredients to the dry to form a dough
Roll dough to ¼-inch thickness
Cut into desired shape and bake for approximately 20 minutes
Cool and serve; store remainder in the refrigerator for up to one week
Blueberry Banana Surprise
Blueberries are packed with antioxidants and vitamin C, which help strengthen the immune system, protect against free radicals and prevent cancer. They're also safe for dogs, and they also contain phytonutrients known as anthocyanins, which have been shown to have anti-inflammatory effects.
Bananas are loaded with nutrients that are essential for your dog's overall health. Bananas are rich in potassium, magnesium and vitamins B6, C and D. These vitamins help keep your dog's skin healthy and aid in muscle development. The high levels of fiber in bananas can aid digestion and eliminate gas from the digestive tract.
If you're looking for a healthy treat that your dog will love, try combining these two fruits together using the following recipe:
Ingredients
1⅓ cup wheat flour
½ cup rolled oats
1 cup mashed banana
½ cup chopped blueberries
1 egg
⅓ cup unsweetened almond butter
Directions
Preheat oven to 325 degrees Fahrenheit
Chop blueberries and mash banana
Place all dry ingredients into large bowl and mix
Roll to ½-inch thickness and cut into desired shape
Bake for 15 minutes
Remove treats and allow to cool
Quick Tip
The oils in almond butter tend to separate. Before taking it out of the jar, stir it with a fork to mix the liquid and make it easier to work with.
Frozen Peanut Butter and Bone Broth Treats
The primary reason that peanut butter is one of the best treats for dogs is because it contains calcium and phosphorus. These two minerals are essential for healthy bone growth in dogs and help prevent osteoporosis and other bone diseases. Just be sure to use an all-natural peanut butter with no added sugar.
Bone broth is another great bone-building treat for dogs that contains protein along with gelatin, which helps strengthen bones because of its collagen content.
Ingredients
1 cup bone broth
1 cup peanut butter
¼ cup chopped parsley
Quick Tip
Xylitol, found in some brands of peanut butter, is toxic to dogs. Search for an organic brand that does not contain this ingredient, or any added sugar.
Directions
Mix peanut butter and parsley in small bowl
Grab an ice cube tray and fill each cube halfway with bone broth
Place in freezer for two hours
Remove from freezer
Add the peanut butter and parsley mix
Freeze for four hours
Serve the treats
Egg-Shaped Chicken Treats
Chicken is very digestible and easy on the stomach. If your dog has a sensitive stomach or digestion problems, chicken may be a good option. Chicken is also an easy ingredient to add to homemade dog food recipes.
If you're looking for ways to sneak some extra nutrients into your pup's diet without adding extra calories or carbohydrates, chicken is a good way to go. These egg-shaped chicken treats are simple to make and require few ingredients.
Ingredients
Silicon egg mold
1 cup cooked, diced chicken
1 egg
3 tablespoons rice flour
1 tablespoon parsley
Directions
Preheat oven to 350 degrees Fahrenheit
Mix and stir all ingredients in large bowl
Add mixture to silicon mold
Bake for 20 minutes or until tops are golden brown
Cool and serve
Cinnamon Apple Dog Treats
Cinnamon contains antioxidants and antimicrobial properties that boost your dog's immune system. Antioxidants fight free radicals that cause cell damage and can lead to illness and disease in dogs.
Cinnamon also has antimicrobial properties, which means it can kill bacteria and fungi that cause infections. It can also help prevent yeast infections by killing Candida albicans. All of these benefits make it the perfect treat for your dog this Easter.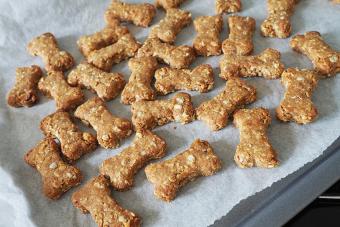 Ingredients
1 cup quick oatmeal
1 large egg
½ cup cinnamon applesauce
Directions
Preheat oven to 350 degrees Fahrenheit
Mix all ingredients in large bowl
Scoop mix using a spoon and add to cooking sheet
Bake for approximately 20 minutes
Cool and serve
More Recommendations
If you're looking for more treats to make for your dog's Easter basket, here are some of our favorites:
Add to Your Dog's Basket
You can choose to make one, two, or all of the above dog treats and add them to your dog's Easter basket. These treats allow your dog to enjoy Easter while improving their health. However, even though it's Easter, don't allow the treats to go above 10% of your dog's daily diet calorie allowance. You want your dog to enjoy treats with everyone else, but don't want to harm their digestive system in the process. While all the treats contain beneficial ingredients, they are only good for your dog's health in moderation.